WPS Office
Free All-in-One Office Suite with PDF Editor
Edit Word, Excel, and PPT for FREE.
Read, edit, and convert PDFs with the powerful PDF toolkit.
Microsoft-like interface, easy to use.
Windows • MacOS • Linux • iOS • Android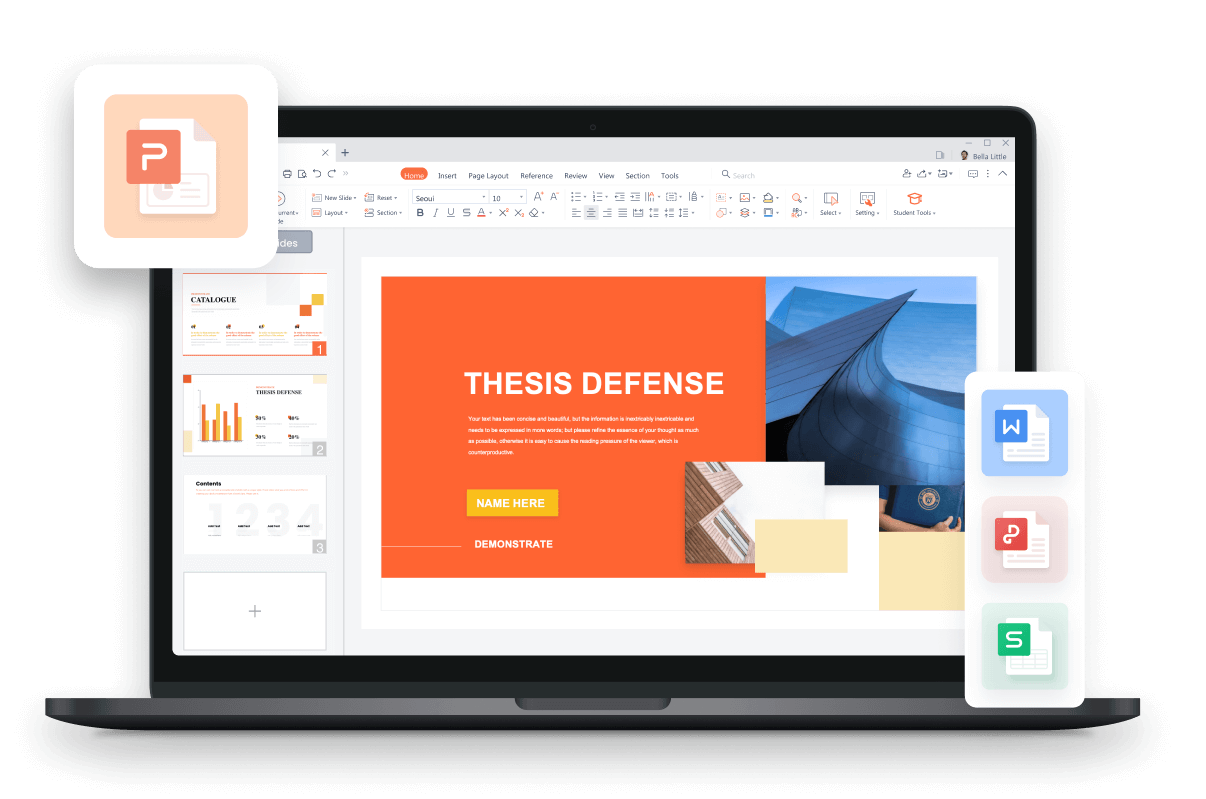 Amazing template PPT Free Download in 2023
Amazing template PPT Free Download in 2022
When you don't have much money to spend, WPS Office template ppt free downloads is good enough. Many of have amazing features and design quality of themes, they will suffice in an emergency. So use ppt template free downloads.
This free download pack of creative PowerPoint templates is a good place to start for your next project. The built-in tools in PowerPoint make editing a breeze. Fill in the blanks with your text and other content.
This creative PPT template for free download includes hand-drawn artwork. There are a total of many slides available for customization. You can also change the background colors within PowerPoint. Try this if you want the best PowerPoint templates for free download.
Do you enjoy downloading free modern PowerPoint templates? Take a look at this. Woodville is a versatile free PPT template used for various purposes. It can be used for portfolios, business pitch decks, and other purposes. Don't forget to change the layout of your slides to fit your content.
This free PowerPoint template for 2022 features a clean and neutral design. It's an excellent place to start for your next presentation. This free PPT template includes one cover slide and two internal background slides.
It and other cool free PowerPoint templates for 2022 can help jumpstart the slide-creation process. It is designed to work with built-in editors and tools. If you require additional assistance, there is documentation included.
6. Corporate Training and Culture Propaganda Report
Awesome free PowerPoint templates for 2022 Generally, they do not specialize in any particular themes. However, this one has a solid musical focus throughout. With a few changes, you can adapt it for other purposes. There are a total of 48 different slides to choose from.
7. Business Annual Report
Paint brushstrokes inspire the vibrant layouts in this free PPT template. It gives the free PowerPoint templates for 2022 a creative look. Over twenty slide designs are included to display text, photos, charts, and other media.
This modern template can be customized. Quickly and easily change shapes, colors, size, and text. It comes with a color theme and will apply the color automatically. The design is appropriate for a free creative and professional PowerPoint template download.
These free creative PowerPoint templates all have one thing in common: the color red. Beyond that, it is up to the editor to arrange and style them for a specific purpose. Because of this adaptability, a template is a versatile option that you can use repeatedly.
This free creative PowerPoint template has 30 slides and a layout for everyday purposes. With PowerPoint's simple content options, you can tailor it to almost any project or theme. Large image placeholders will appear, which is helpful if you have a lot of photos to share.
You saw the best free PowerPoint templates in this article. You also saw some WPS Office ppt template free downloads you can customize with your content.
Don't forget about it. However, they have a significant design advantage over the best free PowerPoint templates. It makes no difference which marketplace you choose. A visually appealing presentation is a significant improvement over the built-in WPS Office PowerPoint templates. Download one today and start building your presentation right away!