WPS Office
Free All-in-One Office Suite with PDF Editor
Edit Word, Excel, and PPT for FREE.
Read, edit, and convert PDFs with the powerful PDF toolkit.
Microsoft-like interface, easy to use.
Windows • MacOS • Linux • iOS • Android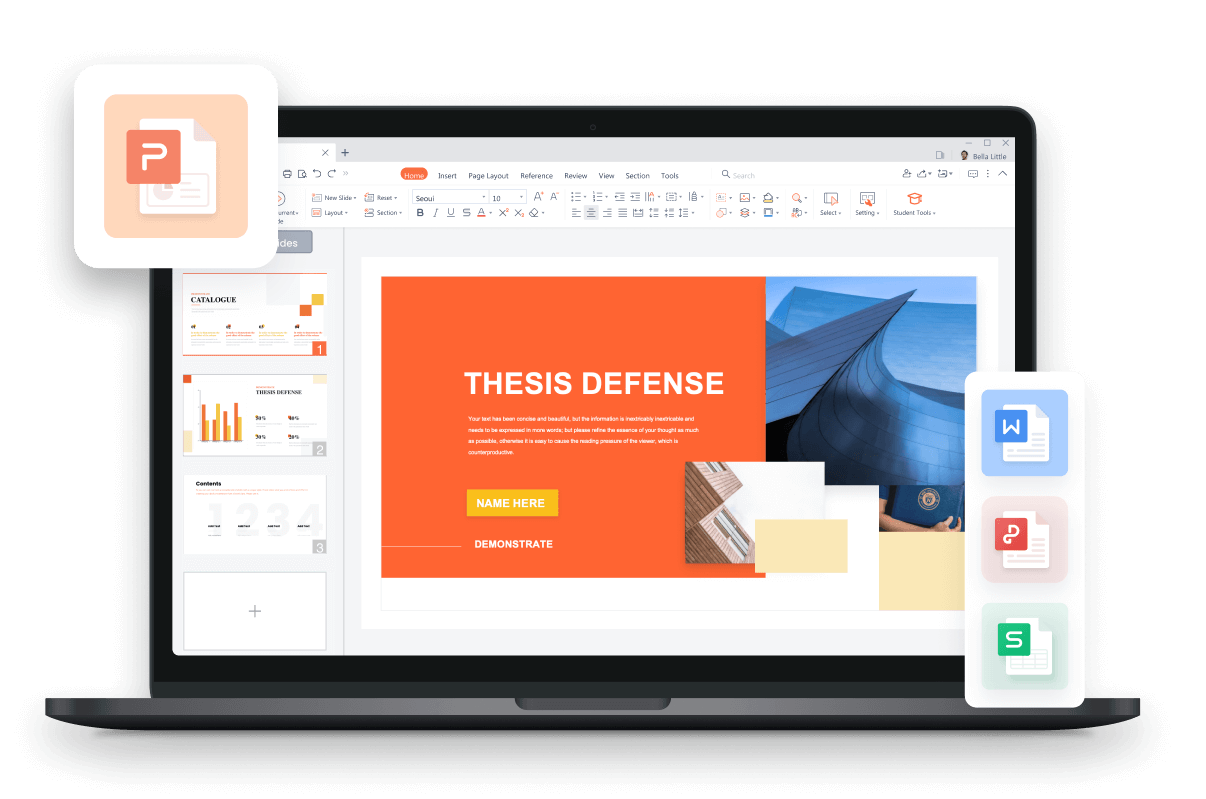 Apply a template to an existing Presentation
Everything in nature is included, from rivers and plants to forests and animals. Additionally, all projects that support both living organisms and their natural habitats can use to apply a template to an existing presentation. Now, socially responsible companies, environmental NGOs, and campaigners can present their initiatives in a unique layout with beautiful natural backgrounds.
A look at how to apply a template to an existing presentation.
1. Disney dream adventure template:
Many people dream of going to Disneyland, so the WPS Office has provided this Disneyland adventure template in honour of everyone's affection for the theme park. Use this free template, which was inspired by Disneyland, to create straightforward but expert slides.

2. Fresh green tropical rain forest presentation template:
You can take your audience on a trip by using these wonderful tropical backgrounds for your presentations. Download these as PPT files to use WPS Office to create simple yet appealing slides.

3. Pink flowers girlhood presentation template:
According to a proverb, pink is the colour of girls, and WPS Office has created this lovely design with girls in mind. Use this template to create slides that will wow everyone around you, especially if you are a girl.

4. Fresh succulent plant presentation template:
This exotic and contemporary presentation template for succulent plants will help you create stunning slides that are pleasing to the eye. Create slides with this design that appear professional and have a sense of nature by downloading WPS Office.
5. Purple flowers art presentation template:
Lavender has the same shade of purple, which is extremely attractive and has a lot of positive health effects. Similar to that, this purple flower art presentation template has numerous advantages because it instantly draws in the audience. So, if you're prepared to dazzle your audience or your boss, use this great template from WPS Office and begin creating straightforward, polished slides.
6. Fresh purple leaf work plan template:
This elegant yet straightforward design has a highly attractive white backdrop. Fresh purple leaf work plan template's purple leaves are very reviving and beautiful to look at. Therefore, download WPS Office and create serene nature slides for your personal or professional use if you want to take use of this free template.

7. Fresh spring love presentation template:
With its colourful and gorgeous colour scheme, this new spring love presentation template exudes a feeling of spring. Pick this elegant and straightforward template from WPS Office to create slides that are professional.

8. Small fresh aesthetic work report template:
Use this gorgeous little fresh aesthetic work report template for free by downloading WPS Office if you want to give your presentation a nice appearance. Create straightforward presentations using this template for your professional work.

9. Light blue sky presentation for welfare template:
This light blue sky presentation template for welfare gives you the experience of gazing up at a clear, blue sky with birds soaring in it—there is nothing more beautiful. To create polished slides, download WPS Office and select this straightforward and serene blue sky design.

10. Fresh green hand painting plant presentation template:
This calm nature template's background is just stunning and may instantly grab the attention of any observer. You must download WPS Office in order to create polished slides and receive this free fresh green hand painting plant presentation template.

Note: The examples of a presentation is a great substitute for needing to put in extra effort to develop anything from scratch. The best part is that alternatives like business templates, work plan templates, lesson plan templates, and apply a template to an existing presentation are available and cost nothing for personal or business usage.
There are several templates available online, but if none of them appeal to you, you can visit WPS Office, a website with millions of alternatives.