WPS Office
Free All-in-One Office Suite with PDF Editor
Edit Word, Excel, and PPT for FREE.
Read, edit, and convert PDFs with the powerful PDF toolkit.
Microsoft-like interface, easy to use.
Windows • MacOS • Linux • iOS • Android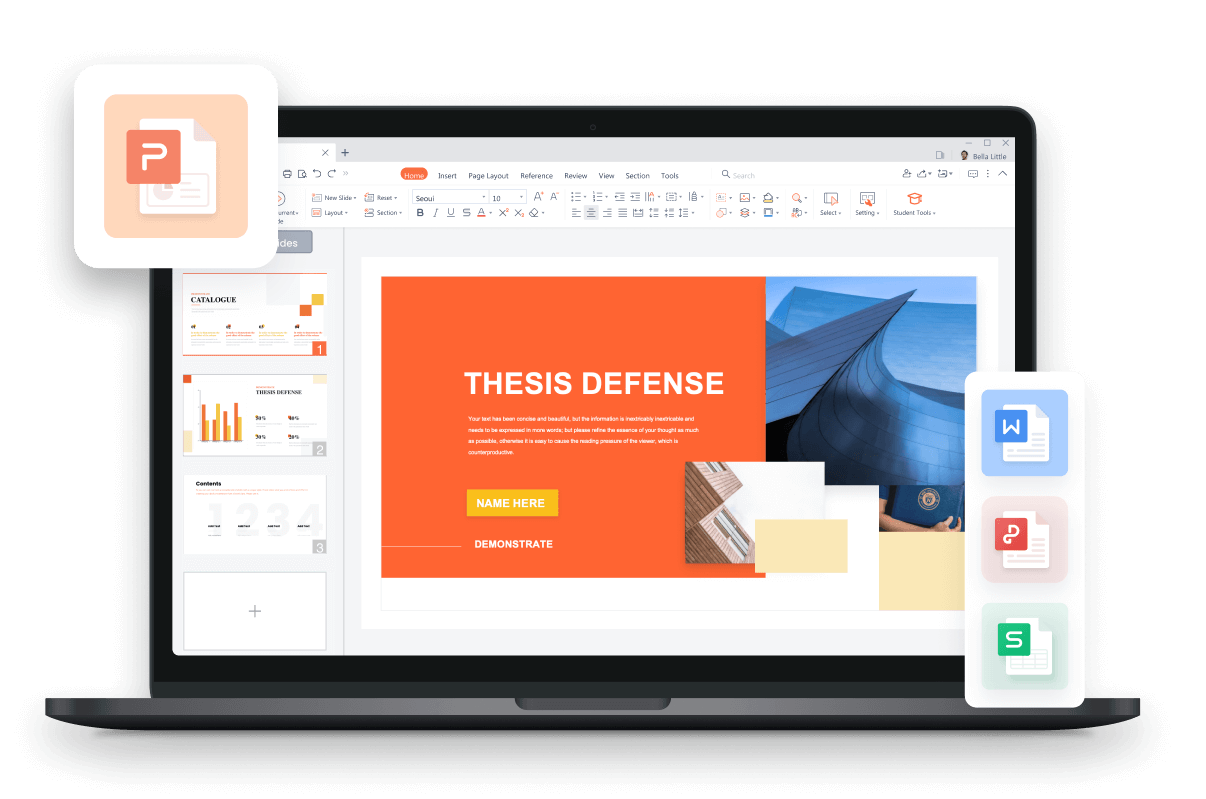 Catalog
Simple Data Presentation Examples
Presenting data effectively isn't accessible, and there are many ways to go about it. To find out how different presentations affect how people perceive the data, we analyzed how various data presentations affected people's confidence in the data and the accuracy of their predictions.

Below are just a few data presentation examples that you can use to improve your presentation of your data to your audience. This tidy and up-to-date presentation of your data will really help your audience see and understand the data that is being presented.
Using these data presentation examples templates for your next data presentation will make it more of an educational experience and help make the information more accessible for your users.
1.Monthly Income Dynamic Data Chart Presentation Template
It's important to note you can make numerous changes when you write your presentation. You need all the data you believe you will use to create your presentation and the expected audience size. Use this template and make your own by quickly editing.
2.Conversion Rate Dynamic Data Chart Presentation Template
These templates should help you create presentations with beautiful, interactive charts and graphs. The templates also serve as a good base for customizing your charts and graphs, for example, by only showing a diagram for one month and adding or removing data points or charts.
3.Monthly Income Dynamic Data Chart Presentation Template
Understanding the numbers behind your product or service can help you better communicate why you believe you're worth giving your audience a chance. If you find it hard to think of a compelling narrative, try presenting your data with a dynamic chart to see what insights appear when decision-makers see a specific data figure in front of them. These templates can be used to create graphs.
4.Green Area Dynamic Data Chart Presentation Template
There are a million different presentations it is possible to create with data, but sometimes it is helpful to have an example to help you get an idea of what the final result will look like. These are all of the specific presentations you would create with data.
5.Running Mileage Dynamic Data Chart presentation template
Data presentation is one of the most critical aspects of your data product. The quality of your data representation, visuals, and presentation all come into play in terms of increased trust and conversion rate of your data product.
6.Product Registration Dynamic Data Chart Presentation Template
In these presentations, we have utilized four different examples to demonstrate how to make a more captivating data presentation, including how to disseminate helpful information in a way that's not just educational but also entertaining.
7.Product Category Dynamic Data Chart Presentation Template
A chart is fantastic because it distills complex information in the clear, easy-to-understand visual that's more vivid than text alone. The data is usually represented with various charts that may include: a table (converted to a graph), line charts, scatter diagrams, heat maps, etc. Each chart type allows you to narrow down your message and focus it on a specific audience.
8.Product Performance Dynamic Data Chart presentation template
Data is an essential aspect of presentational projects. This can be data that you have collected for a business, data about your products, or data about your company. These templates are meant to reinforce the infographic and different types of dynamic information.
9.Iteration Cycle Dynamic Data Chart Presentation Template
Use this list of presentation templates for your projects and read here for more tips on effectively using data in presentations. There is always a template for your specific project or goal with so many ways to present data. If you're unsure, read through the list, and you'll soon find a layout that works best for you.
10.Sales Amount Dynamic Data Chart Presentation Template
Alternative ways to present data are now available with interactive infographics, data graphics, and Hubpages. Use these innovative techniques to make your data interactive and visually appealing. Your audience will surely appreciate the unique way you present your data.
Conclusion
Out of all the above data presentation templates created for data, as a small business owner or marketer, it is essential to know and find the difference between making a data presentation and presenting the best data. Data comes in two general categories: dynamic data and static data. Which data is best largely depends on what you offer to the audience.
Dynamic data present the aggregated view of a business, whereas static data is generally focused on a single metric or report. So, the WPS office application helps you with all types of data presentation with thousands of sample examples, which can easily be edited in your web browser or downloaded. So, download the WPS Office now!