WPS Office
Free All-in-One Office Suite with PDF Editor
Edit Word, Excel, and PPT for FREE.
Read, edit, and convert PDFs with the powerful PDF toolkit.
Microsoft-like interface, easy to use.
Windows • MacOS • Linux • iOS • Android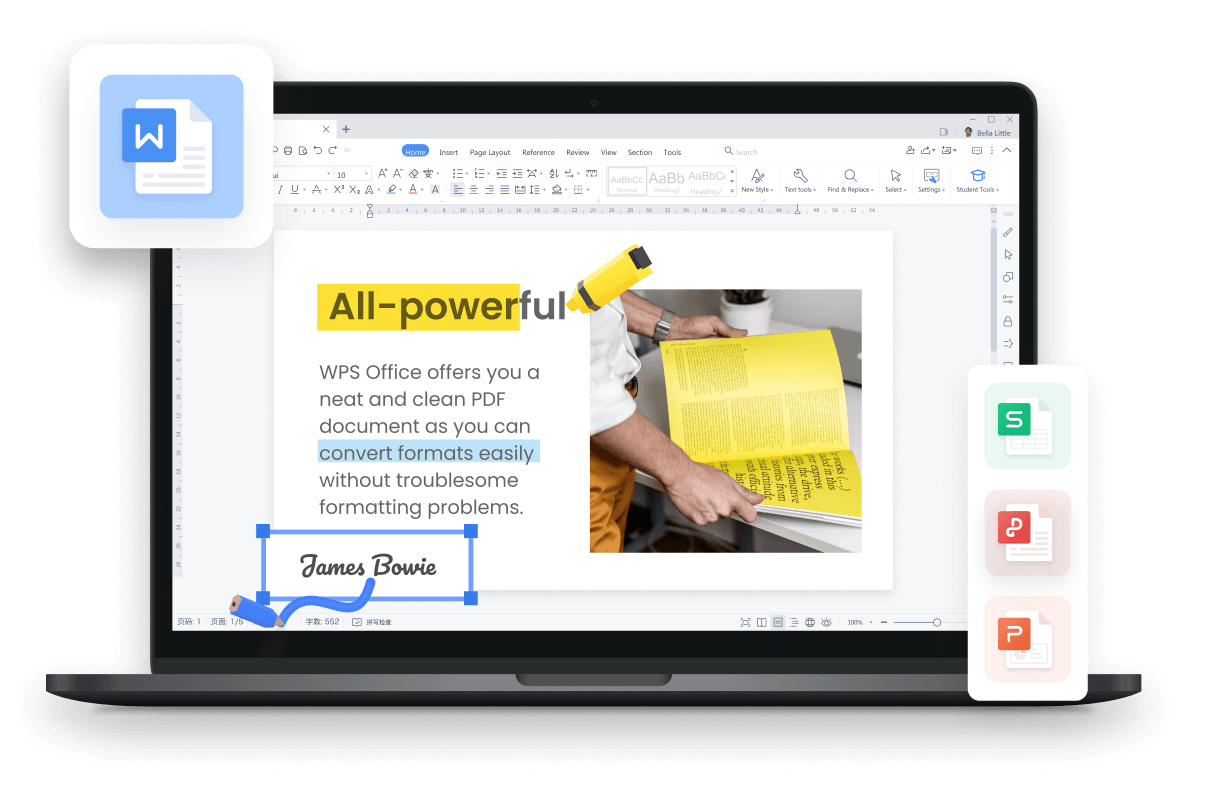 The best Office Word for free download in WPS Office
Are you searching for Office Word for free download? Without a doubt, WPS Office should be your first choice. Read this tutorial and learn how to download WPS Writer for free.
·
What is WPS Office?
WPS Office is one of the world's most popular, cross-platform, high performing, all-in-one, yet considerably more affordable solutions. It integrates all office processor functions such as Word, PDF, Presentation, Spreadsheet in one application, and is fully compatible and comparable to Microsoft Word, PowerPoint, Excel, Google Doc, and Adobe PDF format. WPS Office is one of the best smallest-size and all-in-one complete free office suites out there. It's available on Windows PC, MAC OS, Linux, Android and iOS.
·
What is WPS Writer?
WPS Writer is a module of WPS Office. WPS Writer is the best alternative to Microsoft Word document, which helps users to work with high efficiency. Its personal basic version is free to use and it also provides abundant functions and unique features for you to explore.
·
Steps to download Office Word for free in WPS Office official site.
1. Visit the WPS Office official site by clicking here.
2. Click the Free Download button in the center of the screen.
3. Then the installation package is saved to the specified file of your browser. You can find and open it to install WPS Office.
4. Open WPS Office, and click Document to edit it as needed. WPS Writer is compatible with most office word software in the market.
After downloading Office Word for free in WPS Office, you are recommended to learn more skills in editing Office Word in WPS Writer. Click the following links to watch free video tutorials:
How to customize the font | A free tutorial in WPS Academy
Instructions of printing interface | A free tutorial in WPS Academy
Basic settings on footer and header | A free tutorial in WPS Academy
Whether you're new to Word or need to speed quickly with Word, free WPS Writer training will give tips to apply immediately to your business work. Discovering professional training in WPS Writer, you'll practice creating different types of documents by using Word.