WPS Office
Free All-in-One Office Suite with PDF Editor
Edit Word, Excel, and PPT for FREE.
Read, edit, and convert PDFs with the powerful PDF toolkit.
Microsoft-like interface, easy to use.
Windows • MacOS • Linux • iOS • Android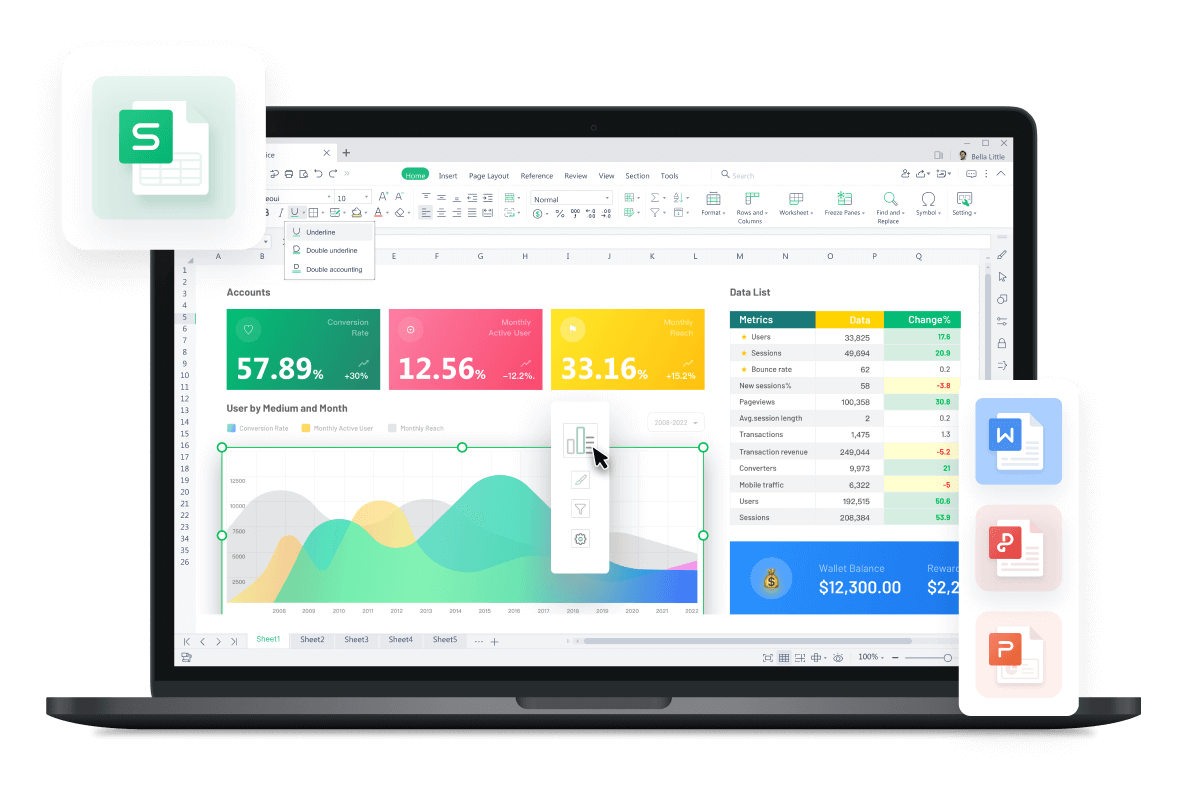 The Complete Guide to Small Business Excel Templates
There are two versions of a small business excel template.
The first version includes sections for your company name, mission statement, marketing strategy, financial projections, and a summary section.
The second version includes sections for your business name, industry, market research, product description, customer service, marketing strategy, financial projection, and a summary section at the end.
Here are some simple, Free, and clean small business excel templates as follows:
It is essential to keep an eye on the hourly statics or the Work of the employees for free.
To calculate how many hours someone has worked daily in Excel, you can frequently subtract the start time from the end time to obtain the difference. However, if the work shift lasts until noon or midnight, simple subtraction will not suffice.
This hourly small business excel template lets you track work on the day in hours.
Using this Daily small business simple excel template, you can manage the people, our daily expenses, and our daily income.
This daily excel template lets you monitor the performance, Office administration, and project management and analyze whether you are in loss or profit daily.
This template is also accessible on our site Link is given in the subtitle.
Because time is a finite resource, it is critical to keep track of it.
This template allows you to track each day's progress and let you know what went wrong, the issue's priority, the team assigned to deal with it, and a comment section to record any findings. This simple weekly small business Excel template is also available for free.
With this monthly small business excel budget template, you can easily track the financials of your small business month by month.
Profit and loss category rows for the cost of goods sold COGSGS), sales and marketing expenses, labor costs, and earnings before interest and taxes are included in the template (EBIT).
You can also consider cash, inventory, accounts receivable, net fixed assets, and long-term debt to gain insight into your company's time-sensitive budget on a monthly, quarterly, and annual basis.
With this annual business budget template, you can perform a yearly financial health check on your company.
Enter your sales figures (fees billed, commission income, service income, etc.) on the income sheet and compare them to individual entries on the expenses sheet (COGS, travel, insurance, etc.).
In addition, use the summary sheet to get a snapshot of your spending based on income vs. expenses. This yearly small business excels template helps you to calculate the Budget.
This Simple and free small business Excel template lets you determine how much employees work hard and their performance so you can decide which employees deserve a promotion or bonus.
This bar and chart let you see which is working more than others, as, in this template, Jessica is working hard.
It is also referred to as payroll or payroll sheet. In Payroll, HR keeps financial records of employees such as wages, salaries, deductions, bonuses, holidays, leaves, sick leave, and so on.
It is a free and straightforward template that lets you record the employee's salary over months. This free small business excel template can be used monthly and yearly.
Use this free inventory template to import material and stock levels, define your product recipes, and automatically update sales, purchasing, and manufacturing orders.
This template covers every aspect of the manufacturing process. It assists you in determining what needs to be produced, how much of it needs to be made, and when it needs to occur.
You can calculate the budget in this free template.
Such as:
Labor expenses, Fees for consultants, raw materials, Licenses for software, Travel.
Next include:
Telephone fees, Office furniture, Office supplies, General administration Insurance for the company
It allows you to summarize a company's revenues, costs, and expenses over a period. Companies typically prepare this statement quarterly, yearly, or even monthly.
In layman's terms, the profit and loss statement provides a detailed look at a company's financial health during the fiscal year.
Conclusion:
These are the top simple and free small business excels templates on our Website. If you want to explore more templates, you can visit the site. To download any template for free, you have to select the template and press the download button.