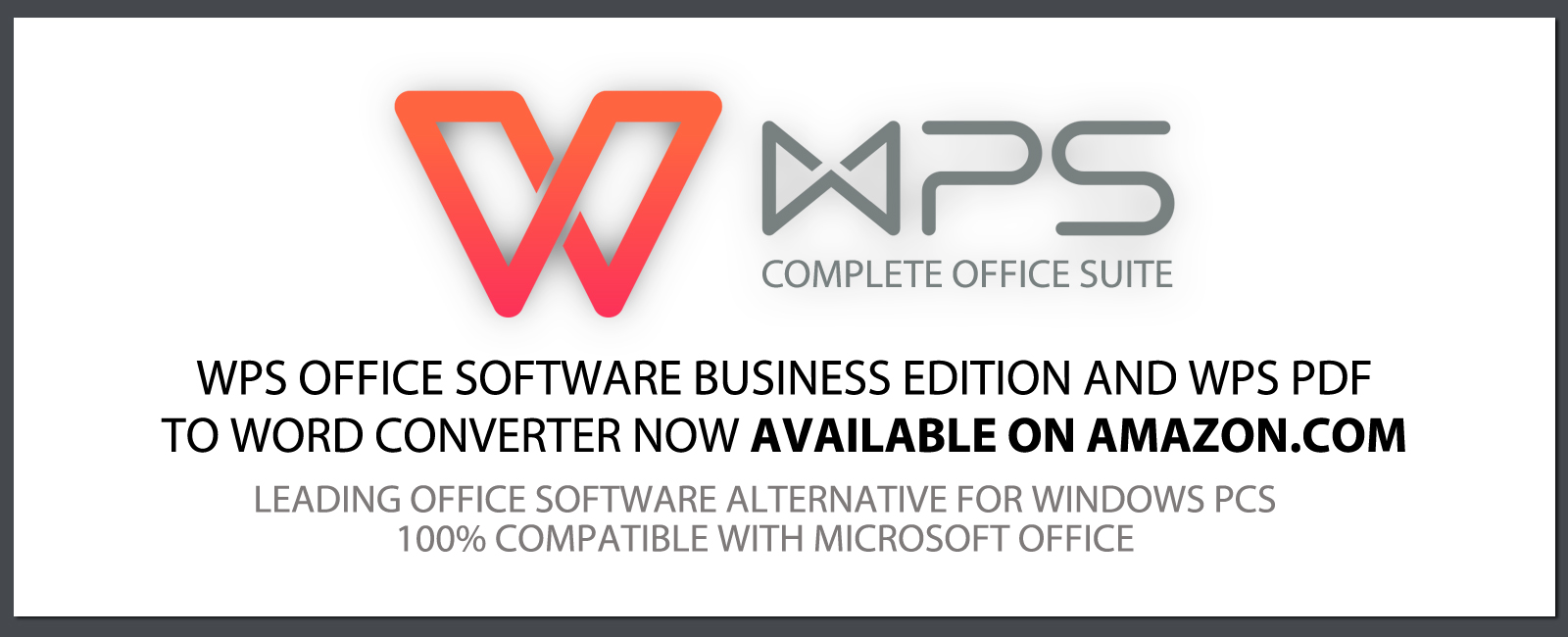 PALO ALTO, Calif., April 25, 2017 – WPS Office Software, a leading provider of office software for PC, mobile, and cloud users, today announced that WPS Office Business Edition for Windows-based PCs and WPS PDF to Word Converter are now available on Amazon.com. The partnership provides hundreds of millions of Amazon.com shoppers with the ability to purchase and quickly receive the company's leading office productivity software alternative.
"Since the launch of WPS Office, sales of the popular office suite have been growing at a steady pace," said Cole Armstrong, Senior Director, Marketing, WPS Office. "We are dedicated to offering this superior software solution on the leading online marketplaces and proud to announce the availability of several product lines, including WPS Office Business Edition and WPS PDF to Word Converter, on Amazon.com. We expect the availability of this high profile marketplace to positively impact awareness and sales as we move forward."
More than half of the internet's sales growth comes from Amazon.com, making it the global leader in e-commerce. The online retailer captured 53 percent of online sales growth in the U.S., according to recent data from Slice Intelligence . Based in Seattle, the Fortune 500 company was founded in 2005 and since then has grown to be the largest e-commerce marketplace in the world. Amazon offers everything from books and electronics, with software among its highest selling categories. The e-commerce giant showed online sales of $136 billion in 2016, a 27 percent increase over the previous year .
WPS Office is a full office productivity suite for desktop and mobile devices that provides a high performing, yet considerably more affordable solution to businesses and consumers. Users prefer WPS Office over software such as Microsoft Office, citing product reliability, stability, efficiency, affordability, and speed. Unique features enable users to create, view, edit, store and share documents for greater productivity from their office software.
The WPS PDF to Word Converter combines super-fast speed, ease-of-use, and high quality for the most accurate PDF to DOC and DOCX conversion, keeping fonts and layouts intact, from body copy to bullets and tables.
WPS Writer, Presentation, Spreadsheets and PDF Reader/Converter are fully compatible with other office software solutions, and the ideal office software alternative for Microsoft Office users whose trials have ended.
The latest generation software also includes WPS Cloud, a professional office file cloud storage service with 1GB of free storage space for PCs and iOS. With only one click, users can share documents using links, which allows documents to be viewed and edited anywhere and anytime. Users can access files either directly from within WPS Office, or through the WPS Cloud web portal.
To purchase WPS Office Business Edition on Amazon.com, visit: https://www.amazon.com/gp/product/B06XCTH6ZD.
To purchase WPS PDF to Word Converter on Amazon.com, visit: https://www.amazon.com/gp/product/B06XCG7R23/ref=s9_acsd_hps_bw_c_x_3_w.
For volume license discounts and reseller opportunities please contact partners@wps.com.
About WPS Office Software Palo Alto-based WPS Office is a leading provider of office software for PC, mobile, and cloud users. With more than 1.2 billion installs, WPS Office is a high performing, yet considerably more affordable office software solution that is recognized as a preferred alternative to Microsoft® Office and fully compatible and comparable to Microsoft Word, PowerPoint and Excel. The WPS Office software suite is available for Windows" and Linux-based PCs as well as Android and iOS. WPS Office Software is a subsidiary of Kingsoft Corporation, China's leading Internet services and software company. More information can be found at http://www.wps.com.
Follow us on Twitter @WPS_Office and Facebook.
Media Contact:

WPS PR
mktg@wps.com