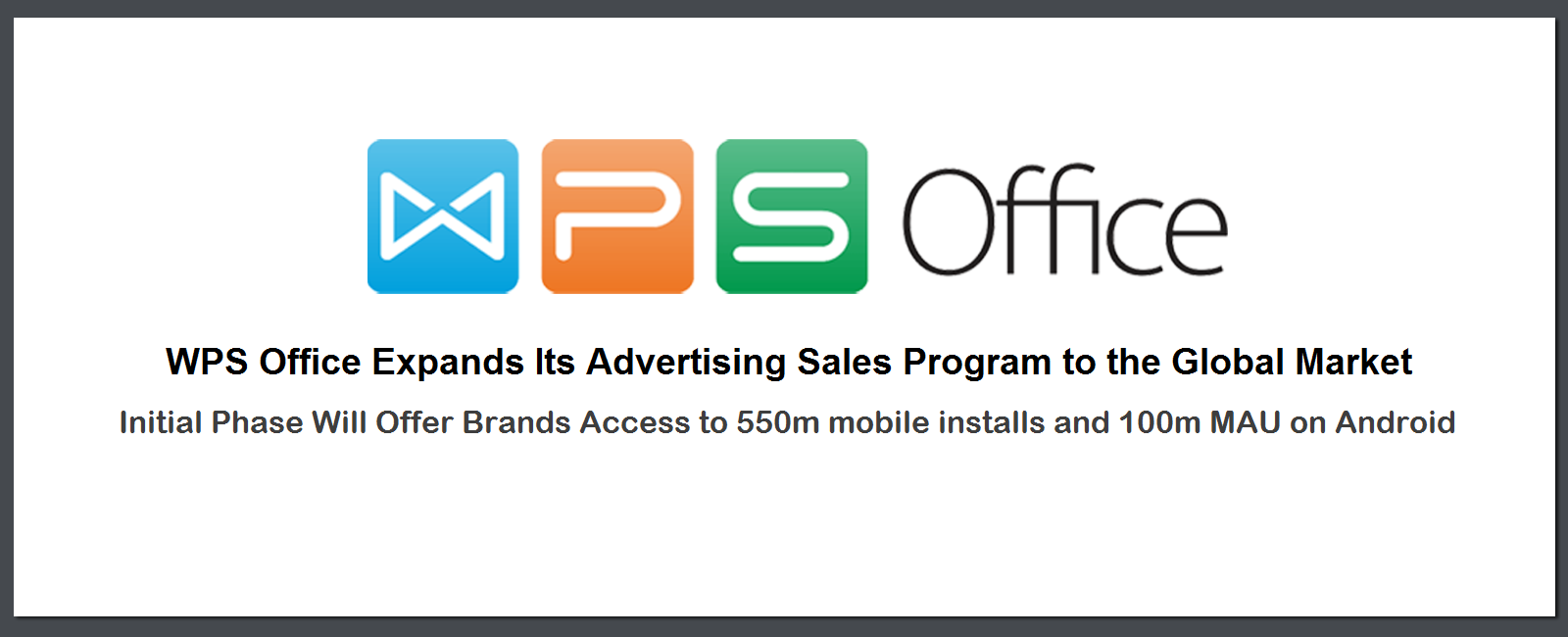 PALO ALTO, Calif., October 11, 2016 – WPS Office Software, a leading office productivity suite for PC and mobile devices, announced today that its U.S. headquarters is expanding its Advertising Sales Program to the international market. The program is initially focused on sales of its WPS Office for Android inventory, which is free to users through sponsored access of the mobile software.
"Brands from around the world can now work directly with our Palo Alto, Calif.-based office to participate in our Advertising Sales Program," said William Wong, VP of Business Development, WPS Office Software. "We look forward to broadening our sales efforts internationally as we continue to grow the company and achieve even greater success."
The first phase of the program will enable companies to reach a robust WPS Office Android user base along with a unqiue set of adveristing options. Ad Slots and a full break down of the WPS Office Android inventory can be viewed in the Advertising Sales Overview here: https://goo.gl/wOUMtE. In total, WPS Office has over 100 million mobile MAUs, a number that continues to rapidly increase.
In addition, WPS Office for Android has earned multiple awards and recognitions, including Google Play Top App of 2015, Google Play Editors Choice, Google Play Top Developer, and more than one million reviews on Google Play.
The company is partnered with industry leading brands that include Amazon.com, AT&T, Dell, HP, Intel, Lenovo, Motorola and Qualcomm, among others.
To learn more about the WPS Office Advertising Sales Program, contact (650) 617-3213 or williamwong@wps.com.
About WPS Office Software
Palo Alto-based WPS Office Software is a leading office productivity suite for PC and mobile devices. With more than 1.2 billion installs, WPS Office is a high performing, yet considerably more affordable solution that is recognized as a preferred alternative to Micosoft® Office and is fully compatible and comparable to Microsoft PowerPoint, Excel and Word. The WPS Office suite is available for Windows and Linux-based PCs as well as Android and iOS. WPS Office Software is a subsidiary of Kingsoft Corporation, China's leading Internet services and software company. More information can be found at http://www.wps.com.
Follow us on Twitter and Facebook .
Media Contact:

WPS PR
mktg@wps.com