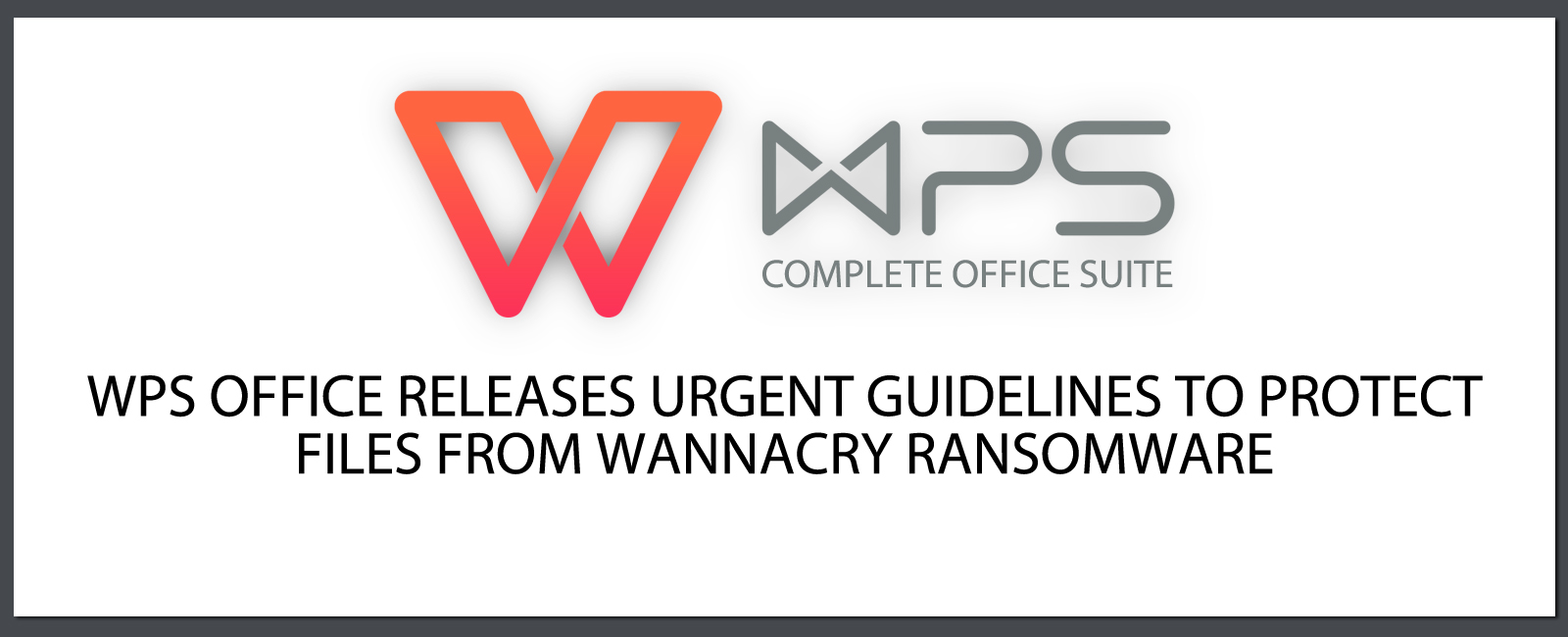 PALO ALTO, Calif., May 18, 2017 – WPS Office Software, a leading office productivity suite for PC and mobile devices, today alerted more than 200 million monthly active users of its popular WPS Office software suite of the current ransomware threat and provided guidance on both prevention and recovery. While the recent WannaCry ransomware is being addressed by authorities, the threat is not over and experts warn of additional attacks globally.
According to reports , more than 200,000 victims in 150 countries have been negatively impacted by the WannaCry ransomware virus, with many individuals and organizations seeking expert opinions to determine if they are a potential victim of these threats. Leaked earlier this year, the WannaCry ransomware virus uses a flaw in Microsoft's operating system that was discovered by the U.S. National Security Agency and leaked by individuals, spreading the virus rapidly across local and wide area networks around the world.
Ransomware is malicious malware that comes in the form of a software download or other transmission vehicle that locks files on a computer and demands payments to release them. Although ransomware threats have been rising steadily for some time, the most recent attacks by WannaCry have been referred to as "unprecedented" by European authorities because of the scope and scale of the attacks. WannaCry affects computers running the Windows operating system, but many systems have been untouched by the virus through simple IT housekeeping.
The software development experts at WPS Office note that there are steps that can be taken to prevent ransomware attacks. Additionally, WPS Office customers have the additional safeguard of remedies to retrieve encrypted files if an attack has already occurred. The guidance for WPS users on the Microsoft operating system includes the following:
 Ensure that the Windows Update is run regularly to install the latest operating system patches and fixes on servers, desktops, and laptops.
 Confirm that the computing device has anti-virus installed and checked to make sure the anti-virus software is also up to date.
 Set anti-virus software to scan automatically in order to identify and protect against possible threats 24/7, making it more difficult for these viruses to succeed.
 Back-up all critical folders and files to a remote location or device so that in the event data is being held for ransom, a second recent copy is available for use.
 All computer users should inspect links sent through email before clicking on them and avoid downloading of any unknown software as a best practice.
WPS Office Supports Customers in the War Against Ransomware
WPS Office users that have been impacted by ransomware have options available to them that can be used to retrieve files lost to criminal encryption. Once attacked, customers storing their office files in WPS Cloud may simply log into their account and download the imprisoned files in a matter of minutes to either the affected computer or any other computing device available. This provides fast and full access to all WPS Office files.
WPS Office users with files stored only on their PC have the ability to use the WPS DataRecovery Master tool. This new tool is for those files stored on a local device (ie: desktop or laptop). Originally developed by WPS Office to recover accidentally deleted data, the WPS DataRecovery Master tool has been optimized and can now be used to recover any office file on the user's device. This includes Writer, Presentation, or Spreadsheet files that have simply disappeared as a result of ransomware encryption. To use the free tool, users simply download WPS DataRecovery Master at the following WPS Office link: https://www.wps.com/data-recovery
"Ransomware is in its early stages and will continue to have a severe impact on both individuals and businesses," said Cole Armstrong, Senior Director, Marketing for WPS Office. "At WPS Office, our team is working to prevent the potential damage caused by these criminal hackers -- providing fast recovery of data that has fallen subject to WannaCry or any other variant. With WPS Cloud and DataRecovery Master, WPS Office users can avoid the painful issues these attacks can cause."
FREE Download of WPS DataRecovery Master:
https://www.wps.com/data-recovery
Purchase WPS Office software suite with WPS Cloud:
https://www.wps.com/office-personal-home-smb?click_from=April_promotion&coupon_code=WPSTG2017
About WPS Office Software
Palo Alto-based WPS Office Software is a leading office productivity suite for PC and mobile devices. With more than 1.2 billion installs, WPS Office is a high performing, yet considerably more affordable solution that is recognized as a preferred alternative to Microsoft® Office and is fully compatible and comparable to Microsoft PowerPoint, Excel and Word. The WPS Office suite is available for Windows and Linux-based PCs as well as Android and iOS. WPS Office Software is a subsidiary of Kingsoft Corporation, China's leading Internet services and software company. More information can be found at http://www.wps.com.
Follow us on Twitter @WPS_Office and Facebook.
Media Contact:

WPS PR
mktg@wps.com