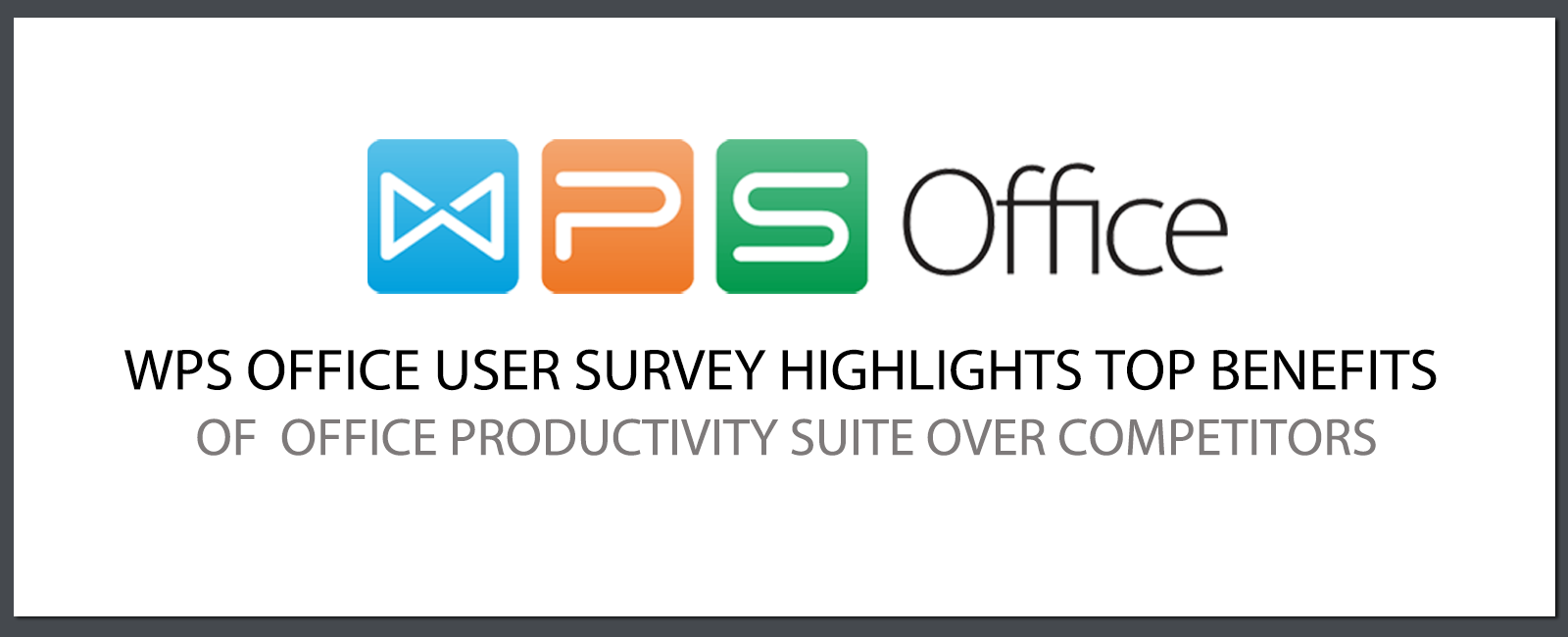 PALO ALTO, Calif., July 26, 2016 – WPS Office Software, a leading office productivity suite for PC and mobile devices, has announced the results of a 2016 user survey that examined customer usage patterns and preferences. Over 1,000 users from diverse industries worldwide participated in the survey, which was administered in the second quarter.
Top findings of the survey include:
Nearly 80 percent of respondents used Microsoft Office as their productivity suite before switching to WPS Office.
Over half of respondents (52 percent) switched to WPS Office because their previous software was too expensive.
Users also made the switch to WPS Office because they found it more reliable (nearly 16 percent) and faster (12 percent) than their previous software.
"Our newly released user survey confirms what we at WPS Office already know to be the top benefits of our office productivity suite—namely that WPS Office is less expensive, faster, and more reliable than MS Office and other competing products," said Cole Armstrong, senior director of marketing, WPS Office Software. "When so many users—from students and small business owners to IT and accounting professionals—validate their positive experience with WPS Office, it reemphasizes the many reasons why our flagship app has become so popular across the board."
The new survey also revealed that the typical user profile for WPS Office includes small/home office users with nine or fewer employees (63.5 percent), as well as small business owners (nearly 14 percent) and SMBs (around 11 percent).
The majority of WPS Office users are students or in the education field (31 percent) and small business owners (17 percent). Other common user occupations include information technology (nearly 14 percent), accounting (over 10 percent), and media/communications (7 percent).
The WPS Office suite, which is Android for Work integrated, is available free of charge in a Personal Edition for Android and iOS as well as Windows and Linux-based PCs. The software is also available in a Business Edition through one of several licensing options, including annual, lifetime, or freemium. In terms of annual licensing, WPS Office for Windows is half the price of Microsoft with an annual license fee of $44.99 compared to Microsoft's $99.
About WPS Office Software
Palo Alto-based WPS Office Software is a leading office productivity suite for PC and mobile devices. With more than 1.2 billion installs, WPS Office is a high performing, yet considerably more affordable solution that is recognized as a preferred alternative to Micosoft® Office and is fully compatible and comparable to Microsoft PowerPoint, Excel and Word. The WPS Office suite is available for Windows and Linux-based PCs as well as Android and iOS. WPS Office Software is a subsidiary of Kingsoft Corporation, China's leading Internet services and software company. More information can be found at http://www.wps.com.
Follow us on Twitter and Facebook .
Media Contact:

WPS PR
mktg@wps.com