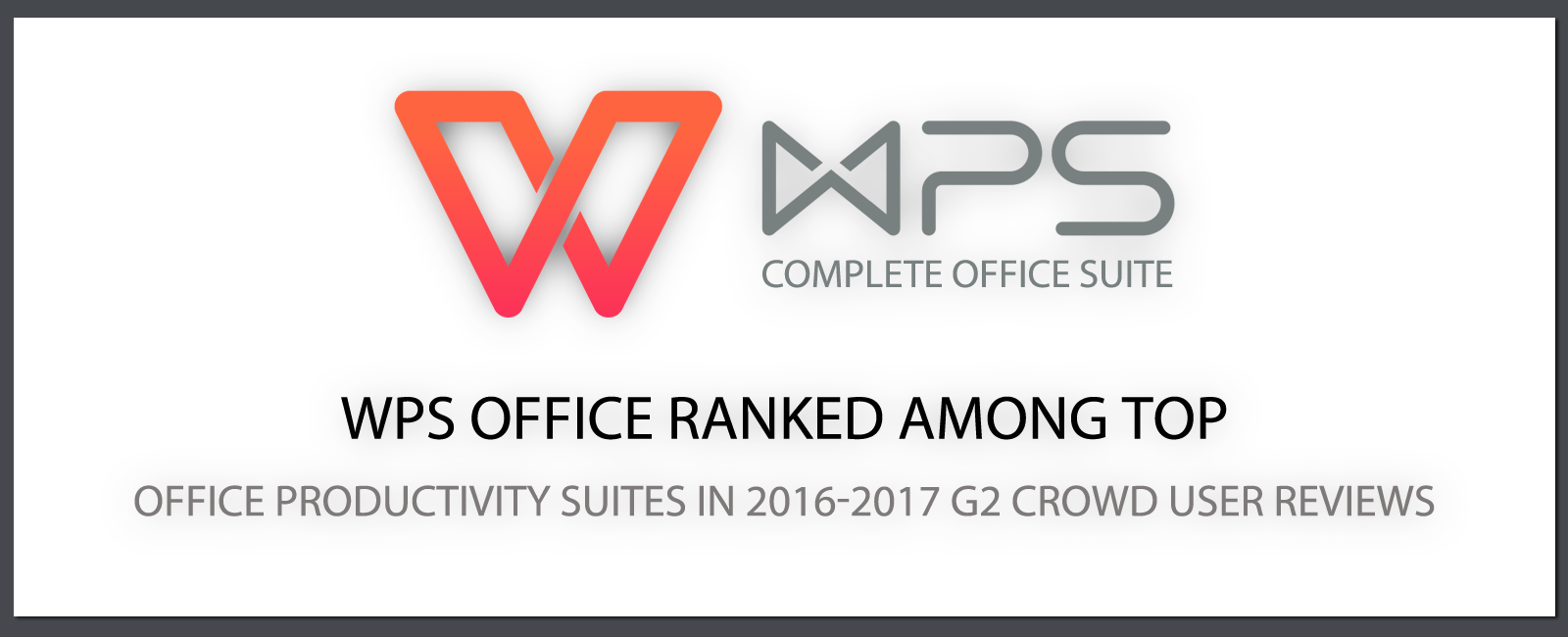 PALO ALTO, Calif., January 24, 2017 – WPS Office Software, a leading office productivity suite for PC and mobile devices, today announced that its flagship software suite, WPS Office, has been ranked as a "High Performer" in a G2 Crowd review of office productivity products. In a comparison against Microsoft Office, Office 365, and Google G Suite, WPS Office performed best overall according to customer rankings and was specifically noted for software functionality and compatibility with other popular office options.
G2 Crowd is a leading business software review platform, leveraging its 100,000+ user reviews read by 700,000 software buyers each month to help them make better purchasing decisions. By bringing the collective power of trusted peers to the forefront, software buyers have transparency when evaluating B2B software technologies. G2 Crowd reviews include insights from expert peers, everyday users, and aggregated data to score a range of competitive products.
In the comparison, one of the users who gave WPS Office a five star rating called the software a powerful office suite without the high cost. "WPS Office includes everything you would expect from an office software package, including a document creator similar to Microsoft Word, a presentation creator/editor similar to Powerpoint and a spreadsheet program similar to Excel. The unique aspect of the software is that it is available for PCs and mobile devices such as smartphones and tablets which makes working on documents on the go very portable and easy. The software includes a rich set of features and is available at different affordable price points, including free, if you are open to sponsored access," noted the reviewer.
A second review in the G2 Crowd comparison said, "WPS has fantastic MS Office compatibility and some functions that are even better in comparison to Microsoft. For example, when adding rows in WPS Office Spreadsheets, you can specify how many rows you would like to add at once. And there is a bunch of nice things added to all corners of this office suite that produce 'wow' effect when it comes to ordinary work and tasks. Likewise, the mobile version of this suite (tested on Android) is the best mobile office suite period. There is nothing as powerful under your fingers as WPS."
Many other reviews in the comparison were also very favorable with high opinions of WPS Office file format interoperability. Users of the software noted the compatibility with popular formats, including.doc, .xls, and .ppt files, for seamless file exchange with Microsoft Office and others. Those reviewing the software also highlighted the product's smaller footprint, requiring less storage and memory to operate, and facilitating faster start up and operation. The business version of WPS Office was praised by multiple customers for its affordable price while the free personal version of the software was also well-received."
With advantages that are above basic productivity applications, WPS Office includes Writer, Spreadsheets, and Presentation, all of which have a familiar interface; are easy to use; and are built with a lighter code base for faster performance. Capabilities include the ability to read, print, and save content to PDF format or easily view, edit, and create Microsoft Office documents. The latest generation software also provides the ability to convert PDFs to Word and an expanded set of templates to speed document creation.
"With more than one billion total installs globally, WPS Office continues to enjoy a steady stream of new customers every day," said Cole Armstrong, global marketing director for WPS Office. "With so many popular office suites included in the G2 Crowd product comparison, the ranking we achieved is a testament to the countless hours our software development team has put into the product. We are proud of this accomplishment and thank the G2 Crowd survey participants for their input on our software."
See WPS Office on G2 Crowd at: https://www.g2crowd.com/products/wps-office/reviews
See the new WPS Office video at: https://youtu.be/BtZDqBivc4w?utm_source=PR
About WPS Office Software
Palo Alto-based WPS Office Software is a leading office productivity suite for PC and mobile devices. With more than 1.2 billion installs, WPS Office is a high performing, yet considerably more affordable solution that is recognized as a preferred alternative to Micosoft® Office and is fully compatible and comparable to Microsoft PowerPoint, Excel and Word. The WPS Office suite is available for Windows and Linux-based PCs as well as Android and iOS. WPS Office Software is a subsidiary of Kingsoft Corporation, China's leading Internet services and software company. More information can be found at http://www.wps.com.
Follow us on Twitter and Facebook .
Media Contact:

WPS PR
mktg@wps.com