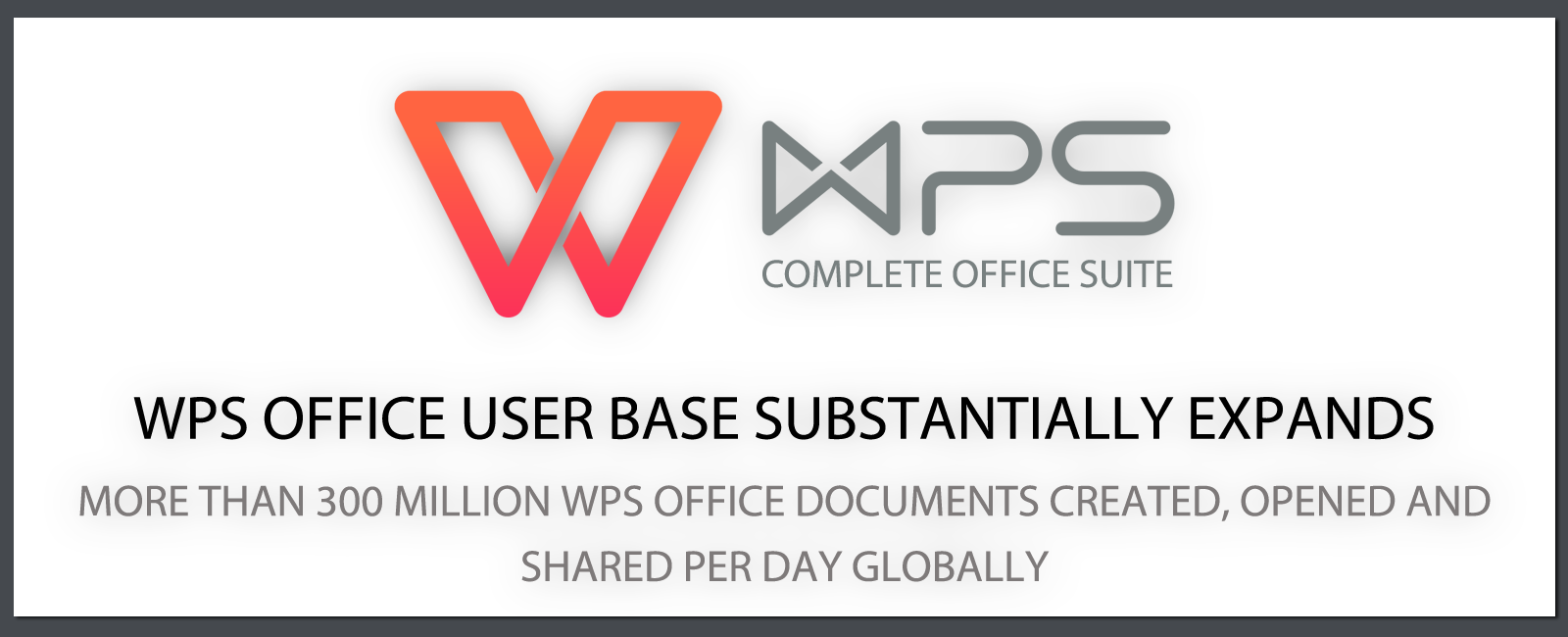 PALO ALTO, Calif., February 28, 2017 – WPS Office Software, a leading office productivity software suite for PC and mobile devices, announced today that the company has achieved significant milestones that signify accelerated growth and a rapidly expanding global user base.
An internal report of WPS Office usage statistics reveals that:
More than 300 million WPS Office documents are created, opened and shared per day, globally
The company's user base has grown by 5x since 2013[We cite 2013 in a couple of places – any particular reason for the year 2013 as the benchmark?], with over 700 million installs on Android
Users spend an average of six hours per day on a PC, and 20 minutes per day on a mobile device – a 10x increase since 2013, when users spent three minutes a day on mobile
With support for more than 50 languages, WPS Office is used in over 200 countries
"We've seen tremendous growth in our user base around the world, not only with respect to the increasing number of installs, but also with the volume of content created and shared, and how often users are active on mobile devices compared with PCs," said Cole Armstrong, Senior Director of Marketing, WPS Office Software."This is a testament to the market demand for high performing free office software, and a trend toward broader mobile usage. Users increasingly want their mobile devices to replicate the functionality and experience of using a PC. We will continue to enhance our software across both mobile and PC platforms to address user requirements and anticipate continued steady growth for WPS Office as a result."
WPS Office is a complete software office suite that includes Writer, Presentation, Spreadsheets, and a built-in PDF reader, in an easy to use and familiar user interface. The suite offers complete compatibility with Microsoft Office Documents, as well as more than 230 fonts and hundreds of free templates. Integration with cloud providers such as Google Drive, Drop Box and Box gives users the ability to collaborate with others and support business operations.
Accolades
The software has been ranked as a "High Performer" in a G2 Crowd review of office software products. G2 Crowd is a leading business software review platform. In a comparison against Microsoft Office, Office 365, and Google G Suite, WPS Office performed best overall according to customer rankings and was specifically noted for software functionality and compatibility with other popular office options.
WPS Office earned more accolades in Q3 2016, with two four-star editorial reviews from the publications Laptop Magazine and Techworld. During that same period, the company announced that it had surpassed 1.2 billion installs worldwide, and in December 2016 it declared more than 100 million monthly average users (MAUs).
Global research firm Ovum conducted an extensive evaluation of WPS Office and concluded in its On the Radar report that WPS Office is "the fully functional, highly compatible, low-cost alternative to Word, Excel and PowerPoint."
About WPS Office Software
Palo Alto-based WPS Office Software is a leading office productivity suite for PC and mobile devices. With more than 1.2 billion installs, WPS Office is a high performing, yet considerably more affordable solution that is recognized as a preferred alternative to Micosoft® Office and is fully compatible and comparable to Microsoft PowerPoint, Excel and Word. The WPS Office suite is available for Windows and Linux-based PCs as well as Android and iOS. WPS Office Software is a subsidiary of Kingsoft Corporation, China's leading Internet services and software company. More information can be found at http://www.wps.com.
Follow us on Twitter and Facebook .
Media Contact:

WPS PR
mktg@wps.com