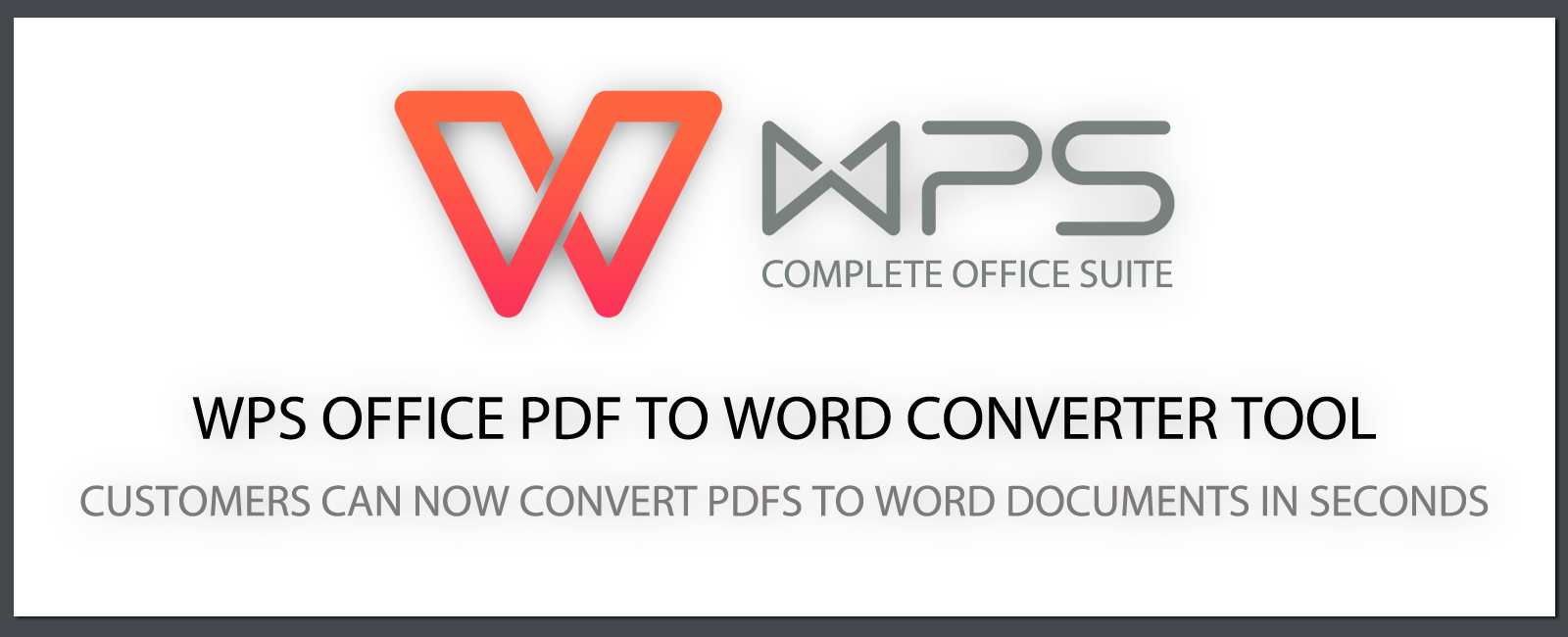 PALO ALTO, Calif., February 14, 2017 – WPS Office Software, a leading office productivity suite for PC and mobile devices, has announced the release of a new tool to help users quickly convert PDF files into Word documents for both Windows and Android. The WPS PDF to Word Converter offers the only free solution for Windows software that does not require registration or payment.
"Sometimes you need to be able to access the locked content that's on a PDF and edit it, even on a mobile device," explained Cole Armstrong, senior director of marketing, WPS Office Software. "The all-new WPS PDF to Word Converter combines superfast speed, ease of use, and high quality for the most accurate PDF to DOC and DOCX conversion. There's nothing better for keeping fonts and layouts intact, from body copy to bullets and tables. What's more, there's no registration needed for immediate conversion."
Key features of the new WPS PDF to Word Converter include:
Fast conversion—PDF files converted to Word documents in seconds.
Ability to maintain all formats, fonts, layouts, bullets, and tables for increased efficiency when converting PDF documents to Word files.
Users can select PDF files to convert according to their needs, opting to split or merge pages for PDF conversion.
Supports a wide range of output file formats, including RTF, native DOC, MS Word-DOC, and MS Word-DOCX.
Gives users the option to convert and output back with one key to support bulk outputting.
For Windows users, the WPS PDF to Word Converter is available as a stand-alone app. The solution offers the ability to convert five pages for free, or to convert unlimited pages with a paid license. The paid option allows users to split and merge PDF documents.
Android users can access PDF to Word as part of a premium subscription package. In addition to the PDF to Word tool, Android users can access additional solutions for Removed Ads, PDF Signature, Font Pack, and Online Templates.
The PDF to Word Converter for WPS Office for iOS will be available by mid 2017.
The PDF to Word Converter allows both Windows and Android users to modify PDF files in any of the three applications within WPS Office: Writer, Presentation, and Spreadsheets. Benefits of being able to convert files from PDFs for use in any of these programs include avoiding the extra work of re-keying files, keeping the original file's formatting, and on-the-go convenience when using a mobile device for PDF conversion. PDF to Word also allows for selective conversion so that users can export only the text that they need in a file without converting the entire document.
The WPS Office suite, which is Android for Work integrated, is available free of charge in a Personal Edition for Android and iOS as well as Windows and Linux-based PCs. The software is also available in a Business Edition through one of several licensing options, including annual, lifetime, or freemium. In terms of annual licensing, WPS Office for Windows is one third the price of Microsoft with an annual license fee of $29.99 compared to Microsoft's $99.
See WPS Office on G2 Crowd at: https://www.g2crowd.com/products/wps-office/reviews
See the new WPS Office video at: https://youtu.be/5rBuQ8FH0OE
About WPS Office Software
Palo Alto-based WPS Office Software is a leading office productivity suite for PC and mobile devices. With more than 1.2 billion installs, WPS Office is a high performing, yet considerably more affordable solution that is recognized as a preferred alternative to Micosoft® Office and is fully compatible and comparable to Microsoft PowerPoint, Excel and Word. The WPS Office suite is available for Windows and Linux-based PCs as well as Android and iOS. WPS Office Software is a subsidiary of Kingsoft Corporation, China's leading Internet services and software company. More information can be found at http://www.wps.com.
Follow us on Twitter and Facebook .
Media Contact:

WPS PR
mktg@wps.com