WPS Office is dedicated to unleashing
About us
WPS Office Software is a leading office productivity suite for PC and mobile. With over 1.2 billion installations, WPS Office is a high-performance and cost-effective office suite fully compatible with Microsoft PowerPoint, Excel, and Word.
WPS Office boasts over 33 years of research and development experience and technology accumulation. As a leading Internet service and software company, we independently develop main products and services and own over 941 independent intellectual property rights. As of July 2020, Kingsoft Office's market value rose to $31 billion. We're honored to be recognized by the Forbes Global 2000 as one of the world's largest public companies.
Milestones of Kingsoft Office
1989 Founder of Kingsoft, Bojun Qiu announced the launch of WPS 1.0
2001 Successfully achieved first order for government procurement
2005 Code rewriting, Fully compatible with MS Office, Free individual edition announced
2007 WPS made inroads into the Japanese market and enabling internationalization processes
2011 WPS Office mobile application released
2015 One-Stop WPS+Cloud Service released
2017 WPS Office surpassed 100 million monthly active users on both PC and mobile/In May, WPS Office Thai version was released in Bangkok
2018 Kingsoft Office hold the Cloud AI-Future Office System Conference: WPS Office 2019 announced
2019 Kingsoft Office launched its initial public offering (IPO) in 2019
2020 In June, Kingsoft Office becomes the official office automation software supplier for the Beijing Winter Olympics and the Paralympics.
FORTUNE added Beijing Kingsoft Office Software to
.
FORTUNE's Future 50 list for 2021 highlights public companies with the strongest long-term growth potential. They use this methodology to identify 50 global companies best positioned to deliver above-average gains to investors.
on the Future 50 list for 2021.
What we have achieved
After years of innovation and development, we made inroads into the international market. WPS Office currently has achieved:
At the same time, we have also received international recognition. In addition to winning the ITreview Grid Award 2021 Spring/Summer, we have also received the following awards: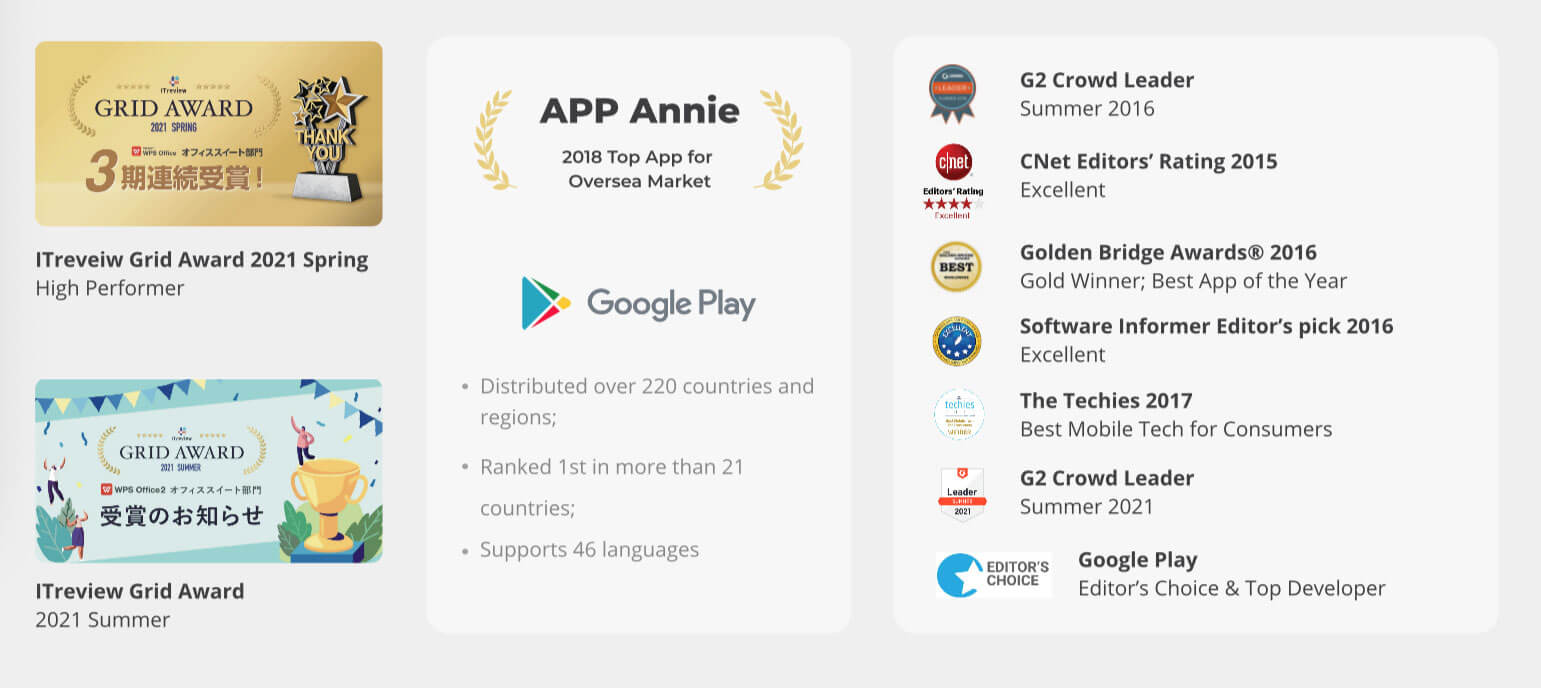 Why WPS Office
Professional features and abundant templates help users stand out in all common scenarios.




A simpler working process to grow users productivity and creativity.


Our Customers
Over 200,000 leading enterprises across the globe trust and download WPS. At the same time, WPS constantly strives to improve the user experience and your work efficiency.