WPS Office
Free All-in-One Office Suite with PDF Editor
Edit Word, Excel, and PPT for FREE.
Read, edit, and convert PDFs with the powerful PDF toolkit.
Microsoft-like interface, easy to use.
Windows • MacOS • Linux • iOS • Android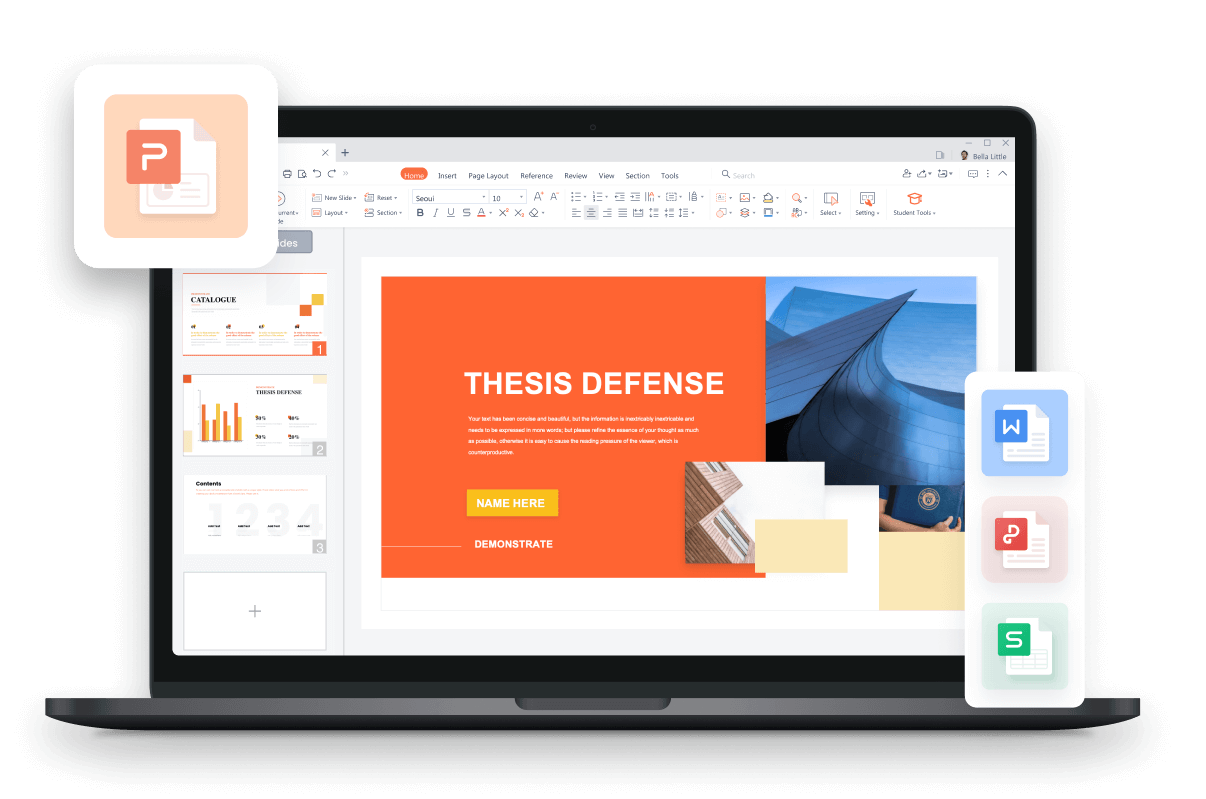 Best Online Presentation Examples for Students
Are you looking for the best online presentation examples for students for your next pitch deck, company meeting, or training session? Then, you're in the right place.
But making a strong presentation from scratch can be challenging, especially if you're pressed for time but still want to be distinctive and professional-looking.
Scroll down for some of the top WPS presentation templates in various categories. When you locate one you like, use the presentation program to edit it by clicking the button below.
Here's a short selection of 10 easy-to-edit best online presentation examples for student templates you can edit, share and download with WPS.
1.Educational Notes Presentation
Make a lively presentation with educational notes and must-have educational notes presentation templates. Its layout comes with fantastic slide elements and exciting colors. In addition, each slide is fully customizable and can be edited to match your ideas.
2.Fresh Warm Education Presentation
One of the best and newest warm education presentation templates is this one. It includes stylish vector school illustrations you can use. Make your school PowerPoint templates slide backgrounds on target for your academic PPT.
3.Creative Courseware Presentation
This set of PPT presentations for school has you covered no matter what kind of education presentation you're making. It includes customizable slide designs and pro graphics. So try it if you need the best creative courseware presentation.
4.Pink Grove Fresh Presentation
This online presentation template for students comes with unique instructional slides. The pink grove fresh PowerPoint presentation slides have clean, modern pink designs—download one of the best slide education PPT templates for students.
5.Green Leafs Fresh Education Presentation
This PowerPoint green leaf's fresh education presentation comes with various slides. The slides include education and science infographics. This PPT is also for students who must present their assignments to the class.
6.Cartoon Blue Education Presentation
This cartoon blue education presentation template is great for students working and presenting together. It has several fully customizable slides. In addition, the data visualizations help you communicate stats and figures in an easy-to-understand and engaging way.
7.Cartoon Black Presentation for Children
This cartoon black presentation template can be used for children's presentations. By changing the appearance and content, you may also use it for other things. It includes a great process slide, replaceable human image files, and other beneficial visual aids.
8.Pink and Blue Simple Presentation
Making the presentations are quite a time taking and difficult. So, why not take things up and create a bright, colorful presentation to keep your audience engaged until the end? This is the best pink and blue simple presentation template for training plans and courses.
9.Simple Scientific Education Presentation
Looking for a straightforward presentation for scientific education? Use this presentation template instead. Create an educational and visually appealing presentation using slides that have been properly produced, a lot of scientific imagery, and futuristic styling.
10.Gradient Style Study Abroad University Presentation
This gradient-style study abroad university presentation is intended for students who wish to present information on studying abroad. The slides help you organize your slides, break them into sections, and visually communicate course objectives and content.
Conclusion
Nothing is more monotonous than a PowerPoint presentation that is dull and uninteresting. Professional designers provided pre-made presentations and slide templates for the WPS presentation program. Additionally, each of our slideshows is completely editable, making it simple for you to incorporate your brand into them.
Whether you're looking for a business presentation template, a nonprofit slideshow, or the best online presentation examples for students, you'll find exactly what you need.