WPS Office
Free All-in-One Office Suite with PDF Editor
Edit Word, Excel, and PPT for FREE.
Read, edit, and convert PDFs with the powerful PDF toolkit.
Microsoft-like interface, easy to use.
Windows • MacOS • Linux • iOS • Android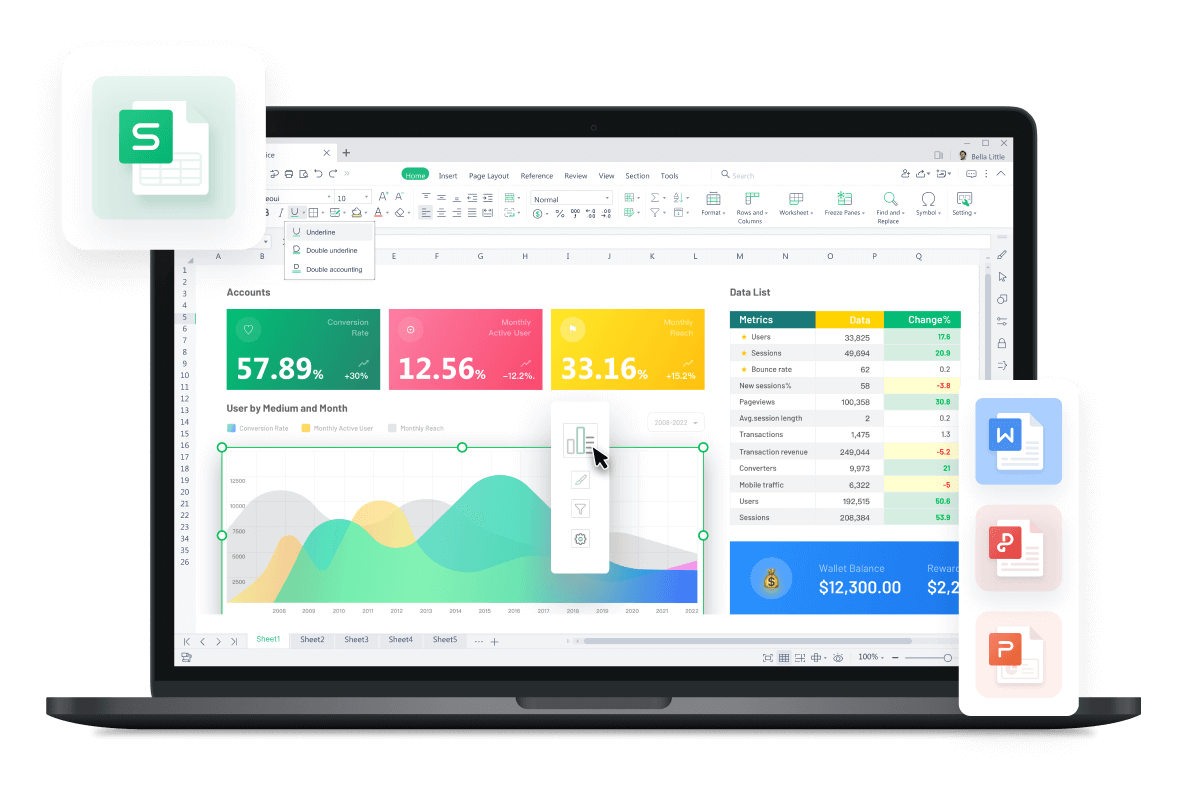 Top 10 free excel templates for business download for excel
In business, there are different templates that it uses that include free formulas, sheets, etc. Excel templates are so widely downloaded and used in offices for so many reasons. Because of its adaptability, you may use it to monitor KPIs, produce sales receipts, and keep track of time sheets. Free excel templates for business is one of the most helpful in our business.

These templates can be downloaded for free. It is worthwhile to spend a little time looking at the built-in layouts because they can help you save considerable time. Users of Microsoft Excel templates can find patterns in data and classify them into functional groups.
Some of the top free Excel templates for Business, the companies have been gathered here to assist your living easier.
BLUE EXCEL FOR COST ACCOUNTING:
Cost accounting excel template is very useful when it comes to record transactions of purchased goods. It contains different columns such as date, type, unit cost, amount and total cost of purchased goods.
This template can be downloaded free and it manage schedules and essential time for important tasks. Also, it provides the facility of writing a to-do list and memo.
It provides the best template for writing a product log. This template is helpful for the daily activities of the business in terms of recording product logs on daily basis.
4- project task list for business:
This template is an example of how it can be used for different business projects purposes such as their starting and ending dates along with estimations as well. This template and its formulas can be downloaded for free from WPS.
This solution tracking table is used for the purpose of products and their description by their managers. Evaluation is done by filling different columns in the template form WPS which can be downloaded for free.
The simple resume provides a professional template for making a daily sales template so that sales can be recorded easily.
7- Investment income budget statement:
This template provides the income budget template so that employees and other organizations can see it to analyze the financial and non-financial position of the business.
8- Colorful good registration:
This WPS template provides a colorful good registration template which is free to download and have columns of unit, size, price and quantity etc.
9- project task list for business:
This template is used to maintain a record of different tasks of business on a daily basis by entering their title, budget, estimated hours, and starting or ending dates.
10- Construction schedule Gantt chart:
It helps in describing different work phases by setting work starting and ending dates. Other graphics can also be used to identify things in this free excel template for business.
Spending a short day looking at the pre built plans will be beneficial because they may help you save time. Excel users can categorize data into appropriate groups and see trends in the data. In addition, Excel handles HR tasks that maneuver firms in statement the placement and action of their staff, so much as categorizing hours through with and arrangement employee collection and costs.
For more free templates, download WPS office.