WPS Office
Free All-in-One Office Suite with PDF Editor
Edit Word, Excel, and PPT for FREE.
Read, edit, and convert PDFs with the powerful PDF toolkit.
Microsoft-like interface, easy to use.
Windows • MacOS • Linux • iOS • Android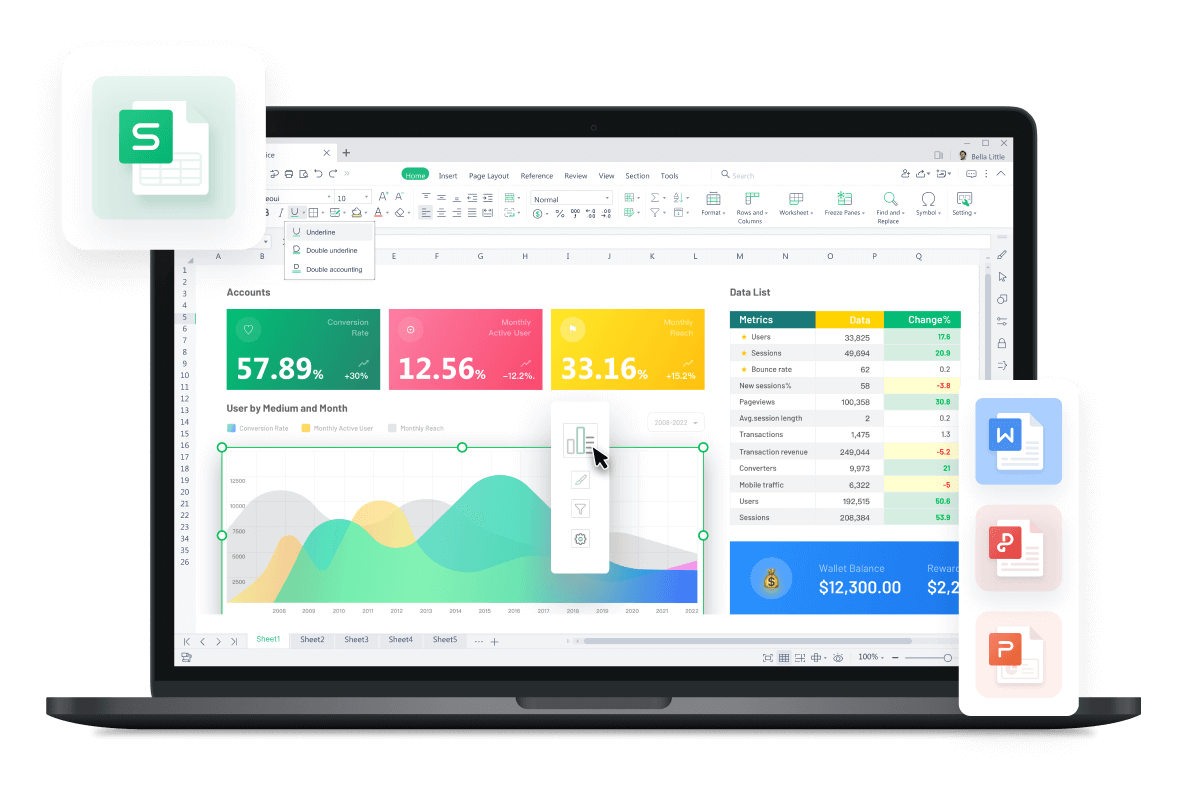 Top 10 personal expenses Excel template download 2022
With the personal expenses excel template you can improve your personal and household planning. It is useful to always have a professional spreadsheet available for special occasions, weddings, house purchases, etc. to keep track of your finances.
Keep track of your budget with easy-to-use templates that you can download and customize. Below is a spreadsheet that will help you keep track of your finances personal expenses excel template for hourly and monthly basis.
With this business budget template, you can keep track of your company or business expenses. This will help you make better business decisions.
2.Personal Annual Salary Statistics
This is the free excel budget template that you can download to keep the budget for such an important day. You can track the cost and have a schedule that is divided into Plan A and Plan B.
3.Sales Personnel Self-evaluation Form
The simple Excel spreadsheet template for budget will help you organize and manage your finances. It comes in red and pink and is easy to use for hourly and monthly basis.
4.Application Form for Personnel Mobilization
It is the perfect budget planner for your business to organize your finances. It tells you what you spend the most money on and the price of each product.
5.Personnel Mobilization Application form
It is an investment statement template that you can use to keep track of your income. It has a green color and gives your work a more attractive touch. Also, it is a free weekly Excel budget template.
6.Expense Reimbursement Approval Form
This template is ideal for keeping track of your monthly expenses. It allows you to update and organize your monthly savings and expenses in a professional and waste-free way. You can use it to add expenses such as water, electricity and rent. It can also serve as a free Excel budget template for 6 months.
7.Staff Medical Expenses Table
Free Excel budget template 1 year Excel budget template is easy to use and can be edited as needed. It has more horizontal layouts and you can track your annual budget better for hourly and monthly basis.
If you want to know about the financial situation of your business, you should keep a financial table where you can record all expenses and income. It's a professional template in orange, gray and white and easy to use.
9.Travel Expenses Reimbursement Form
If you spend more money than you think, it's time to get your finances in order with a user-friendly personal budget template. Using budget categories, you can keep track of your expenses and income. Plus, you can customize the template and have free Excel budget template time.
The free Excel 12-month budget template is an easy-to-use spreadsheet. You don't have to be an Excel expert to use it. It allows you to edit and add categories.
The WPS personal expenses excel template in WPS is a great alternative to creating a personal expenses from scratch. The Internet is full of templates, and if none of them suits your needs.
You can also download WPS Office to edit the word documents, excel, PowerPoint for free of cost. Download now! And get an easy and enjoyable working experience
In the WPS Academy, you can learn how to make personal expenses for hourly and monthly basis to promote your expertise You can do this. With WPS, you can make personal expenses very easily.