WPS Office
Free All-in-One Office Suite with PDF Editor
Edit Word, Excel, and PPT for FREE.
Read, edit, and convert PDFs with the powerful PDF toolkit.
Microsoft-like interface, easy to use.
Windows • MacOS • Linux • iOS • Android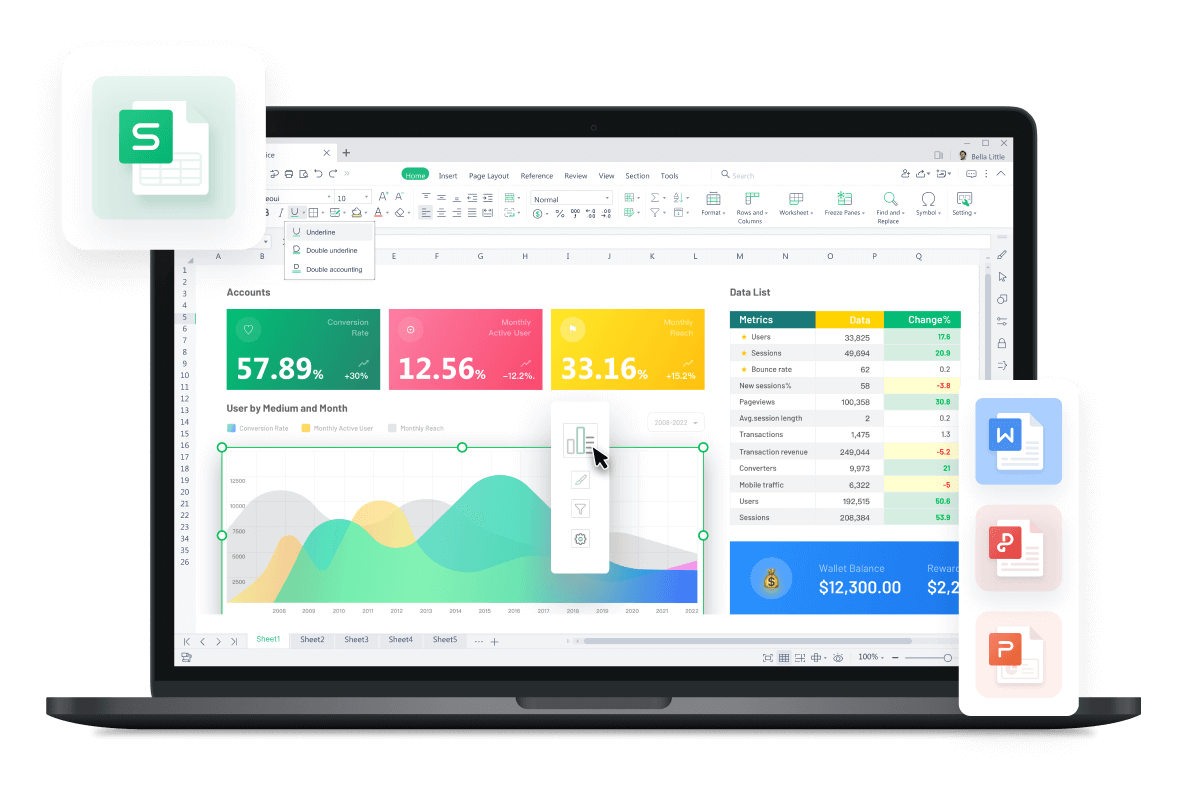 Best 10 Party Planning Template Excel
A party planner from Excel can help you organize all the elements that make up a successful event, whether it's a family event or a corporate event. It includes a budget that makes it easy to calculate your total costs, a list of guests, and an overview of the party as a whole. Your progress on the party planning template excel is tracked with a dynamic to-do list. Planning events is easier with Excel sheets.
The process of planning an event or party is a very difficult and daunting one that requires constant attention to detail. A party planning template excel template will assist you in identifying all of the details you need to take into account when planning an event, as well as indicating what the timelines are.WPS Office has provided many spreadsheets for party planning.
Best 10 Party Planning Template Excel
These templates provide a great starting point for creating visually appealing and professional party materials. Whether it's posters, invitations, or event timelines, WPS offers a diverse range of options to suit your party planning needs.
With a WPS Office holiday printable template, you can enjoy the Holi festival. To complete your Holi décor, invite banner, and more. Customize the colorful Holi motifs and fun Holi colors as much as you like.
We have provided this Pool Party Poster Template to help you create a poster design to promote your own pool party or otherwise create eye-catching posters for your clients and/or customers.
The accessible events planner and timeline template can be used to plan tradeshows, galas, or other large complex events. Tracking profit and expenses with this checklist and timeline will help you determine what to do next
Summer events are perfect for the Cocktails Party Flyer Template. Any summer festival can be a beach party, club party, pool party, or tropical party. Save time by creating a personalized design. Imagination and color.
As compared to other wedding invitations, party invitations are mainly like reception invitations, which are quite straightforward. You can also download these templates for free.
A graduation ceremony represents a significant accomplishment for many young people. Whether a party celebrates graduation or passing a grade, whether it is a party to commemorate the next step of leaving for college.
With warm Easter colors and images, WPS Office spring templates brighten up your presentations. Family and friends can benefit from spring flower templates.
As summer approaches, everyone will be looking forward to relaxing and not having as many responsibilities. Outdoor activities will be in demand like BBQ events.
With these flower templates, you can use them for a variety of arts and crafts projects since they are so versatile - just print them out and stick them in your sketchbook!
In Hinduism, the festival of love and colors signifies the victory of virtue over immorality. On Holi, greeting cards are sent, letters are written, gifts are given, and meals are prepared.
Choosing the Right Software
WPS Office Templates
Discover the wide range of free and systematized professional templates in WPS. Elevate your work to the next level with ease of use and efficiency. Here are some pros and cons of using professional templates in WPS:
Pros:
Abundance of Free Templates: WPS provides users with a vast collection of free templates for various purposes, including party planning. This abundance allows you to choose a template that suits your specific needs and preferences.

Systematized Templates: The templates in WPS are designed to enhance your professional level. They are well-organized and structured, helping you create visually appealing and cohesive party plans. The systematized layout makes it easier for you to organize your ideas and information effectively.

Ease of Use: WPS templates are user-friendly and straightforward to operate. You don't need advanced technical skills to customize them according to your requirements. With intuitive interfaces and simple editing options, you can quickly adapt the templates to your party planning needs.
Cons:
Paid Access for Some Templates: While WPS offers a wide array of free templates, it's worth noting that certain templates may require payment to access. These premium templates might have more advanced features or specialized designs. If you opt for these templates, you'll need to consider the additional cost involved.
On planners
Onplanners is a platform that provides party planner templates.
On planners
Here are the pros and cons of using Onplanners:
Pros:
Extensive Template Collection: Onplanners offers a wide variety of party planner templates. With a large number of templates to choose from, users can find options suitable for various party themes and styles. This ensures versatility and flexibility in planning different types of events.

Vibrant and Eye-Catching Design: The color scheme and overall visual appeal of Onplanners' templates are designed to be bright and eye-catching. This can help grab attention and make your party plans visually appealing and engaging.
Cons:
Paid Templates: While Onplanners provides a significant number of free templates, it's worth noting that some templates may require a fee. These premium templates might offer additional features or more intricate designs that come at a cost. Users should consider their budget and requirements before opting for paid templates.
Smartsheet
Smartsheet is a platform that offers free event planning templates. Here are the pros and cons of using Smartsheet:
Smartsheet
Pros:
Flexibility and Agility: Smartsheet provides a flexible and agile environment for event planning. The platform allows users to customize templates and create personalized event plans that meet their specific requirements. It enables quick adjustments and modifications as needed throughout the planning process.

Quick Digital Solutions: Smartsheet's digital solutions allow for the rapid creation of event plans. Users can leverage the platform's features to streamline processes, automate tasks, and improve overall efficiency. This saves time and effort compared to manual planning methods.

Coordination of Work, People, and Technology: Smartsheet enables seamless coordination and collaboration among team members, stakeholders, and technology systems. It provides a centralized platform where everyone involved in the event planning process can access and update information in real-time. This enhances communication, improves teamwork, and ensures everyone is on the same page.
Cons:
Limited Access Speed for Mainland Customers: It appears that mainland customers may experience limited access speed when using Smartsheet. This limitation could potentially impact user experience and efficiency, especially for those located in mainland China.

Ladder Requirement and Lack of Service Support: To overcome the access speed limitation mentioned above, a "ladder" is required, which typically refers to the use of a virtual private network (VPN) or proxy server. Additionally, the lack of service support may make it challenging for mainland customers to resolve any issues or receive assistance when using Smartsheet.
Canva
Canva
Canva is a popular online platform that provides party planner templates. Here are the pros and cons of using Canva:
Pros:
Wide Range of Templates: Canva offers a vast selection of party planner templates, providing users with a variety of options to suit different themes, styles, and occasions. The extensive library ensures there's something for everyone, making it easier to find a template that aligns with your party planning needs.

Colorful Templates: Canva's templates are known for their vibrant and colorful designs. The visually appealing nature of the templates helps to create eye-catching and attractive party plans, making your event stand out.
Cons:
No Painting Function: Canva does not have a built-in painting function, which means you cannot create custom illustrations or artwork directly within the platform. While you can upload your own images, the absence of a painting function limits the creative possibilities for users who prefer to create artwork from scratch.

Membership System: Canva operates on a membership system, where certain features and elements may require a subscription to Canva Pro. While many templates and basic features are available for free, access to advanced functionality and premium elements may come at a cost.

Monotypic Designs: While Canva offers a wide range of templates, some users may find that certain templates have a similar style or design aesthetic. This monotypic nature of the templates may limit the diversity and uniqueness of party plans, especially for users seeking highly customized or distinct designs.
Tips for Designing Effective Party Planning Templates
Here are some concise tips for designing effective party planning templates:
Choose a theme: Select a theme that matches the event's purpose and audience to guide the overall design and decoration.

Determine your budget: Set a budget to ensure your party planning stays within financial constraints.

Choose date and time options: Offer multiple date and time options to accommodate guests' availability and preferences.

Book an event venue: Secure a suitable venue that aligns with the theme and size of the event.

Arrange entertainment: Plan entertainment options, such as music, games, or performances, to keep guests engaged.

Make a guest list: Compile a guest list early on to gauge attendance and ensure everyone is invited.

Order supplies (if needed): If you're making your own decorations, order necessary supplies in advance to avoid last-minute stress.
By following these tips, you can create well-organized and efficient party planning templates that help streamline the event planning process.
FAQs on Party Planning Templates
Why is party planning important?
Party planning is important because it helps ensure a well-organized and successful event. It allows you to anticipate and address various aspects of the party, such as the guest list, venue, theme, decorations, food, and entertainment. By planning ahead, you can create a cohesive and enjoyable experience for your guests and minimize last-minute stress or problems.
Can I plan a party without hiring professionals?
Yes, it is absolutely possible to plan a party without hiring professionals. With the availability of party planning resources and templates, such as the ones provided by WPS Office, you can effectively organize and manage various aspects of the party yourself. These templates can guide you through the process, offering structure and ideas to ensure your event is well-coordinated and memorable.
Final Thoughts on Best Party Planning Templates in Excel
In conclusion, party planning templates play a crucial role in helping individuals create efficient and well-organized event plans. Whether you're organizing a small gathering or a large celebration, utilizing templates can save you time, streamline your tasks, and ensure that no important details are overlooked. Throughout this article, we explored different platforms and resources for party planning templates, with a particular emphasis on the benefits offered by WPS Office and its templates.
WPS Office provides a wide range of free and professional templates, including party planning templates in Excel, that cater to diverse event themes and requirements. With its user-friendly interface and systematized designs, WPS Office empowers users to create visually appealing and comprehensive party plans. Additionally, the flexibility and quick digital solutions offered by WPS Office allow for efficient coordination of work, people, and technology in the event planning process.