WPS Office
Free All-in-One Office Suite with PDF Editor
Edit Word, Excel, and PPT for FREE.
Read, edit, and convert PDFs with the powerful PDF toolkit.
Microsoft-like interface, easy to use.
Windows • MacOS • Linux • iOS • Android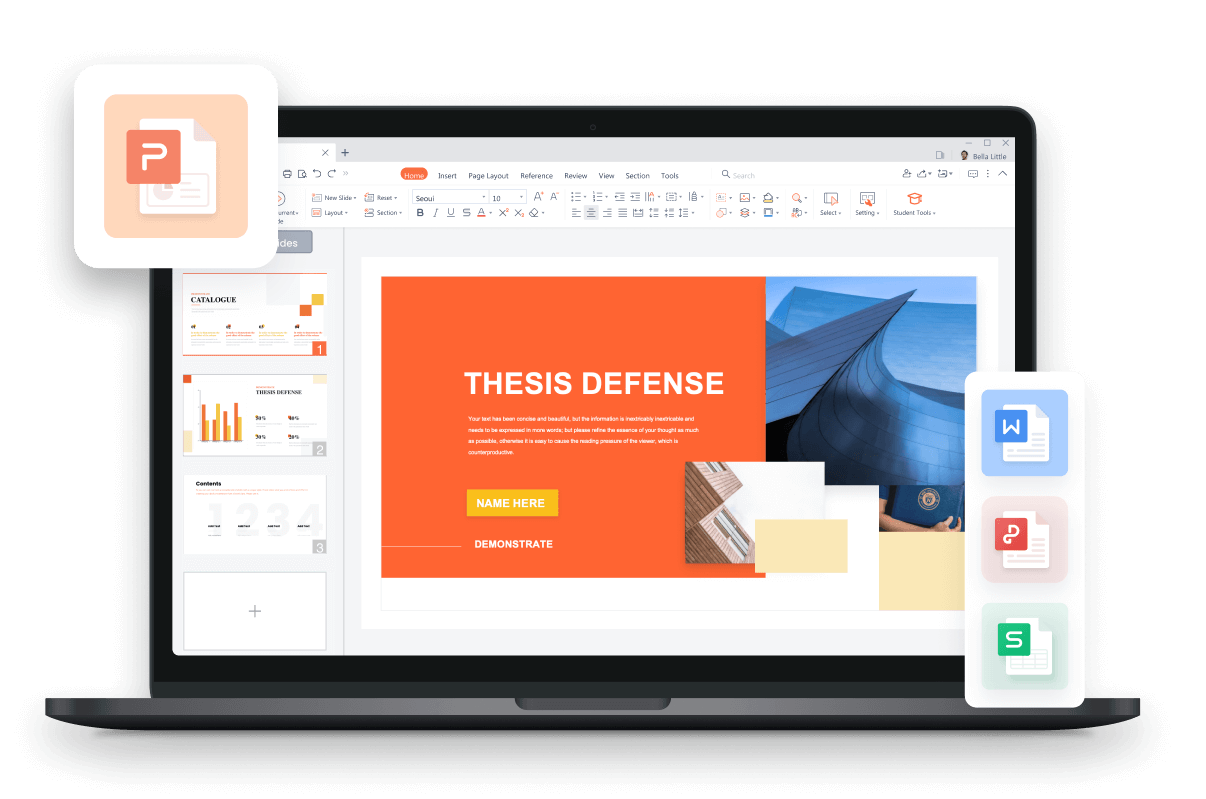 Catalog
Download Sample Interview Presentation About Yourself
The PowerPoint slides to introduce yourself and provide an educational demonstration for a job interview. Describe yourself and your future plans in this sample interview presentation about yourself, which covers a wide range of topics such as your interests, goals, skills, and profession. This placement assessment Your information is organized in PowerPoint using a SWOT analysis so that the recruiter will remember it. This sample interview presentation is a great pick to accommodate your business.
The blog post below discussed the best ten resume sample interview presentations about yourself. Each sample is well curated and discusses all the elements which need for a job interview about yourself.
1.Job Competition Presentation Template
This is a job interview presentation template. It includes sections specific to different job interviews you may encounter. The presentation is written in as a template that you can then tailor to your needs.
2.My Personal Resume Presentation Template
The personal resume presentation template is all about yourself for an interview. It's about your work experience, your work skills, and other skills you have. Once you've decided what you want to list for your resume presentation, you should build it as a slideshow using PowerPoint.
3.Minimalist Black & White Resume Presentation Template
This resume presentation template is in a black and white theme background. To add a bit of color, you could add a splash of ribbons to the pictures of your work, experience, or key achievements.
4.Photo Simple Creative Resume Presentation Template
This is the best photo, and creative resume presentation template for any job interview. This resume comes with a picture of the person using a computer, and it will make the professional seem more approachable.
5.Business Personal Resume Introduction Presentation Template
This is a business personal resume presentation template for those who do not have a great deal of experience or who have faced instability in their work history. Make sure you start the resume presentation by letting the interviewer know what you have going for you.
6.Fashion Personal Profile Resume Presentation Template
This template has things that every fashion designer would want to include. In addition, this template will walk you through every step of creating your resume presentation for those in the fashion field.
7.Pure and Fresh Resume Presentation Template
The sample interview presentation is a pure and fresh resume presentation template to present a job interview. You will want to give the main points of your abilities and showcase your most brilliant points in a very easy-to-read way. Keep it short, sweet, and straightforward.
8.Creative Simple Resume Presentation Template
This is a creative simple resume presentation template. It is a resume that could be best compared to a musical composition. It is simple, fresh, and clean. The font is Tangerine, the header is white, the background is light blue, and the text is white.
9.Purple and Blue Resume Presentation Template
Purple and blue colors are the attractive theme background colors for any presentation. The color purple stands for creativity, strength, and dignity. This color is also the opposite color of red, which is the color for passion, heat, and life. The deep blue background is soothing.
10.Creative Resume PPT Dash Presentation Template
This is an interview presentation template. It discusses ways to define your most important message. This is a 5-minute slide presentation template. It mentions the importance of including fun and optimism in your presentation and addresses some common concerns of the interviewer.
Conclusion
Use our self-portrait PowerPoint presentation for the job interview PowerPoint presentation slides to give a detailed demonstration. These samples have many slides, each of which is available in both standard and wide-screen formats. It can be entirely changed to suit your needs and preferences.
Above all, the sample interview presentation about yourself is the best choice to get a job in any field. They are simple and distinct. So you should try them to get your desired position. WPS has provided so many interview presentation samples to express yourself better. You may download the sample interview presentation or post a comment below to make a drawing of your example.