WPS Office
Free All-in-One Office Suite with PDF Editor
Edit PDFs like Word
Convert, merge, split, scan, and sign PDFs
More than PDF: Use Word, Excel, and PPT for FREE
Windows • MacOS • Linux • iOS • Android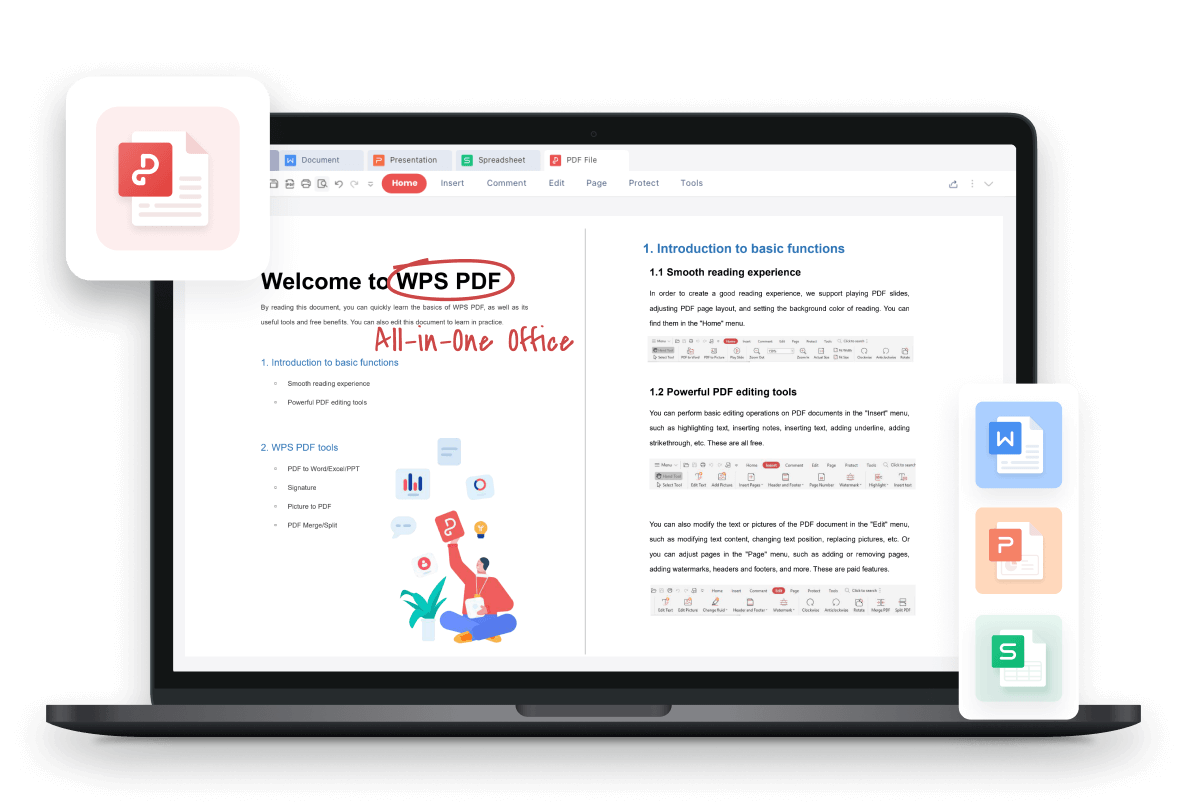 How powerful is the enhanced WPS PDF Convert?
PDFs have evolved into a common medium for information exchange. However, the robustness and security of PDF can make them a bit stubborn to manipulate in some cases. Tasks such as editing, copying, pasting, or extracting information may be inconvenient or even difficult. Fortunately, the WPS PDF Conversion feature can resolve these issues swiftly with just a few clicks of the mouse.
WPS PDF offers conversion options for Word, Excel, PowerPoint, images, and numerous additional formats, allowing us to modify and customize text, images, and layouts without losing the original file format and quality.
How to Convert the PDF?
Open the PDF and click Convert tab;

Select the desired format, such as PDF to Word

In the pop-up window, set the page range that needs to be converted;

Click Add Files, select other files that need to be converted;

Choose the Output Path that you want;

Select the format that need to be converted in the lower right corner,such as Word documents, which can choose Docx, doc, rtf
---
What Enhancements Have been Made to WPS PDF Convert?
Conversion has been the most frequently utilized feature within PDFs. In order to bring users a better experience, we have upgraded the Convent function.
More Reliable and Accurate File Conversion
The upgraded PDF Convert tool is able to better maintain the original document's integrity, ensuring that text clarity, image quality, and layout formatting remain virtually identical to the initial document. Additionally, we provide support for multi-language recognition, significantly improving the quality of conversions.
Faster and Quicker PDF Conversion
You no longer have to allocate a significant chunk of your time waiting for the conversion process to finish, which is particularly important for professionals who need to expedite their document processing. The conversion speed has been improved by 50%, and crashes caused by large file sizes have been reduced.
Brand New Options for Conversion Mode
A typical example is that some PDF files may contain text in images, such as scanned documents or photos, and traditional conversion may lose this text information. However, by using upgraded the PDF Convert tool, the text within these images can be extracted intelligently, which makes the document content more complete and editable, enhancing the overall operation.
Concise and User-Friendly Interaction and Interface
The interface has become more intuitive for users. It provides graphical cues to show the existence of elements within PDF documents, such as images, capacity, etc. This enables users to quickly assess the document's attributes at a glance, and will even be thoughtful to give feedback on the conversion.
---
More PDF Conversion Features in Real-Life and Workplace Scenarios
PDF conversion features have a wide range of applications in all walks of life.
Academic researchers can access the network or library converting PDF documents into editable Word documents, in order to facilitate citation and editing. Businesses can conveniently deal with contracts, reports by converting PDFs into editable Word documents for easy content sharing. Data analysts can transform PDF into Excel for in-depth data analysis, and educators can strengthen the teaching effect by converting PDF materials into PowerPoint presentations. All these above applications significantly enhance productivity.
The enhanced PDF Convert not only provides more options but also demonstrates increased intelligence to cater to a wider array of user requirements. Give the PDF Conversion feature a try, and we hope you'll find it to your liking!