WPS Office
Free All-in-One Office Suite with PDF Editor
Edit Word, Excel, and PPT for FREE.
Read, edit, and convert PDFs with the powerful PDF toolkit.
Microsoft-like interface, easy to use.
Windows • MacOS • Linux • iOS • Android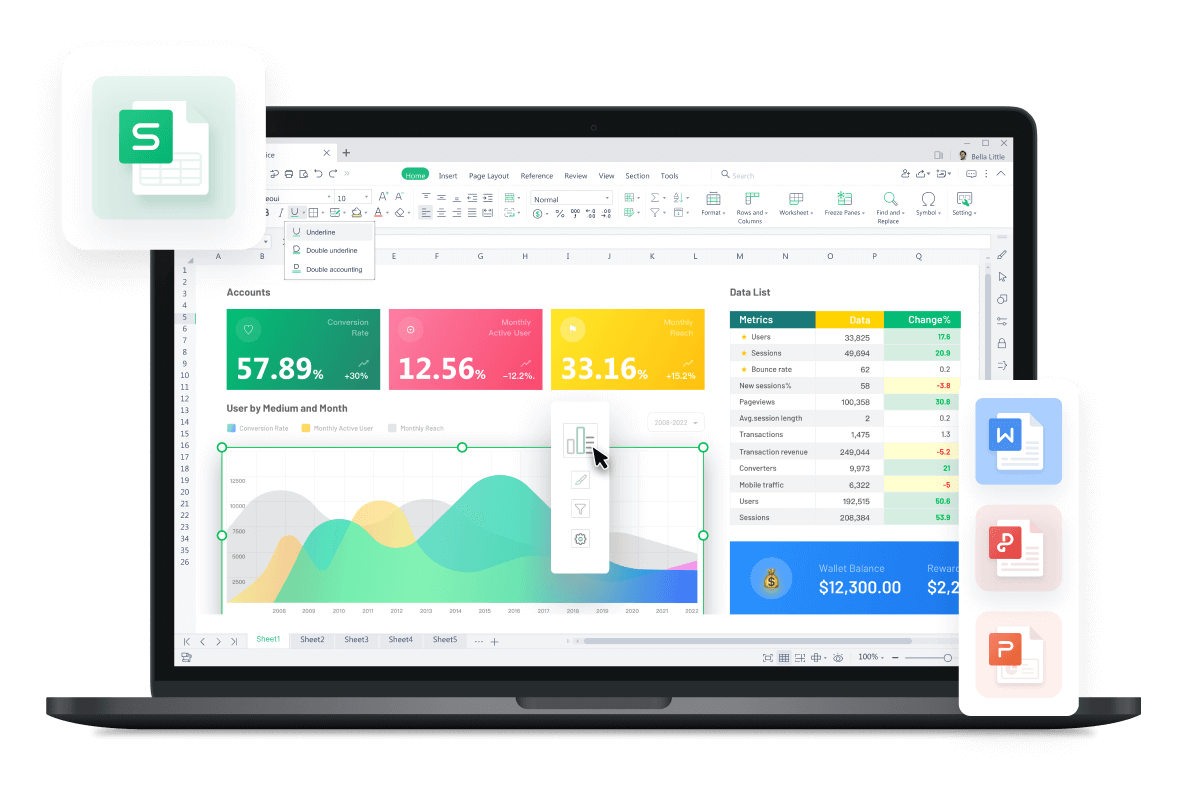 How to add macros in Excel ribbon?
In order to know how to add macros in excel, you first need to understand what macros are. A macro in excel is basically a series of instructions and once you create a macro, what excel will do is that it will execute those instructions step-by-step on the data that you have provided to excel. For example, we could have a macro that instructs excel to take a number, add 3, multiply by 7, and return the modulus. Now, whenever we instruct excel to run that specific macro, we don't have to provide it with each step manually; excel will automatically do them all.
You may not understand this at time, but macros can save you a large amount of time if you perform the same series of instructions on daily basis. Formatting raw data, filtering and sorting data, or applying the same set of functions and procedures to your sheets are all possibilities. They're also fantastic for sharing because macros can be kept in Excel spreadsheets, so you don't have to transmit extra files to your colleagues. Simply build a macro, deliver the spreadsheet to them, and let them work on it. If you deal with spreadsheets on a daily basis, macros may be able to save you a significant amount of time. Now, let's get started with how to add macros in excel.
How to turn on to a Developer tab in excel onlin, 2016 and 2019:
1. Right click on the ribbon and select the option cutomize the ribbon.
2. Place a tick in the developer checkbox when customizing the ribbon.
3. Click ok.
How to add macros in excel online, 2016 and 2019:
1. Open spreadsheet from WPS Office.
2. Click on the Developer tab.
3. Select Record macro in the code group.
4. Enter an explanatory name for the macro in the Macro Name text box.
5. Please enter a shortcut key for the macro.
6. Choose the Store Macro in drop-down box and select This Workbook.
7. Click ok.
8. Execute the formatting and commands that you want to include in your macro.
9. And when you are finished, select stop recording.
10. Press the file tab and click on save as or press F12.
11. Enter a file name for the workbook in the save as dialogue box.
12. Choose Excel Macro-Enabled Workbook from the save as box and then click on save.
How to run a macro in excel online, 2016 and 2019:
Once you have saved your macro, you can run it in so many ways.
1. Firstly, you can run it from Ribbon. You will see a button labeled as macros in both developer and view tabs.
2. From the pop-ue window, you can run any macro that you have already saved by selecting it.
3. Just choose it and click on the run tab.
Note: This was an attempt to help you understand how to add macro in excel onlin, 2016 and 2019, both on windows and Mac. To have access on other programs of WPS, please download WPS Office from our official website. To get the newest version of WPS Office, you must first access this operating interface.
This article also shows us that how WPS Office is similar to Microsoft Office in use. You just need to have a little understanding of how and which way things work. With having this basic knowledge or information of how to use it, you can also access and use different other options on excel or spreadsheet. Also, it is very similar to Word or Document. So, in a way, if you learn one thing, like Excel, you can automatically learn how to use Word as well because both of them are very similar in so many ways. If you want to know more about WPS Office, you can download WPS Office to access, Word, Excel, PowerPoint for free.