WPS Office
Free All-in-One Office Suite with PDF Editor
Edit Word, Excel, and PPT for FREE.
Read, edit, and convert PDFs with the powerful PDF toolkit.
Microsoft-like interface, easy to use.
Windows • MacOS • Linux • iOS • Android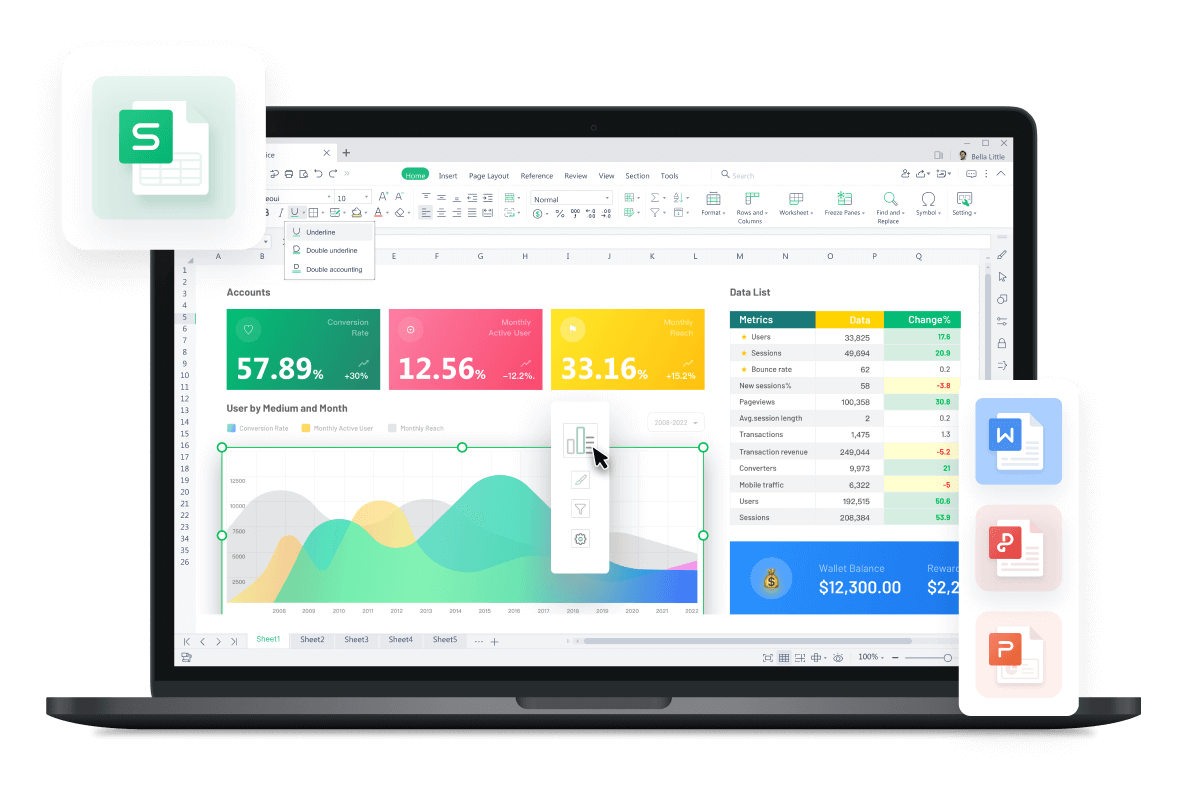 How to change date format in excel
In this article, we are going to show change date format Excel. This can be helpful if you want to display dates in a different format, or if you need to work with dates that are not in the default format.
If you're ever stuck trying to change date format excel , it can be a bit of a pain. With a few simple steps, though, you can make any date formatting changes you need without any trouble. In this article, we'll show you how to change the date format in Excel for both standard and custom dates.
Way to Change Date Format in Excel 2016/2019 online
When you enter a date into excel, the program will format it according to the default date settings. For example, if you want to enter the date February 6, 2020, the date could appear as 6-Feb, February 6, 2020, 6 February, or 02/06/2020, all depending on your settings. Although changing a cell's content to Standard formats keeps your dates as integers, it is better if your date format is set to Custom. For example, February 6, 2020, would become 43865, because Excel bases date formatting off of January 1, 1900.Each option listed is a way to format dates in WPS Excel.To help with organizing data in Excel, learn about
How to Change the Date Format in Excel on Mac online?
Excel is a powerful tool that can be used to manage a variety of data. One of the ways that Excel can be used is to change the date format. This can be useful when working with dates and times that are not in standard formats. There are a number of ways to change the date format in Excel. This article will outline some of the most common methods.
1. Click the down arrow to the right of the text box in the Number group of the Home tab.
2. Date Category of the Format Cells in Excel 2019 Online
3. You'll now be in the Date category of the Format Cells window.If you would like to pick a date format based on how a selected language and regional formats dates, pick the option from the Locale drop-down menu in the Type group.
4. Click OK at the bottom of the window when you've selected the format you want to use. The dates in the previously selected cells will change to the new format.
There are plenty of different formats to choose from, but you can also make your own custom date format if you want. To do so, select the cells that contain the dates you want to format by clicking and dragging your cursor over them.
Try out the available code combinations to see what works for your spreadsheet. When changing the date format, consider who's going to be looking at the spreadsheet.
If your spreadsheet contains a large amount of data, and you want to look at the data over a period, you can sort the date by date, regardless of the format being used.
In conclusion, Excel provides a number of ways in change the date format excel So, whether you need to change the format to match the country you are working in, or just want to make things easier on yourself, there is a way to do it. With a little bit of trial and error, you'll be able to find the method that works best for you. So don't be afraid to experiment - that's what learning is all about.You can use the Date() function or the Change Date Format dialog box. Whichever method you choose, be sure to follow the specific instructions provided. In the end, it's important to be aware of all of your options so that you can customize your workflows as needed. So keep this in mind and enjoy your new date format
Has this process helped you learn about in Change Date Format Excel? If you want to find out more about excel functions and features, you can view and subscribe to WPS Academy to learn.
You should also download and use WPS Office to edit Excel, PowerPoint, PDF, and Word documents for free. Download now and enjoy these free services! With WPS Office, you can create a simple and enjoyable working environment.