How to compress pictures in WPS Writer
Uploaded time: November 24, 2021 Difficulty Beginner
A free Office suite fully compatible with Microsoft Office
Free download

How to compress pictures in WPS Writer
How to compress pictures in WPS Writer
If we have a large number of pictures in our document, this will make the file too large for us to transfer. At this point, we can adequately compress the picture in order to reduce the file size and save the file space.
First, click the picture to get into the Picture Tools tab, and click the Compress Pictures button to pop up the dialog.
In the Apply to interface, we can select the range of compressing pictures.
In the Change resolution interface, we can select two fixed resolutions. One is Web/Screen, the other is Print. The corresponding resolution is displayed on the right side of the dialog.
In addition, we can check Delete cropped areas of pictures to directly delete the cropped area of the picture so that we can reduce the picture size.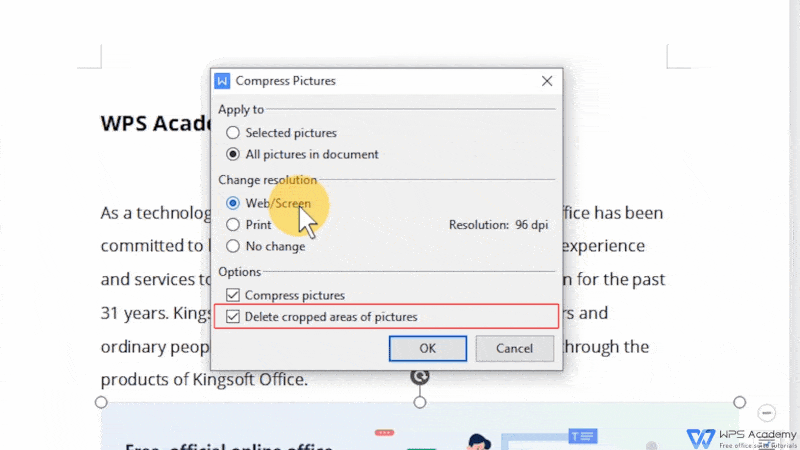 Once set, click the OK button.
After compression, we can compare the sizes of these two files. Did you get it?
To be office word advanced, you could learn how to use WPS Office Writer online in WPS Academy.