WPS Office
Free All-in-One Office Suite with PDF Editor
Edit Word, Excel, and PPT for FREE.
Read, edit, and convert PDFs with the powerful PDF toolkit.
Microsoft-like interface, easy to use.
Windows • MacOS • Linux • iOS • Android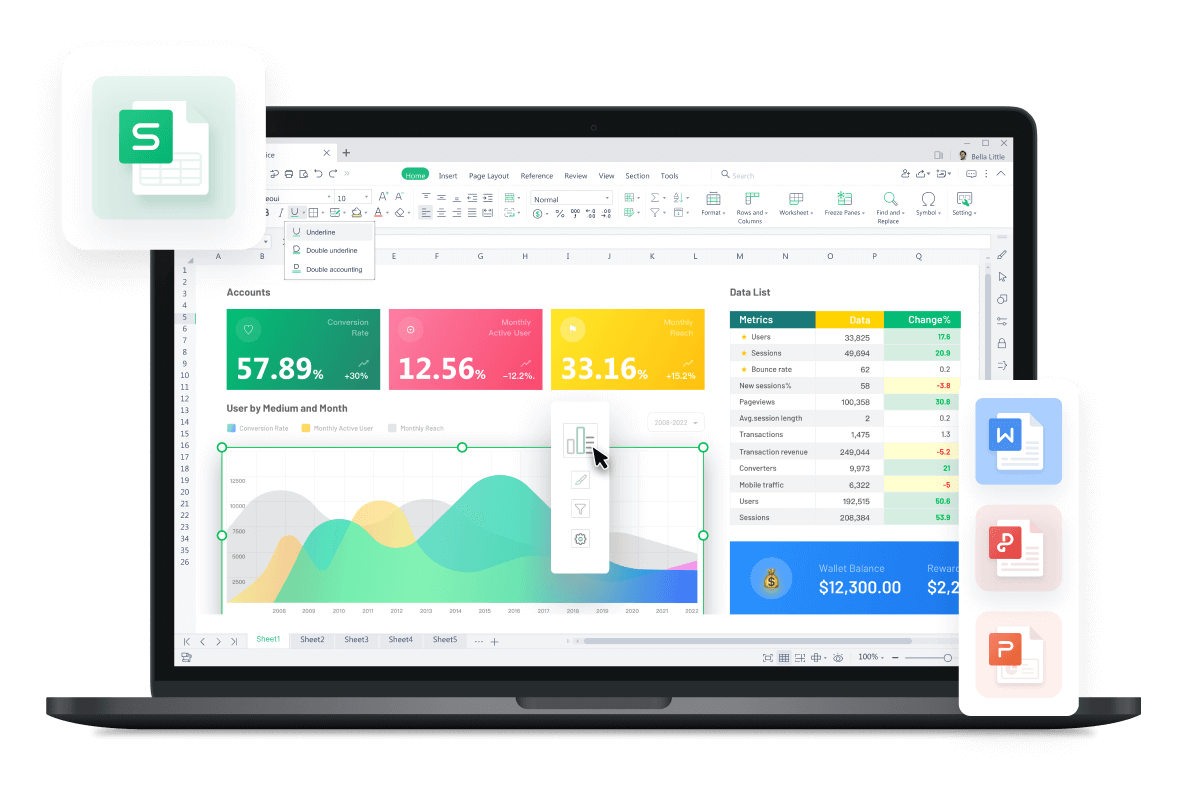 How to make First Name and Last Name in Excel Using Formula
Excel worksheets are often used to store data about different groups of people, such as customers, students, and employees. In most cases, first and last names are stored in two separate columns, but sometimes you need to combine two names in one cell. Use the CONCATENATE function or the ampersand (&) operator to combine the first name and last name.
Steps to make first name and last names in WPS Office Excel
In situations when you have a column of names of the same pattern, for example only first and last name, or first, middle and last name, the easiest way to split them into separate columns is this:
Open the excel document in WPS Office. 2. Select cell D2, and click the Insert Function button.

In the pop-up dialog, enter CONCATENATE in the search box, and select it.
In the Function Arguments dialog, input A2 at Text1 and B2 at Text2, and click OK. Now we can see there is no space between the two components of the full name.
To add a space, add the argument (two double quotes around a space) in the formula. 6. Finally, drag the fill handle to apply the same function to other cells.
How to Flip or reverse First name and Last Name in Excel
Let's say you get a roster of names in one column; but, you want to turn the primary name and last name in cells. Normally you will get into one cellular and cut the final call, after which paste it before the first name, or retype the call again. It will be time-ingesting and tedious in case you use those conventional strategies. Actually, there are numerous easy methods to flip or reverse the primary name and closing call in a single column speedy. Supposing you've got a column of names, and you want to flip the first and last call as below screenshot shown.
We can use Last name to Sort Data. Below are the steps to sort by the last name
1. Select the entire dataset with headers (including the full names and the extracted last names). You can also include other columns that you want to sort along with the names
2.Click the Data tab
3.Click on Sort.
In the Sort dialog box, make sureMy data has headers is selected.

In theSort by option, select the name of the column that just has the last name

In theSort On,select Cell Values
In the Order option, select A to Z

Click OK
The aforementioned procedures would use last names to order the full specified dataset.
Once finished, remove the column containing the last name.
Did you learn about how to make First Name and Last Name in Excel Spreadsheets? To be office excel advanced, you could learn how to use WPS Office Spreadsheet online in WPS Academy. You can follow WPS Academy to learn more features of Word Document, Excel Spreadsheets, and PowerPoint Slides
You can also download WPS Office to edit the word documents, excel, PowerPoint for free of cost. Download now! And get an easy and enjoyable working experience.