WPS Office
Free All-in-One Office Suite with PDF Editor
Edit Word, Excel, and PPT for FREE.
Read, edit, and convert PDFs with the powerful PDF toolkit.
Microsoft-like interface, easy to use.
Windows • MacOS • Linux • iOS • Android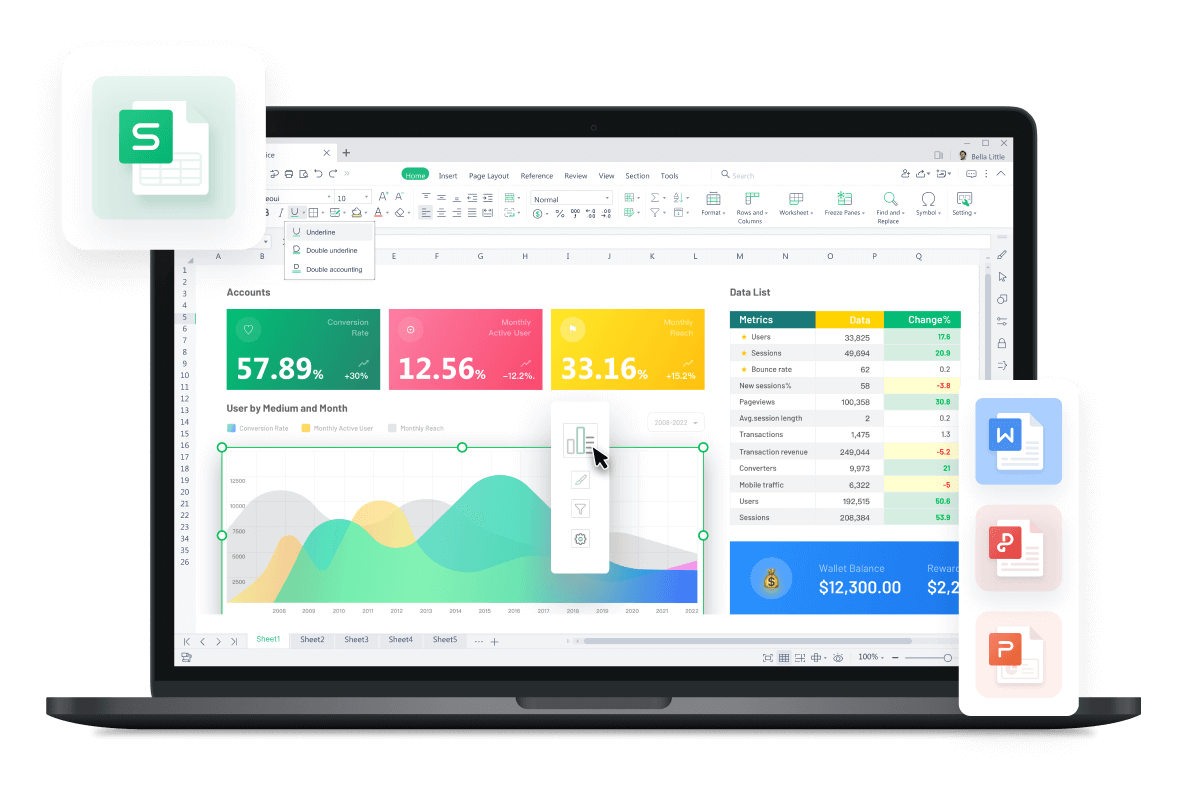 Name Box: How to add table name in Excel
To stay organised when dealing with many tables in Excel, you might need to rename them. Find out here how to name a table in Excel.
You can rapidly and effectively evaluate your data using tables in Excel. Unfortunately, things might grow more difficult the more tables you have on your spreadsheet.
It might be beneficial to add table name in excel file if you're dealing with more than one to avoid mistaking Table1 with Table10. However, there are a few peculiarities when renaming Excel tables.
Rules for naming a table name in excel
You must follow Excel's naming conventions when add table name in excel file, which are as follows:
A character, an underscore (_), or a backslash must come before any other characters in the name of your table (\). Additionally, since Excel uses C, c, R, or R for various purposes, you cannot use them to add table name in excel file.
Cell Reference: A cell reference cannot be used as the name of your table.
Name Separator: A space cannot be used to divide multiple words in your table name. Use a dot or an underscore to do it.
Your table name must not exceed the allotted 255 characters.
No Same Names: Your worksheet cannot have two tables with the same name. Additionally, Excel treats lowercase and uppercase table names the same, thus if you have used table1 in your workbook, you can't use TABLE1.
Excel will notify you with an error notice if you rename your table and neglect to follow one of the above mentioned instructions.
Add table name in excel file
You may name the table by clicking anywhere in it.
Make sure the Table Design tab is selected.
In the Table Name box, click the name of your table.
Draw attention to the whole table name.
Press Enter after entering the new name for your table.
A notification stating that your table name is invalid will appear if you've violated any of the aforementioned restrictions.
To save the table name, type a new name and hit Enter once again.
Changing a table's name in excel file
Open your spreadsheet in Excel first, then give your table a name.
Click any cell in the table you want to rename in your spreadsheet.
Click the Table Design tab in Excel's ribbon while your cell is chosen. Click Table if you are using a Mac instead.
Click the Table Name column in the Properties section of the Table Design page. After that, provide a new name for your table.
Your table now has the name you gave it, and you will use this name to refer to it in other spreadsheet cells.
Add table name in excel file in name box
When F2:G9 is chosen, the Name Box displays the name Purchases for the Range F2:G9. If only a portion of the range is chosen, the name is not displayed.
Did you learn about how to add table name in excel file? You can follow WPS Academy to learn more features of Word Document, Excel Spreadsheets and PowerPoint Slides.
You can also download WPS Office to edit the word documents, excel, PowerPoint for free of cost. Download now! And get an easy and enjoyable working experience.