WPS Office
Free All-in-One Office Suite with PDF Editor
Edit Word, Excel, and PPT for FREE.
Read, edit, and convert PDFs with the powerful PDF toolkit.
Microsoft-like interface, easy to use.
Windows • MacOS • Linux • iOS • Android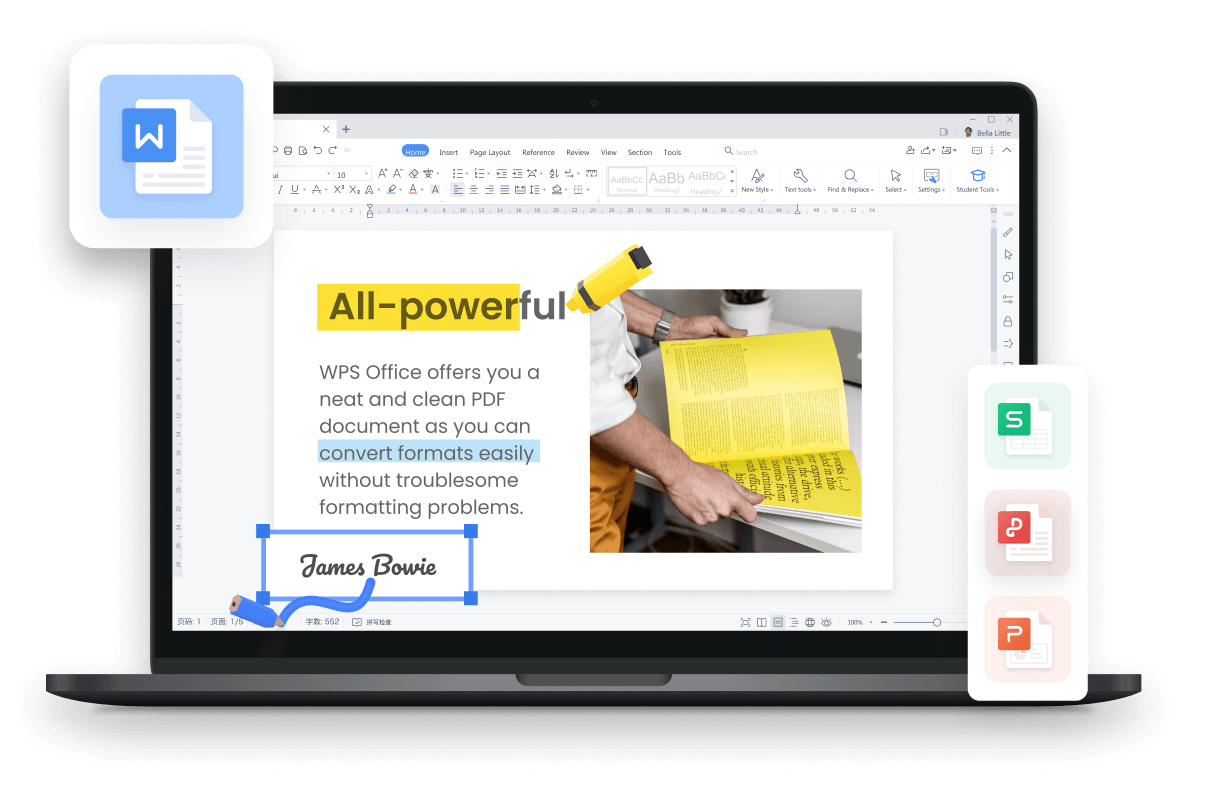 Top 10 free proposal template word download 2022
When it comes to securing new projects for your company or agency in 2022, a good proposal is crucial. Therefore, your free proposal template word should look good and contain the most important elements. Below is a list of the 10 best free proposal template word.
The first Word template on this list is unique. It features a bold black design in a horizontal layout. This quote template for Word includes 24 pages and can be edited instantly.
This Microsoft Word template has a minimalist design with an eye-catching touch of blue. Moreover, there are placeholders for images and graphics, so you can easily insert your own content. There are few free Word templates for business proposals that match this design.
The business proposal template for Word is designed in classic black. The template comes with paragraph styles and image placeholders, so you can easily customize the layout to your liking. Additionally, you will find a detailed help file and a list of fonts used in the Business Proposal Word template for download.
If you are looking for a simple and clean Word template, this minimalist template for Word is just what you need.Paragraph styles are included, so you can make changes in one place that will affect the entire Word business proposal template. Plus, it's easy to customize.
With the Business Proposal Template for Word, you can create a brochure with lots of graphics. The download includes full of icons, charts and diagrams. This offer template in Word can also be edited in InDesign. This allows for more flexible customization.
If you are looking for an elegant quote template for Word, you don't have to miss out on this template.
This proposal template in Word has a unique landscape design. With this design, your Word template will stand out.
Looking for a modern quote template for Word? This is one of the latest Word templates for proposals. This downloadable proposal template for Word features an attractive and clean design
What more could you want from a Word template? How about black and white photos, a print-friendly design, and great features? If that's what you're looking for, this creative business proposal template for Word is worth your time. With this download, you can add a minimalist style to your business content.
This free downloadable Word template is attractive and fully editable and is very easy to use.
Do More with WPS Office
WPS Office is not your average office software—it offers a range of features that can supercharge your productivity. With over 500 million users worldwide and a Trustpilot score of 4.8, WPS Office has become a trusted and reliable solution for all your document needs.
Features and Price: WPS Office offers four main functions: Writer, Spreadsheet, Presentation, and PDF. These functions are similar to Microsoft Word, Excel, PowerPoint, and Adobe Acrobat PDF editor, respectively. The best part? Writer, Spreadsheet, and Presentation are completely free, and the PDF editor has both free and affordable subscription options.
Benefits and Capabilities:
Free Editing: Edit Word, Excel, and PowerPoint files without any cost.

Rich Template Store: Access a wide range of free and paid templates to create professional-looking documents.

Extensive Functionality: Enjoy additional tools like resume assistants, smart forms, screen recording, and file repair for enhanced productivity.

Lightweight and Cross-Platform Compatibility: Works smoothly on Windows, Linux, Android, and iOS systems, ensuring seamless file synchronization across devices.

Strong Compatibility: Open documents in different formats without any issues.

User-Friendly Interface: Familiar interface resembling Microsoft Office for easy adoption.
Unlock the Full Potential: Discover the full power of WPS Office:
Writer: Create and edit Word documents effortlessly.

Spreadsheet: Excel-like functionality for data analysis and calculation.

Presentation: Craft impactful slideshows with ease.

PDF Editor: Read, annotate, and convert PDFs seamlessly.
Experience the comprehensive features, user-friendly interface, and cost-effectiveness of WPS Office. Unleash your productivity with WPS Office today!
Frequently Asked Questions (FAQs)
1. What is a proposal template?
A proposal template is a pre-designed document that provides a ready-made structure for creating a proposal. It saves time by providing a framework that can be customized with your own content.
2. How can I download and use free proposal templates?
To download and use free proposal templates:
Visit reputable websites that offer free templates.

Choose a template that suits your needs.

Download the template to your computer.

Open the template using compatible software like WPS .

Customize the template with your own information.

Save the customized template for future use.
3. Can I customize the proposal templates to suit my specific needs?
Yes, you can customize proposal templates to fit your specific needs. Modify the text, formatting, colors, and graphics to align with your proposal's requirements and branding. Save the customized version separately for future use while preserving the original template.
Summary
With these 10 free proposal template Word downloads, you can create professional and visually appealing proposals effortlessly. Remember to customize the templates to suit your specific needs. Download WPS Office to enhance your experience and unlock even more features. Make a lasting impression with your proposals using the power of WPS Office.