WPS Office
Free All-in-One Office Suite with PDF Editor
Edit Word, Excel, and PPT for FREE.
Read, edit, and convert PDFs with the powerful PDF toolkit.
Microsoft-like interface, easy to use.
Windows • MacOS • Linux • iOS • Android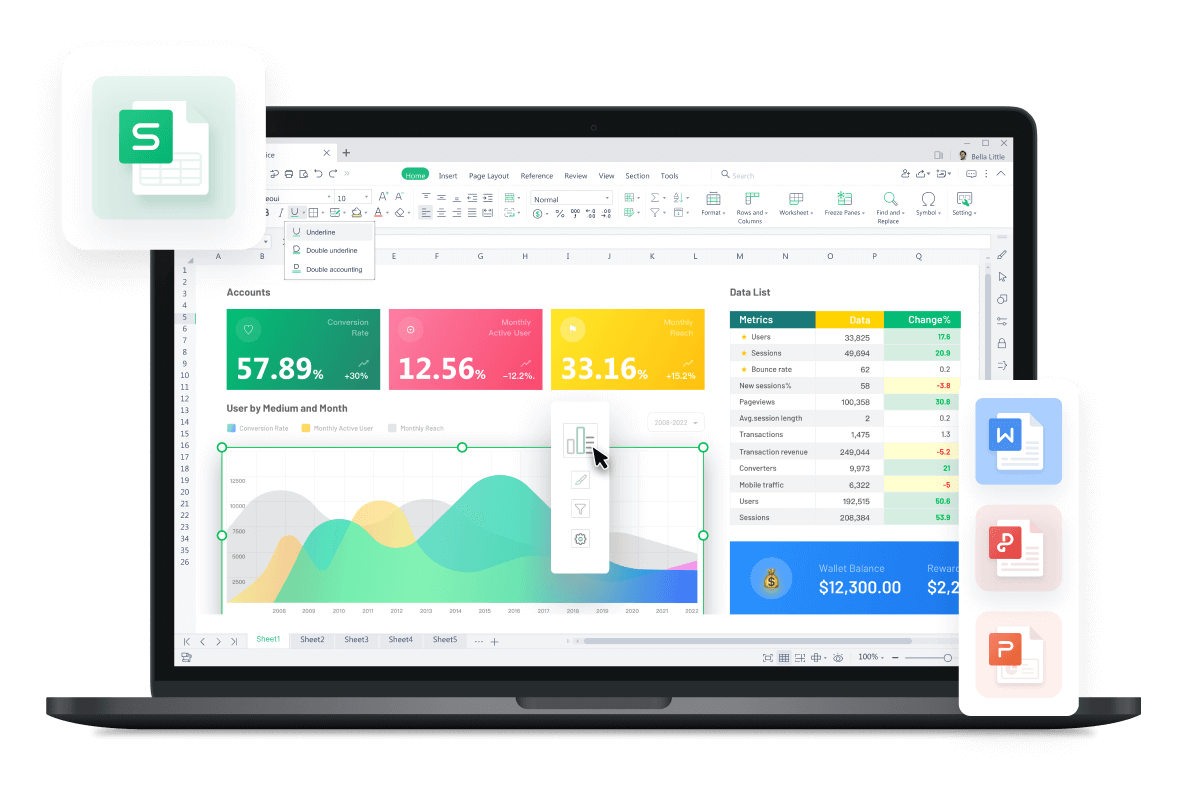 10 best simple balance sheet template in Excel free download 2022
A business running in today's world has to maintain its accounts properly to acquire error-free analysis. Now, the balance sheet is said to be the snapshot of a company's complete financial health. So, for every business creating a balance sheet is a must. Simple balance sheet template excel with formula are very rare to find on internet.
Fortunately for you, we are sharing the 10 best simple balance sheet template in Excel.
Try this template in WPS and save in Word doc:
This template is built to help businesses have a proper format of balance sheet. It can be used by an accountant to track the total assets, liabilities, and expenditures of a company and interpret if a company is running in profit or loss.
Try this template in WPS and save in Word doc:
This template is created to be utilized by companies. Accountants can use it to simply analyze their company's progress in numbers and acknowledge the profit of the company. This template is all about making the life of accountants easier as here he/she simply has to insert the data and they will end up getting the numbers within a proper format.

Try this template in WPS and save in Word doc:
This template is created to gather information on both Current and Fixed Assets. It can be used by the account department to gather all company's assets and contrasts the amount invested in assets for past and present years.
4. Statement of Balance Sheet
Try this template in WPS and save in Word doc:
This template is designed to help the accountant in managing the entries. It can be used by the accounts department as they can gather their income from multiple products here and can calculate their total revenue and expenditures within the same sheet.

Try this template in WPS and save in Word doc:
This template is designed to be handy for accountants. As it can be used to calculate data the amount of revenue generated after deducting expenditures. It will help the company in learning their month-based net profit

Try this template in WPS and save in Word doc:
This premium template will accommodate the user to work efficiently. It can be used by the accounting department to simply data of assets, liabilities, and owner's equity and end up comprehending the company's net profit for a complete year.

Try this template in WPS and save in Word doc:
This template is created to help the account department of a company. It can be used to measure the company's non-profit liabilities and assets and comprehending net assets within the same template.

Try this template in WPS and save in Word doc:
This premium excels balance sheet template is designed to be used by the Accountant. This template is the quickest way to record data and analyze a company's net income. It can be used to acknowledge the income and expenses of the company in a year further you can remark them accordingly.

Try this template in WPS and save in Word doc:
This template is established to record data. It can be used by the accounts department to record the costs and expenses of a company and sum them up to measure the company's expenditure.

Try this template in WPS and save in Word doc:
This excel template is created to accommodate the manufacturing department. It can be used by the designers or manufacturing department of the textile industry to insert product sizes from S to XXXL the user can use this template to insert the sizes of four different products.
Best Places Where You Can Find Free Balance Sheet Templates
Are you looking for the best and most free balance sheet templates? Here are a few best places that you should consider whenever you wander on search engines to find free and downloadable balance sheet templates.
This platform allows you to make custom changes in your Balance Sheets, with millions of templates and premium PDF edit features that make your work innovative and professional. Certainly, these templates are going to help you a lot in your business field – here you go!
versatile and free WPS balance sheet templates
Introduction to WPS Templates
WPS is an easy-to-use tool that helps you to establish the most versatile and appealing projects. WPS Office offers millions of templates to help you design and create anything personalized.
Balance sheet templates are professionally designed and predefined models where you can work freely without too much time. The WPS office is the software that completely understands your needs to renovate your personal and business work.
The WPS balance sheet is more suitable for companies to choose and fill in according to their financial situation, and it clearly organizes the required data, and there are many templates to choose from. But too much business is unsuitable for users who need a more lively style.
Pros
Easy-To-Use

Run on Simple Network Connection

Keep Your Work Secure

Millions of Balance Sheet Templates

Availability of Free Download

Fast and Effective Results
Cons
Sometimes Spreadsheet gets Freeze

Limited Access to Templates in Unpaid Version
thousand above balance sheet templates to design
Introduction to Canva
Creativity comes from the creative source – you can create innovative designs from predefined work models to enhance the productivity and efficiency of tasks. This creative tool helps you grow and succeed, whether you are running a small or huge business.
Creativity is the first thing that attracts everyone. In managing business projects, you can get help and professionally designed balance sheet templates from Canva and redesign them per your needs.
Pros
User-Friendly

Correct and Appropriate Online Templates

Variety in Templates

Interest-Oriented

Thousands of Templates Designed Professionally
Cons
Limitation to the Number of Templates

No Availability to move one Design to Another

Limitations in Export Setting
thousands of free balance sheets
Microsoft Office is high-quality software currently helping 345 million people and over 1 billion worldwide use MS Office products and services. You can also trust this tool in growing your business worldwide.
Microsoft is highly reliable in providing simple and professional balance sheet templates to know the net worth of your balance respective to a given time.
This tool has multiple templates to help you categorize, analyze and review the company's financial health. If you have been finding unique and easy-to-design balance sheets for so long, why don't you try Microsoft templates?
Pros
Classy and Professional Templates

Convenience in Modification of Templates

User-Friendly

Easy to Edit

Easy to Print

Free to Download Templates
Cons
Few Templates Don't Meet Users' Needs

Limit in accessing Templates

Little Freedom to Do Desired Changes in Your File

Limited Customization Options
How to Customize a Balance Sheet Template
If you want to customize your balance sheet, you need to follow the given below steps:

Step 1: The first step to customize the balance sheet is opening the template in your WPS.
Balance sheet template
Step 2: In the second step, you have to review the existing format and structure of the template to understand its sections and categories.

Format and structure of template
Step 3: In the next step, you must identify the elements you want to edit or modify in your balance sheet. In the modification, you can add or modify the account names, line items, and formatting according to your requirement.
Modification of your balance sheet
Step 4: In the next step, you can add new rows and columns according to your requirement. You can also make the necessary changes by editing the template cells.
Rows and column in the balance sheet
Step 5: In the fifth step, when you modify your calculations, you can update the formulas and calculations to meet the modification's requirements.
Update formulas
Step 6: In the second last step, you need to customize the appearance of the balance sheet. You can adjust fonts and colors or add your company logo.
Add company name
Step 7: In the final step, you have to save the customized template with a new name so you cannot overwrite the original template.
Customized template to save
How to Organize a Balance Sheet Template
Here is how to organize a balance sheet template:
1. Assess the Reporting Date and Period
We already know that the job of a balance sheet template is to portray the total of a company's assets, liabilities, and shareholder's equity for a specific time period. This aspect is also known as the reporting date. More often than not – the reporting date is also the final day of the accounting period.
2. Assess & Analyze Your Assets
Once you have decided on the reporting date and period, you will need to calculate your company's assets as of that date. Often, a company's assets are divided into the following line items:
Contemporary Assets:
Cash/ cash equivalents

Short-term saleable securities

Inventory

Accounts receivable

Others
Non-contemporary Assets:
Long-term saleable securities

Goodwill

Property

Intangible assets

Others
While identifying the company's assets, both the contemporary and non-contemporary assets need to be subtotal before being totaled together.
3. Assess & Analyze Your Liabilities
The next step is to assess and analyze your liabilities, which must be categorized into line items and totals.
Contemporary Liabilities
Accrued expenses

Accounts payable

Contemporary portion of long-term debt

Deferred revenue

Others
Non-contemporary Liabilities
Non-current deferred revenue

Long-term debt

Long-term lease obligation

Others
While identifying the company's liabilities, contemporary and non-contemporary liabilities must be subtotal before being totaled together.
4. Assess Shareholder's Equity
If your company is privately owned or owned by a single owner, then the process of calculating shareholder's equity is pretty straightforward. However, if the company is publicly held, the assessment of shareholder's equity will depend on various aspects, including the following:
Common Stock

Preferred Stock

Treasury Stock

Retained Earnings
5. Add Total Shareholders' Equity to Total Liabilities & Compare to Assets
It is mandatory to compare the company's total assets with total liabilities plus total shareholder's equity to get a balanced balance sheet. You will be adding the company's total liabilities to the shareholder's equity.
3 Key Things that a Balance Sheet Template Should Includes
Balance sheets represent the financial information of any company. To choose the best balance sheet template, ensure that the following three components are included in the sheet.
1. Organization of financial information:
A balance sheet template offers an efficient way to organize, categorize, and represent financial information. It ensures that the information is relevant and presented in a comprehensive way, which makes it easy for the creator and reader to analyze.
2. Calculation of key financial ratios:
In a balance sheet template, the users can automatically calculate the important financial ratio by inputting the appropriate value. Users can calculate the current ratio or debt-to-equity ratio.
These ratios provide insights into the overall financial health of any organization, including solvency and liquidity.
3. Comparison and analysis:
Balance sheet templates allow users to compare the data from different periods or entities. With these features, users can identify trends and evaluate performance. This helps them to make informed financial decisions for their business based on reliable information.
FAQs
Q. What Does the Balance Sheet Show?
A. A balance sheet consists of the following main components:
Current assets

Fixed (long-term) assets

Current liabilities

Owner's equity
Q. How is a balance sheet the same as an income statement?
A. A balance sheet represents the assets, obligations, and owners' equity of your venture. It is used by businesses to evaluate financial performance.
On the contrary, an income statement represents the total revenues, expenses, and reports on the net loss or profit. In other words, it is called a profit-and-loss earning statement of any organization.
Q. How do you prepare a balance sheet?
A. To prepare a balance sheet, determine the reporting date and prepare your balance sheet at regular intervals. Once you determine the reporting date, next you can list down the company's assets and liabilities and identify which are current and which are not.
By adding the values to the sheet, you can now calculate the shareholder's equity and check the balance. The best and most effective way to do all the steps is a template that you can look at online.
Use Balance Sheet Template in WPS Office
There are multiple websites for balance sheet templates that you can discover online. But not all of them are free. If you don't find a desired Excel balance sheet template for free, you can check one of the reliable and most systemized balance sheet templates by WPS Office.
By using a balance sheet template from WPS Office, you can find it easy to fill in the information according to your company's financial situation. There are different balance sheet templates that you can choose from WPS Office.
WPS Office is a reliable business suite trusted by more than 50 million active users. You can get free templates according to your needs to make a professional document.