WPS Office
Free All-in-One Office Suite with PDF Editor
Edit Word, Excel, and PPT for FREE.
Read, edit, and convert PDFs with the powerful PDF toolkit.
Microsoft-like interface, easy to use.
Windows • MacOS • Linux • iOS • Android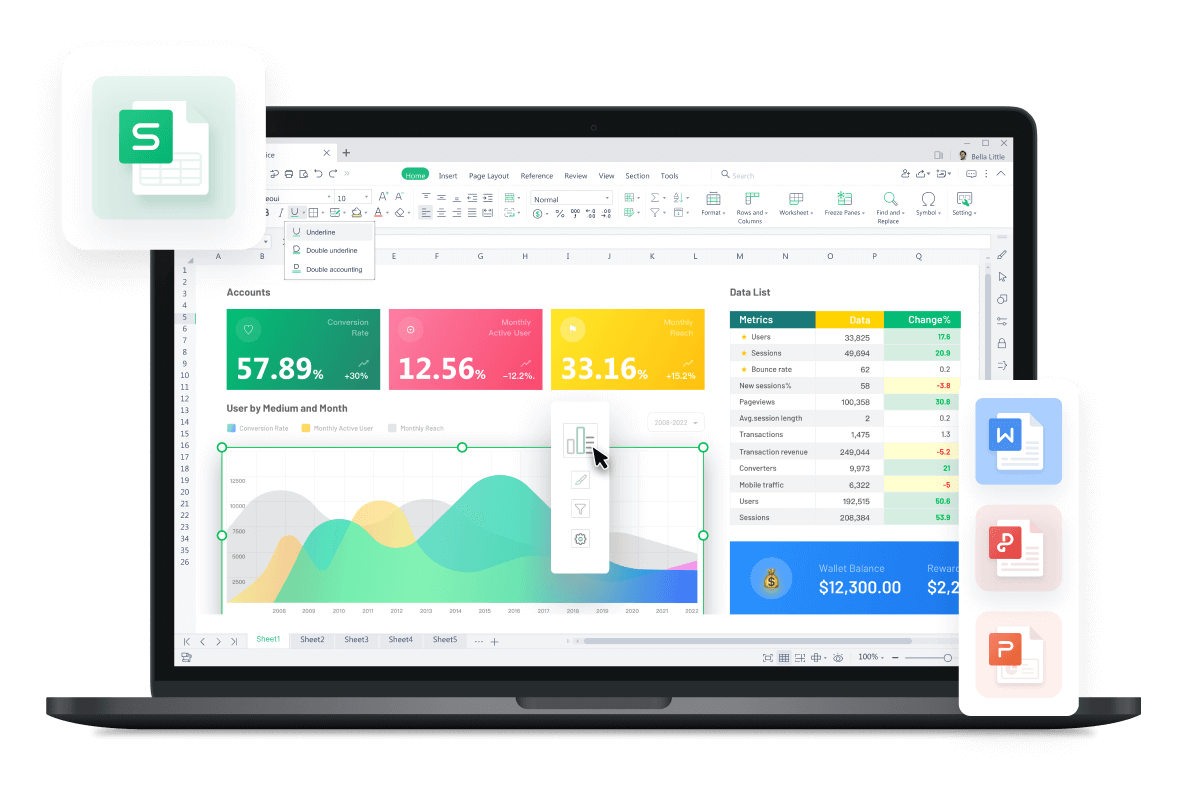 10 Most Important Weekly Planner Excel Template
Using the weekly planner excel template sheet, you will be able to stay on track with your weekly goals. One of the best parts is that you can use it for official tasks. If you visit the office branch at a different location next week, for example, you can set up all the meetings before you go there.
The weekly planner is the perfect place to add it. One of the best things about this planner is that it can be printed. By doing this, you can always keep it in front of your eyes and avoid missing anything. You can download these Excel templates to use as weekly planners:
In this vertical meal planning template, the days of the week are arranged down the left side with lines for breakfast, lunch, and dinner. Meal planners have blank shopping lists on the right side which you can fill in as you eat all your current food and plan out next week's meals.
Lesson planning will be easier with these free weekly curriculum plans. Utilize a weekly curriculum planner to have more purposeful and effective learning sessions in the classroom.
Nowadays, Diet Plan allows you to make all kinds of plans, including business plans if you need them. Other kinds of plan templates might also have more personal purposes, like diet food plans for maintaining good health.
The weekly schedule planner can help you organize your business activities and stay on top of deadlines. Small startups could use such an approach if staff members use email and calendars individually.
The timesheet template allows you to track employee schedules and work hours. Using the template, you can manage company payroll, even for employees who are paid differently and work different shifts.
For saving ink and for decorating with washi and stickers, these black and white weekly planners are a perfect choice.
This accessible project timeline template provides an easy way to keep track of project deadlines and statuses. The project calendar allows you to enter the project start date and assign tasks to team members.
Download this weekly colorful memo template for regular use. These templates are very beautiful in watching.
There are many tasks and responsibilities involved in a typical workday, and it can be hard to keep track of them all.
Maintaining a personal training regime and fitness program is extremely important for building your body, improving your health, gaining muscle, and improving your overall well-being.
Wind Up
The balancing act can be challenging, whether you're a college student, a business owner, or a working parent. With an excel spreadsheet template, it is easier to stay organized and plan ahead, and using a pre-formatted template makes this even easier. Creating a weekly schedule template has many potential uses. WPS Office provides free templates for weekly planner excel templates so go and download WPS Office on your devices.