WPS Office
Free All-in-One Office Suite with PDF Editor
Edit Word, Excel, and PPT for FREE.
Read, edit, and convert PDFs with the powerful PDF toolkit.
Microsoft-like interface, easy to use.
Windows • MacOS • Linux • iOS • Android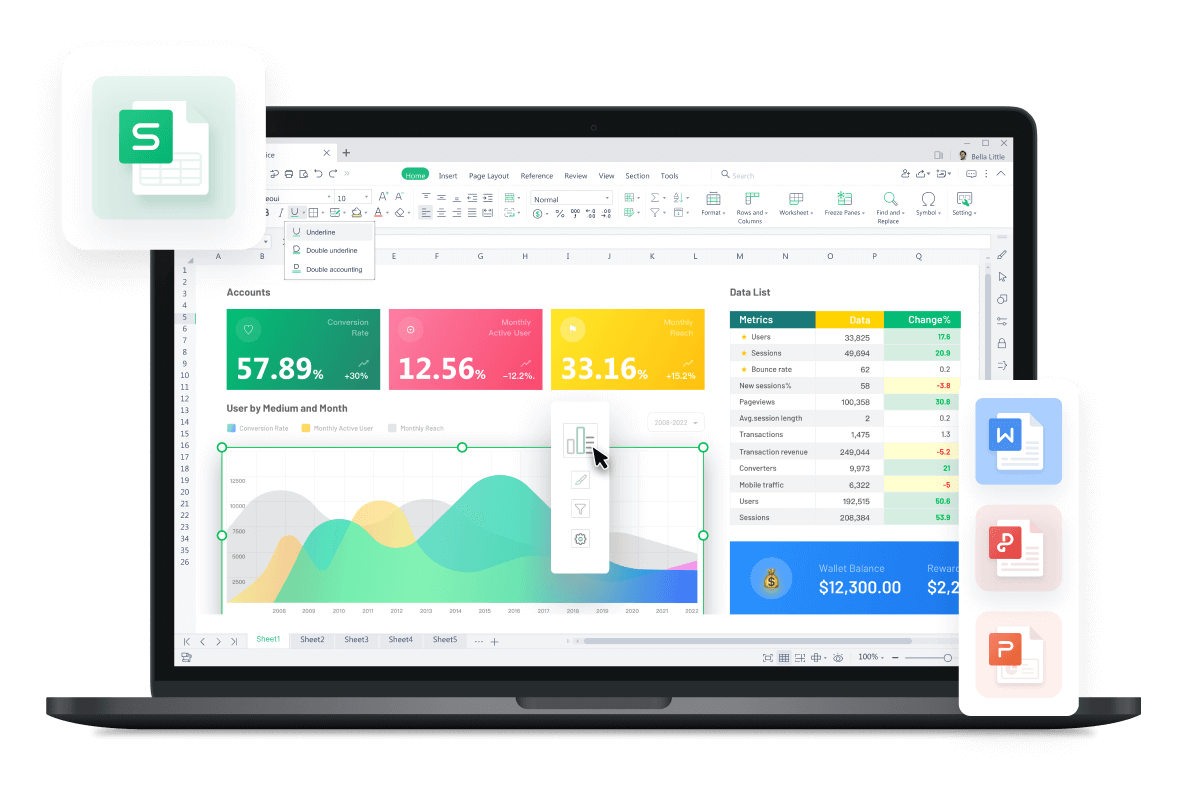 10 Stunning Checklist in Excel Templates You Can Find on WPS Office
Searching for checklist in excel templates? My site's search data revealed that the top phrase that kept appearing in the top 10 is checklist. Therefore, we have created several different printable checklists, along with some Excel checklist templates that you can edit. WPS Office offers hundreds of free checklist in excel templates. Must have a look at the following list!
Top 10 free Excel Checklist Templates on WPS Office
If you're looking for a baby checklist template then must have a look at the WPS Office and try this New Baby Checklist Template that can help to manage the all-baby thing in one sheet.
Are you looking for a highly functional printable simple grocery checklist or shopping list? Here you can find several printable versions of our shopping lists designed specifically for people who like to use paper lists.
Supplies are required for all kinds of organizations. An office supply checklist is developed to ensure that all the required supplies are available in the organization. Must try this WPS's free checklist of office supplies template!
An office supply checklist is developed to ensure that all the required supplies are available in the organization. Must try this WPS's free excel checklist of office supplies template!
The supply checklist represents the basic items required for the organization to operate. That's why I've come up with this Simple Blue Checklist Template that might help you!
Use this easy-to-use expectant mother's checklist template to prepare for delivery day. Using this template, you will have three distinct checklists on one page: one for the mother, one for a coach, and one for the baby.
From large corporations to small startups, objectives and key results (OKRs) can benefit all businesses. To help you plan OKRs and achieve long-term goals, we've provided some free, downloadable templates below.
During the spring season, there are many things around the house that need to be done. It includes some less urgent items, such as cleaning window tracks, but it also includes some very important reminders, such as replacing furnace air filters.
Take advantage of this handy camping travel checklist template to be better prepared (and to have more fun). You'll find everything you need to pack in this camping checklist template, from food to first aid, for a happy, healthy, fun camping trip.
When you're ready to start planning your wedding, print off a free wedding planning checklist. There are a number of tasks to be completed before the big day, which can be listed either as a timeline or by category in a wedding checklist.
How to Create an Excel Checklist?
If you don't find any template attractive, you can create your own by following the below-mentioned steps.
Enable Developer mode in your WPS Spreadsheet.

Go to File, then scroll down to Options.
Click on Customize Ribbon, then select All Tabs from Commans. Look for Developer Options in the list and select it. Then click on Add and press Ok.
In the Developer tab, click on the Checkbox to select it and then click on the cell where you want to insert the checkbox.
Click on the cell where you want to create the Checkbox. Right-click on the checkbox to resize it and left-click to make its context menu disappear.

To copy the checkbox in the remaining cells, move your cursor over the bottom-right corner of the selected cell with the checkbox until it turns into a plus sign.

Drag the plus sign down over the cells you want to copy the checkbox into.
The Functions and Benefits of Using Excel Checklist
Checklists are crucial in maintaining and overlooking your current in-progress tasks. Below are the main functions of checklists.
Functions of Checklist
They help manage and track tasks by providing a structured approach to completing them.

Checklists bring order and structure to workflows by breaking down complex processes into manageable steps.

You can use them for validation and verification as it lets you confirm that specific criteria, standards, or regulations are followed accurately.

They are instrumental in maintaining quality and consistency in processes.

They help identify and rectify any deviations or errors that may occur.
Benefits of Using a Checklist
They eliminate the need to constantly recall and remember tasks, leading to increased productivity and efficiency.

Checklists bring structure and order to tasks and projects and ensure nothing is overlooked or forgotten.

They serve as a record of completed tasks, enabling individuals and teams to take ownership and track progress, enhancing accountability.

Using a checklist provides a basis for continuous improvement, allowing you to refine processes and optimize workflows over time.

You can prioritize tasks and stay focused on what needs to be done. It helps you allocate time and attention to essential activities and minimize distractions.
FAQs about Excel Checklist Template
Q1:What is a spreadsheet checklist?
A spreadsheet checklist in Excel represents whether or not a given task is completed. It is a tool in which tasks, items, or actions are listed in rows or columns of a spreadsheet, allowing users to mark or track their completion using checkboxes or other indicators.
Q2:How do I make a checklist in a single cell in Excel?
It is simple to create a checklist in a single cell in Excel. Follow the below steps.
Go to Developers Tab > Control > Insert > Form Controls > Checklist. Then click anywhere in the Excel where you want to insert the checklist. To link the checkbox to a cell in Excel, right-click on the checkbox and select Format Control.
Q3:How do I create a checklist in Excel without the Developer tab?
Follow the below-mentioned steps to insert Check Box in Excel without developer mode.
Select the cell where you want to insert the checkbox > Navigate to the Insert tab > Select Symbol > click on More Symbols > Select Wingding as Font > Once you find the symbol > click Insert.
Q4:Can Excel cross-check two lists?
Excel can cross-check two lists using various functions like VLOOKUP or COUNTIF. For example, you can use VLOOKUP to compare values from one list against another and determine whether they exist. Similarly, COUNTIF can be used to count the occurrences of specific values in one list that match the values in another, assisting in cross-checking data.
Summary
Checklists are essential for maintaining the organization of your tasks. It lets you focus on your activity while streamlining your work. The mentioned Excel checklist template with a checkbox helps you organize your tasks more efficiently. All these templates are available to download for free on the WPS Template store. If you want to create your checklist, its process is mentioned above, and you can create one easily.
These templates are provided by WPS Office and used by millions of users around the globe. WPS Office consists of a spreadsheet processor and other tools, including word processing, presentation, and a potent PDF tool. All these tools are free, and we recommend you try WPS Office on your PC.