WPS Office
Free All-in-One Office Suite with PDF Editor
Edit Word, Excel, and PPT for FREE.
Read, edit, and convert PDFs with the powerful PDF toolkit.
Microsoft-like interface, easy to use.
Windows • MacOS • Linux • iOS • Android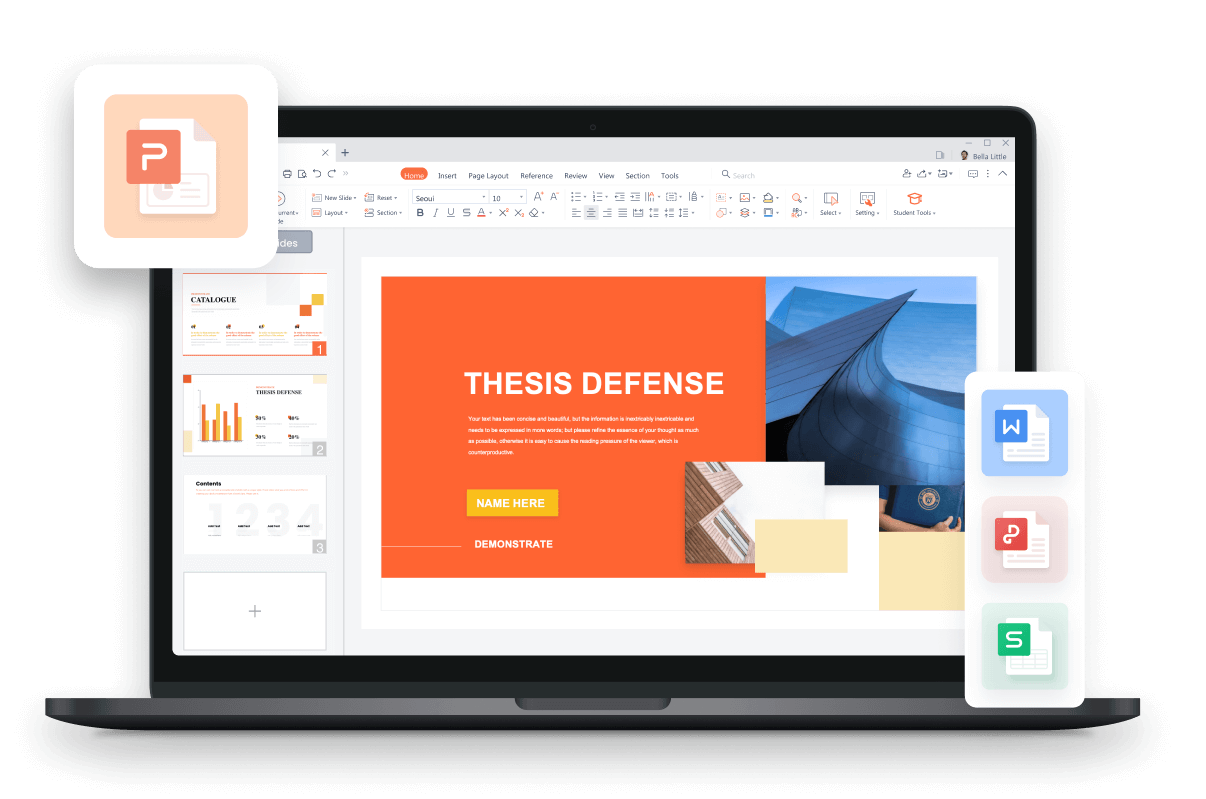 Catalog
Good PowerPoint Presentations Examples Online
If you have a presentation at work, school, or a meeting, you probably have a PowerPoint. However, when you have to prepare a PowerPoint, it can be intimidating to find good PowerPoint presentation example ideas.

The good news is that powerful sound presentation skills and PowerPoint presentation templates are both easily found online and are free, meaning that you can start improving your presentation immediately. Learn from how a professional presents and try to emulate those aspects of their work style.
Here are some excellent, proven examples from the Internet. Good PowerPoint presentation examples with downloadable templates. Let's go for simple presentation ideas in this article and get Inspiration to create a presentation.
1.Colorful Education Report Presentation Template
As a teacher, you are responsible for sharing information with your students and motivating them to achieve their goals through presentations. This can be a difficult task when you are teaching a class of 30 students. After all, many things can go wrong with a presentation. However, if you find a guide on how to make a good presentation, you can follow this template.
2.Delicious Food Report Presentation Template
Effective presentations are not just about sending a message. A poorly constructed presentation that is unfocused and lacks a coherent theme is not only a waste of time and your audience's attention, but it can lead to a lackluster event that leaves participants feeling frustrated and uninspired.
3.Fresh Education and Flowers Presentation Template
If you feel a presentation would benefit from incorporating visuals, use the following animations and reports to inspire your next presentation. The beauty of these visuals is that the data is dynamic and will update those who wish to refresh the presentation. These are the perfect examples if you want to show the audience what you are presenting visually.
4.Flat Colorful Cartoon Education Presentation Template
Good PowerPoint presentations usually make a point clearly and excitingly, instead of just being a lengthy list of facts and figures. Therefore, when you have the opportunity to use a presentation template, you can get a valuable head start on your presentation-making efforts, by using this template.
5.Creative Blackboard Style Class Project Presentation Template
Do you look for good educational slideshow presentations online? Which one should you choose and use? We gathered a great collection of PowerPoint templates when you come to our website. You can select one of the many presentations to present for your next education project. Browse through the WPS template and find the perfect presentation to help you make your point.
6.Watercolor Education Presentation Template
For those who want to create a good PowerPoint presentation, many examples online can help them learn how to do just that. With a little bit of exploring, they'll be able to find the suitable template that fits their journalistic or educational body of work and give them the detailed outline they need.
7.Simple Creative Graphic Report Presentation Template
Good PowerPoint presentation templates Online hosts many examples of templates you can use. Choose from various styles and colors that are so easy to use, and you'll love working with your presentations. What better time to explore these examples than now?
8.Pink and Blue Simple Presentation Template
You don't have to use a standard PowerPoint template to create a good PowerPoint presentation. What you have to do is find a blueprint that is easy to comprehend and that you can use as a starting point for creating your design. Remember to keep your eye out for other good examples online, and then use them for Inspiration for your design.
9.Ocean Hand Drawn Cartoon Presentation Template
Beautiful PowerPoint presentations are available on the Internet. Try to Use these Creative design presentation templates to create your presentation. Some of the most compelling examples of presentations you can find online are on every one of these sites.
10.Pink and blue simple presentation template
This is a quick and easy presentation template to create some of the most common types of presentations using PowerPoint. Each slide is shown with a professional slide presentation template. In addition, the presentation shows you how you can create fully colored presentation slides with a wide range of backgrounds, fonts, and styles.
Conclusion
There are many occasions when you have to give a presentation, and it is always better if you know how to create a truly remarkable one. If you are struggling to make a good presentation, there are always examples online that can help you improve your presentation skills and stand out from the crowd by looking exciting and fresh. You need just a little creativity and get a few good PowerPoint presentation examples to stand out from a sea of reminders.
The WPS Office templates offer ready-made layouts for specific topics, offer a variety of colors, and can include content for multiple conditions or discussions. So download it and use several good PowerPoint presentation sample templates that can make an excellent presentation that tells a visual story about a problem set and its solution.