WPS Office
Free All-in-One Office Suite with PDF Editor
Edit Word, Excel, and PPT for FREE.
Read, edit, and convert PDFs with the powerful PDF toolkit.
Microsoft-like interface, easy to use.
Windows • MacOS • Linux • iOS • Android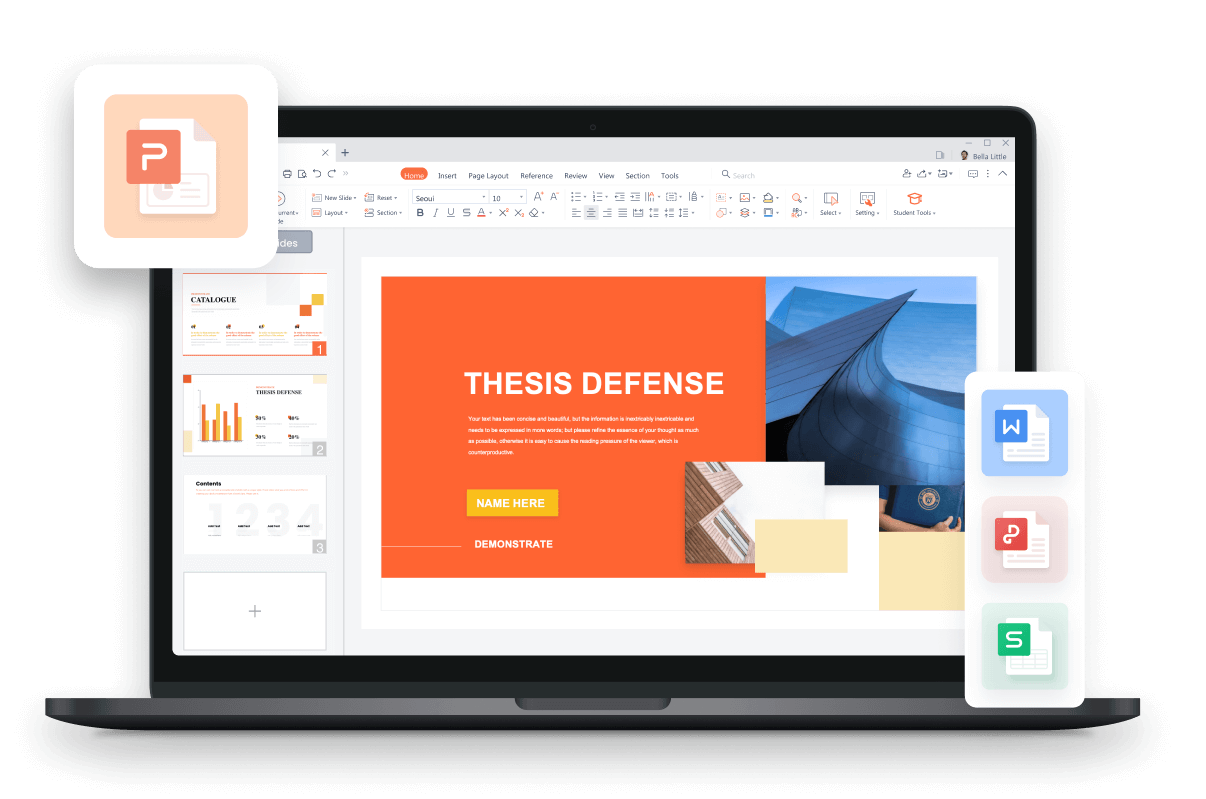 How to change slide size of your slides in powerpoint (Step-by-Step)
Computer devised presentations for corporations and organizations is receiving significant focus these days. There are several softwares online to create presentations in an excellent manner, to illustrate, WPS Office has specifically made separate software named as WPS Presentation that allows its user to create professional corporate-like presentations which will not only prove to be helpful for individual's reputation in the company, but also, help in increasing chances of getting promotion. However, users that use different software to create presentations often face a problem to change slide size of presentation and struggle at the time of presentation.
It is significantly important for users to know how to change slide size as they might have to change their devices often times, when presenting. PowerPoint presentation can range from making presentations for a school project to budget planning by government organizations. Therefore, changing the size of slide is crucial when it comes to understanding the usage of PowerPoint.
How to change slide size in Windows
Once you have created an adorable PowerPoint presentation, it is time to change slide size according to your needs. Nevertheless, it is recommended to always change slide size prior to the making of the presentation, as it will affect the pictures that are placed by the user. Moving on, PowerPoint includes two most commonly used sizes in its system.
First one is 4:3, is suitable for the hardware that is outdated on which you will be presenting your slides. But, if you are looking to present your presentation on a modern-day projector or any display, you should go for 16:9 size slide. Apart from these two options, if you still want to change the size of your slides, there is a custom slide size option also, in which you can easily modify your slides according to your need.
Steps to change slide size in Windows and Mac
1. Click on Blank PowerPoint or choose any design as you like:
2. Move your cursor to Design Tab on the app's ribbon.
3. Click on Slide Size option on the app's ribbon
This reveals a menu that consist of three options:
Standard Screen (4:3)- Click this, if you want your slides to be of 25.4 x19.05cm or 10 x 7.5 inches.Wide Screen (16:9)- Click this, if you want your slides to be of 33.867cm x 19.05cm or 13.33 x 7.5 inches.Custom Slide Size- Click this, if you want your slides to be different than the ones mentioned above.
(Continue if choose Custom Slide Size Option)
4. After choosing Custom Slide Size option, click on the Slides Size tab to reveal a range of different options suitable for your need.
If you did not find suitable option to change slide size, you can put your dimensions on the tab of Width and Height.
5. Once you are finished with changing your slide size, Click OK to close the window. After clicking OK a pop-up will appear in which two options are given:
Maximize: Tap on this button to not change the size of your slides content, and leave them as they are. However, if there is a lot of information in slide, using this option will not be feasible for you as it will populate the slide, leaving behind its beauty.Ensure Fit: Tap on this button to reduce the size of the images or texts to appropriately fit the reduced slide size without losing any of the content.
How to change image size in PowerPoint
People find it difficult to resize the image in the PowerPoint, therefore below are the easy steps mentioned in order to change the size of an image in the PowerPoint.
Open a Blank Document in the PowerPoint.
Click on the insert option on the top of the ribbon.
After clicking on insert option a new ribbon will pop up and from that ribbon select Pictures option.
Upload the image you want to add to your presentation.
After uploading the image need to be resized, for that click on the image and resize the image by dragging the resizer on the top right corner of the image outline.
TIP: Holding down Shift key during the image resizing will help you in resizing in a proper way, else the image will not be resized.
How to resize title bar in PowerPoint
Resizing the title is one of the major aspect of the presentation, as it needs to be accurately precise so that it looks good with the slide design.
Here are the steps to resize the title bar in PowerPoint:
Click on the Title Bar.
After clicking on the title bar, an outline of sizing the title bar will pop up. You can resize by dragging the resizing title bar.
Important Notes
Always use WPS Presentation to change slide size as per your need.Always use the latest version of Windows and Mac, to get access to new functions being introduced by the company.You can follow WPS Academy to learn more features of Word Document, Excel Spreadsheets and PowerPoint Slides.
Did you learn about how to change slide size in PowerPoint presentation? You can also download WPS Office to edit the word documents, excel, PowerPoint for free of cost. Download now! And get an easy and enjoyable working experience.