WPS Office
Free All-in-One Office Suite with PDF Editor
Edit Word, Excel, and PPT for FREE.
Read, edit, and convert PDFs with the powerful PDF toolkit.
Microsoft-like interface, easy to use.
Windows • MacOS • Linux • iOS • Android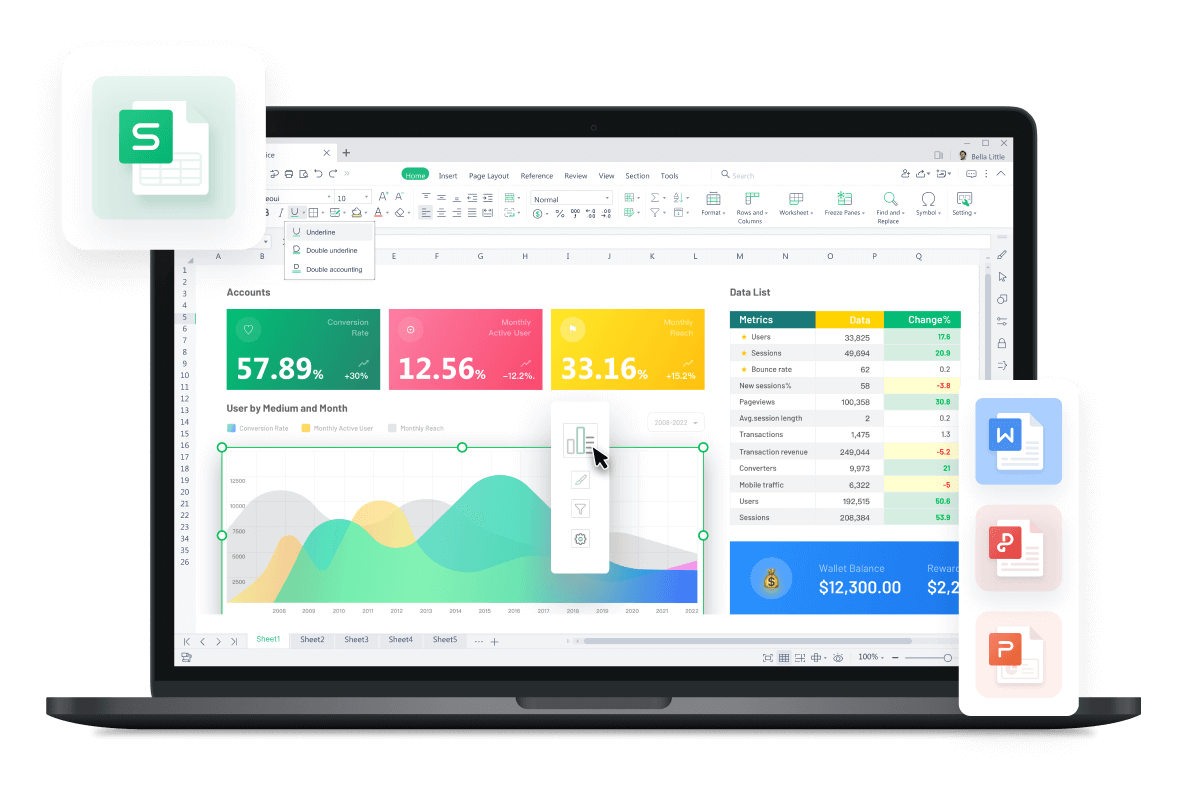 How to Conduct Data Analysis through Excel
No matter in work or research, data analysis plays an essential role. It leads us to accurate conclusions with which we could work out corresponding plans to reach a target.
To analyze data, WPS Spreadsheet is a convenient instrument which encompasses a collection of tools such as merge calculations, categorize and summarize, and most importantly, Pivot Tables.
We often conduct data analysis through Pivot Tables in WPS Spreadsheet. But how to create a Pivot Table? Where does the function lie in? This article is going to provide a clear instruction.
What is a Pivot Table?
A Pivot Table is an interactive table that can perform all kinds of calculations, such as summing and counting. The calculation is related to the data and the arrangement in the Pivot Table. No doubtedly, this function is available in WPS Spreadsheet
Pivot Tables got their name because their layout can be changed dynamically to analyze data in different ways, and you can rearrange row numbers, column labels, and page fields. Each time the layout changes, the Pivot Table immediately recalculates the data according to the new layout. In addition, you can update the Pivot Table if the original data changes.
What We Need to Create a Pivot Table?
A computer
WPS Spreadsheet ( You can download the software through www.wps.com )
Steps to Create a Pivot Table
Step 1: Open the data document you need to process. Click on the cells in the column you wish to analyze in the first step.
Step 2: Click on "Data" on the control palette at the top, click "Pivot Table" on the leftmost end.
Step 3: Select "New Worksheet" in the box that appears, and click "Verify" at the bottom.
Step 4: Then a work area will appear on the right. This is where the Pivot Table processes. You can select any column of data you wish to analyze. For example, if you want to put the column "NAME" into the processor of line, you need to click on it and drag it to the "line" box without releasing the left mouse button.
Learn More about How to Conduct Data Analysis through Excel
Have you learned about how to Conduct Data Analysis through Excel? If you want to learn more, there is currently a WPS Spreadsheet for beginners course which will help you learn Excel basics. By using free and professional WPS Spreadsheet, you can manage and analyze various types of data effectively. With having this basic knowledge or information of how to use it, you can also access and use different other options on excel or spreadsheet. Also, it is very similar to Word or Document.
You can also download WPS Office to edit Word, Excel, and PowerPoint for free. If you want to know more about Office features, you can follow WPS Academy to learn.
Download now by entering www.wps.com! By getting access to WPS Office, you can use Word, Excel, PowerPoint for free and get an easy and enjoyable working experience.