WPS Office
Free All-in-One Office Suite with PDF Editor
Edit PDFs like Word
Convert, merge, split, scan, and sign PDFs
More than PDF: Use Word, Excel, and PPT for FREE
Windows • MacOS • Linux • iOS • Android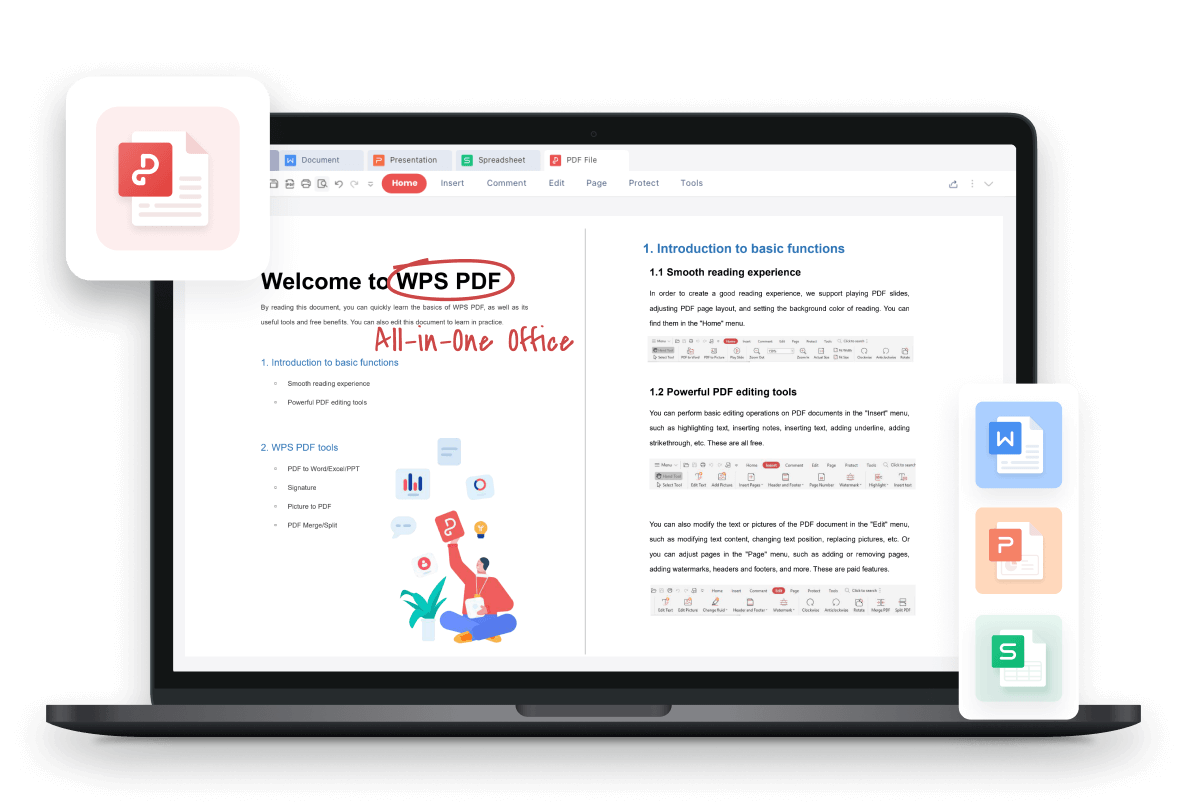 How To Convert WPS To PDF: A Full Guide
The globally recognized PDF format makes sharing documents accessible, but WPS Office users often need to convert their files. Converting WPS to PDF can be challenging if you want to maintain formatting and fidelity. Thankfully, there are reliable methods to convert to PDF seamlessly. Read on for a guide to preserving your WPS files as perfect PDFs.

What Is A WPS format?
The. WPS file extension stands for Microsoft Works word processor document format. It was developed for the discontinued Microsoft Works productivity suite. These proprietary binary files contain text documents like letters and reports that could also include images. At the same time, newer versions of Word can convert them. WPS requires the old Microsoft Works software to edit. More standard formats have primarily replaced these legacy files. DOCX today.
Why Convert WPS To PDF?
Microsoft Works word processor created the WPS file format and is now obsolete. While WPS files are still accessible, there are benefits to converting these documents to PDF format. Converting WPS to PDF makes the files usable with modern software, adds security features, and facilitates accessibility and collaboration.
Why Is Converting WPS Files To PDFs Beneficial?
WPS Format is Outdated
The WPS file format is outdated and not widely supported anymore. Converting to PDF allows the documents to be opened on modern devices and software.
PDF Has More Features
PDF files have advanced formatting options and support features like macros, which WPS files lack. Converting to PDF makes the documents more functional and flexible.
Maintain Accessibility
If the software required to open WPS files is no longer available, converting to PDF allows the documents to be opened with commonly available PDF readers. It maintains accessibility.
Improved Compatibility and Portability
PDF is an open standard format that can be opened on any operating system. Converting WPS files to PDF improves compatibility and portability across devices and platforms.
Enhanced Security
PDF documents can be secured with passwords and encryption. Converting WPS files to PDF allows sensitive documents to be protected.
Facilitates Collaboration
PDF files are compact and optimized for sharing and distribution. Converting WPS documents to PDF facilitates easy collaboration and transfer of files.
Preserves Documents
Overall, converting older WPS files to widely accepted and feature-rich PDF format helps preserve documents by making them usable with modern, secure, portable, and collaboration-friendly software. The universal nature of PDF ensures continued access to the WPS file contents.
The Easiest Way To Convert WPS To PDF
You can convert your WPS files into PDFs using various offline and online tools, including WPS Office. The following steps will show you how to convert WPS to PDF using the WPS office.
Step 1: Open the WPS Office application and open the WPS file you want to convert.
Step 2: Find and click on the "Tools" menu at the top of the screen. You can export your document to PDF by selecting the "Export to PDF" option.
Step 3: Alternatively, you can directly click on the "Export to PDF" option in the menu bar at the top without going through the Tools menu.
Step 4: As another method, navigate to the "Save As" menu and change the file type or format to PDF before saving.
Step 5: That's it! With just a few clicks, your WPS file will be converted and saved as a PDF file.
Pros Of WPS Office
Free And Powerful Core Office Tools
WPS Office provides free versions of the core office applications - WPS Writer, Spreadsheets, and Presentation - full-featured alternatives to Microsoft Word, Excel, and PowerPoint. There are no ads or limitations. WPS Office also includes WPS PDF, a free PDF reader, and a converter, with affordable premium options for advanced PDF editing capabilities.
Broad Format Compatibility
WPS Office is compatible with Microsoft Office document formats like .doc, .docx, .xls, .xlsx, and .ppt. It can seamlessly open and save to these formats without formatting or layout issues. WPS Office also supports many other document formats out of the box.
Low System Requirements
WPS Office is lightweight and efficient, with a small installation footprint of just 200MB. It works well on older Windows versions like Windows 7 and low-spec PCs. WPS Office consumes less memory and is less demanding on hardware resources than alternatives.
Templates And Extras
WPS Office provides many free and premium templates across Word, Excel, PowerPoint, and PDF documents to help users get started quickly on new projects. It also bundles extra tools and utilities like resume builders, intelligent forms, screen recording, and file repair built into the suite.
Collaboration Features
With WPS AirPage, WPS Office enables real-time document co-editing in the cloud. Multiple people can simultaneously edit Word, Excel, or PowerPoint documents and see each other's changes instantly.
Cross-Platform Support
With WPS Office, you can work on Windows, Macs, Linux, Androids, and iOS. When logged into the same WPS account, documents sync seamlessly across devices regardless of operating system for a consistent experience.
Stable And Smooth Performance
WPS Office is optimized for stability and performance. It handles large, complex Word documents, big Excel data sheets, and heavyweight PowerPoints without lag, crashes, or freezes. The suite has low memory usage even when working with demanding files.
Other Tools To Convert WPS To PDF
PDF Element
Converting a WPS file to PDF is quick and easy with PDFElement. To get started, simply open the PDF Element application on your computer. Click the Add File button on the Convert tab and select the WPS file you want to convert. The file will be added to the application. Then, use the dropdown menu next to the file to specify PDF as the desired output format.
Step 1: Open PDF Element on your computer.
Step 2: Select the "Plus Button."
Step 3: Click the "From File" button and select the WPS file you want to convert.
Step 4: The converted PDF file will be displayed in the output files section. To view the file, click on it.
Step 5: Optionally, click the File button and select "Save" to save the converted PDF file to your computer.
Step 6: Click on the file name and select "Share" to share the converted PDF via email, Google Drive, Dropbox, etc.
PDF24 Tools
PDF24 Tools is a free and easy-to-use PDF software suite for Windows. It allows users to create, edit, convert, merge, split, compress, sign, and password-protect PDF files. These are the steps to convert WPS to PDF:
Step 1: Open PDF24 Tools and click the "Choose File" button.
Step 2: Select the WPS file you want to convert to PDF.
Step 3: Once the WPS file is opened in PDF24 Tools, click the "Convert to PDF" button.
Step 4: Click "Download" to convert and save the WPS file to PDF format.
PDF Converter
PDF Converter is a powerful yet easy-to-use software application that converts file formats like Word documents, Excel sheets, and PowerPoint presentations into PDF files. With just a few clicks, PDF Converter can quickly and accurately convert multiple files into PDFs while preserving the original formatting. PDF Converter offers batch conversion capabilities and advanced settings to customize PDF output.
Step 1: Open PDF Converter.
Step 2: Click the "Choose Files" button and select the WPS file you want to convert.
Step 3: From the drop-down menu next to the added WPS file, select "PDF" as the output format.
Step 4: Click the "Download" button to save the WPS to PDF conversion process.
Step 5: Preview the converted PDF file once the conversion is complete to ensure everything is appropriately converted.
Adobe Acrobat
Adobe Acrobat is a powerful software suite developed by Adobe Systems for creating, editing, and managing PDF documents. It provides a comprehensive set of tools for converting various file formats to PDF and editing, combining, exporting, securing, and enabling electronic signatures for PDFs. Acrobat allows searching, commenting, collaboration, and integrating PDFs into workflows. It is the standard software individuals, professionals, and enterprises use for working with the portable document format.
Step 1: Select a file by clicking the button or drag and drop a file.
Step 2: Choose the document you wish to convert.
Step 3: Wait for Adobe Acrobat to convert the PDF.
Step 4: You can download or share your new file by logging in.
FAQs
1. What Is The Difference Between WPS And DOC/DOCX?
The main distinction between WPS and DOC/DOCX lies in the software they are associated with. WPS files are linked to WPS Office, while DOC/DOCX files are associated with Microsoft Word. Additionally, DOC is an older binary format. At the same time, DOCX is XML-based, and the latter is an open standard, making it more versatile and compatible with various applications than the proprietary DOC format.
2. Can I Convert A Password-Protected WPS File To PDF?
Yes, you can convert a password-protected WPS file to PDF. Start by opening WPS Writer and importing the protected document. Enter the password when prompted, and click "File" followed by "Export to PDF" to complete the conversion process.
3. How Do I Open A Password Protected PDF In the WPS Office?
Follow these simple steps to open a password-protected PDF in the WPS Office. In the WPS Office, open the PDF file. Then, go to the "Protect" option and choose "Remove Password." After that, follow the on-screen instructions and quickly unlock the PDF file's password protection.
4. How Do I Remove Password Protection From WPS PDF?
To remove password protection from a PDF using WPS Office, open the encrypted file, visit the Protect tab, and click "Encrypt." In the pop-up box, ensure to uncheck editing and extracting password options. It will eliminate the password protection from the PDF.
Summary
The article guides converting files saved in the outdated WPS format to the more universal and feature-rich PDF format. It highlights the benefits of converting WPS files to PDF, such as improved accessibility, enhanced security, and greater portability and collaboration capabilities. The article then focuses on using WPS Office as the easiest method to convert WPS files into PDFs, outlining the simple steps to complete the conversion within the software's interface.
WPS Office is an ideal free office suite for converting WPS to PDF. The article features WPS Office's strong points, such as its powerful core tools, support for various formats, low system requirements, built-in templates, and real-time co-editing capabilities. It only takes a couple of clicks within WPS Office to convert WPS files to PDF while maintaining the original layout and formatting.