How to insert a table of contents in word
Uploaded time: October 9, 2021 Difficulty Beginner
A free Office suite fully compatible with Microsoft Office
Free download

How to insert a table of contents in word
How to insert a table of contents in word
A table of contents, also called TOC, is a significant part of an article. It can help readers to get the outline quickly and locate the target part. In WPS, we can insert a table of contents in a convenient way.
Click the blank page inserted at the beginning of the article. Get into the Reference tab, and click Table of Contents. In the dropdown menu, we can choose from three styles of the table of contents, which presents in different layouts. Since we haveHeading 1, Heading 2, andHeading 3 in the article, in order to show all the three levels, we should choose the third style from the list.
If we want to customize the contents, click the Table of Contents dropdown menu and click Insert Table of Contents to pop up a dialog,
where we can change the Tab leader and the Show levels. We can also change way of alignment for page numbers. The effect preview is shown in the Print Preview interface on the right-hand side of the screen.
Check the Use Hyperlinks option. Then, when returning to the table of contents, we can hold down Ctrl and click to follow the link.
Click Options for advanced settings of the table of contents. In most situations, the heading in the table of contents presents corresponding levels. For example, Heading 2 is indented from Heading 1, while Heading 3 is indented from Heading 2, etc.
By changing the level of the heading, the corresponding heading level shown in the table of contents would also change.
For example, when the title in Heading 1 is changed to Heading 2, the title would align with the Heading 2 level.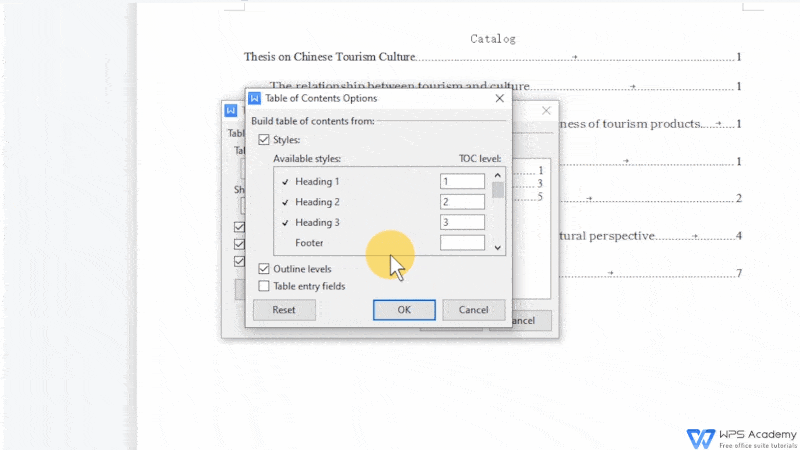 If we want to remove the table of contents, click the Table of Contents drop-down menu and choose Remove Table of Contents.
No matter you are a student, teacher, or business professionals can create and edit documents efficiently by WPS Writer as text editors. Easy to use as Microsoft Word.