How to select words quickly
Uploaded time: January 25, 2022 Difficulty Beginner
A free Office suite fully compatible with Microsoft Office
Free download

How to select words quickly
How to select words quickly
Do you select words by simply holdingdown the left click and dragging the mouseto the desired position?
Actually, many quick ways are available. Now let's learn about them one by one.
· Click to select a line of words
1. Move your cursor to the left of a line of words.
2. Left click to select the line of words.
· Double click to select a paragraph
1. Similarly, move your cursor to the left of a paragraph.
2. Double left click to select the paragraph.
Note that paragraphs are separated by paragraph marks. You can navigate to the Home tab, click the Show/Hide Editing Marks drop-down button, and check Show Paragraph Marks to view them.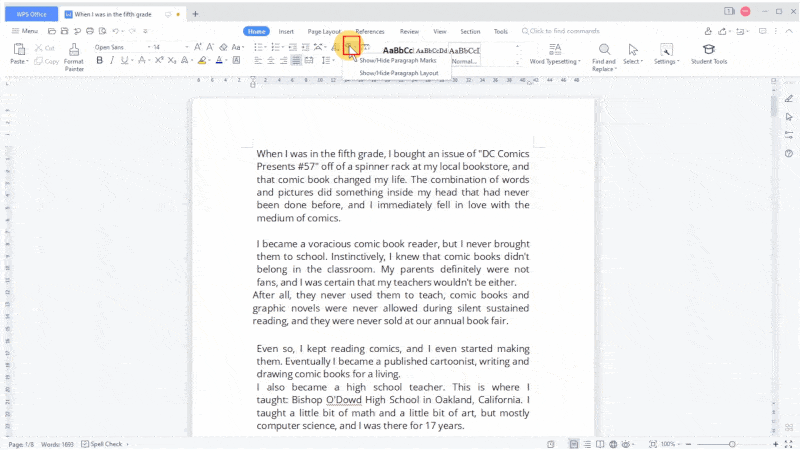 · Triple click to select the whole article
1. Move your cursor to the left of an article
2. Triple left click quickly to select the whole article.
3. We can also use the shortcut key Ctrl+A to select the whole article quickly.
· Use mouse and keyboard cooperatively
1. If we need to select numerous words, we can move the cursor to the starting position, hold downthe Shift key and then click the ending position to select this part of the text.
2. If we want to select some discontinuous words, we can select some words first, and hold on the Ctrl key and then select other needed words.
3. In addition, we can hold on the Alt key to select any content without the limitation of lines.
What a practical feature! Did you get it?
Whether you're new to Word or need to speed quickly with Word, free WPS Writer training will give tips to apply immediately to your business work. Discover professional training in WPS Writer, you'll practice creating different types of documents by using Word.