WPS Office
Free All-in-One Office Suite with PDF Editor
Edit Word, Excel, and PPT for FREE.
Read, edit, and convert PDFs with the powerful PDF toolkit.
Microsoft-like interface, easy to use.
Windows • MacOS • Linux • iOS • Android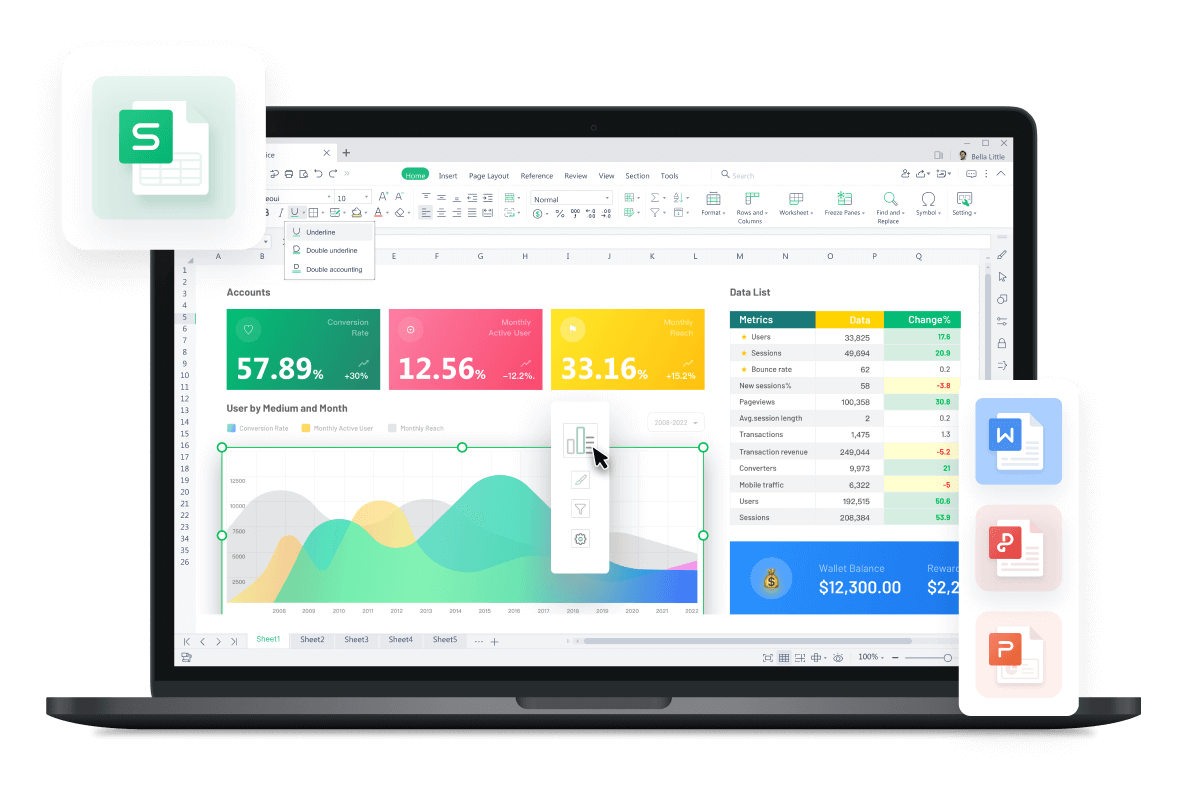 If you don't know how to use in excel because you've never had the opportunity to work in a spreadsheet, you should know that this program has many functions. For this reason, you must start with the most basic tools to obtain the right knowledge to work on your documents.
Excel is a necessary program so you can make your charts and graphs, add columns, and make calculations. This has made it complete. Currently, most companies use it frequently. Therefore, you must learn to use each function to know how to do any work in a spreadsheet.
You can know several modern, complete, easy methods that will help you in how to use in excel when you need it. In this way, you can invite your friends to discover the benefits offered by how to use in excel mac.
How to work Excel online?
You will have the advantage of editing your Exel files from wherever you want without the need to have Excel installed on your PC. You can also discover the information you want with the help of how to use in excel 2019
First, you must save an Excel file using the OneDrive location. Then go to onedrive.live.com and sign in with your Microsoft account and click on an Excel file. Now edit your excel file.
3. Then go to onedrive.live.com, then upload various data to the OneDrive location
4. Now open the Excel file in Excel Online, then where the view tab is located, click on the sheet view.
5. Use Excel Online to filter and sort this dataset so that you can save this sheet view. Just type a new name, then press Enter. You must already learn everything about how to use in excel online
How to import access data to Excel?
You must know this method to learn how to import data through a database in Excel. When importing data, a fairly permanent connection is established that you can update-
1. First, where you find the Data tab, in the Get & Transform Data group, click Get Data
2. Then click where the database is from the Excel database
3. Now, you should select the access file with ease. This makes it possible for you to learn how to do this function.
4. Click import, select a table from the Browser window in the left loop, and then click load. You can be a pro at how to use in excel 2016 if you want.
5. When you change your Access data, you can easily update your data in Excel. First, you have to select a cell within the table. Next, where is the table design tab, where is the external table group, click on where is Update.
How to search in Excel 2021?
If you have Excel 2019 or 2021, you must know how to use it in excess, do not forget to know the advantages that it offers you when doing any work in your spreadsheet.
1. The function you will see below wants to search for the value 53. In the range B3:B9, it will be the second argument.
2. Next, the value in the same row of the range E3:E9, the third argument is returned
3. In This step, instead of returning the salary, the next LOOKUP function returns the last name (replace E3:E9 with D3:D9) from ID 79. This has made you gain new knowledge of how to use Excel.
If, with the methods explained above, you have managed to know how to use in excel, then you can use this program with ease. Everyday Excel has better functions, so you know how to use it without problems. This type of program also offers you how to use in excel.
Suppose you want to become a professional in this program and need to know how to use in excel properly. You must know all the most modern methods and seek the right advice.
If you are interested in knowing new functions of how to use in excel, be sure to visit the WPS Academy website. This platform is modern and secure; you can download WPS Office on it. You will have the advantage of knowing several secure instructions, full of unique alternatives.