How to use the Review feature
Uploaded time: December 6, 2021 Difficulty Beginner
A free Office suite fully compatible with Microsoft Office
Free download

How to use the Review feature
How to use the Review feature
If other people revise a document, we can use the review feature to view the revisions.
Take this paper as an example. It is revised by two people.
If we only want to read Miss Chan's comments, here are the steps.
In the Review tab, click the Review drop-down button and click Reviewers. Check your desired reviewer.
Then Miss Chan's comments are displayed on the right.
Sometimes, a paper may go through multiple revisions and comments.
If we only want to read the latest comments, we can click Review Time and set the time span.
Click Reviewing Pane, and we can select the orientation of the reviewing pane: Reviewing Pane Horizontal and Reviewing Pane Vertical.
In the Review Pane, we can also select the Reviewer and Review Time to read all comments specifically.
We can also click any of the comments in this pane to navigate its position in the text quickly.
In addition, we can also export all the comments to a new document.
We can also accept or reject these comments.
Click the comments box and click Accept in the Review tab, and then we can delete the comments box and revision markup, and the revised text will be applied.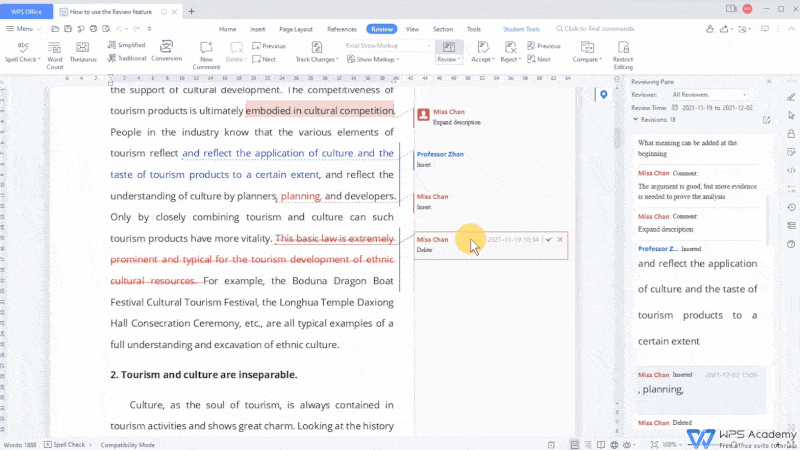 When we click Reject, the comments box is also deleted, but the revised text reverts to the original.
Did you get it?
WPS office software could be compatible with Microsoft Office, and these training contents help students or home workers finish their work efficiently.