Insert Table of Figures and refer to the List of Captioned Objects
Uploaded time: November 3, 2021 Difficulty Beginner
A free Office suite fully compatible with Microsoft Office
Free download

Insert Table of Figures and refer to the List of Captioned Objects
Insert Table of Figures and refer to the List of Captioned Objects
When there are too many pictures or tables inserted into a document, we can make a table of figures. It can generate a list of captioned objects and their page numbers for quick location. So how do we insert the table of figures?
In this document, for example, we have inserted 6 images with captions.
Click the location where we need to insert the table of figures, and click the Insert Table of Figures button on the References tab to get a dialog.
On the left side of the dialog, we can select the corresponding Tittle label.
Since the caption we have set for the images is classified as image, we also select Image here.
Then check Show page numbers and Use the hyperlink at the bottom left of the dialog.
The page numbers of its corresponding images will be generated, and through the hyperlink, we can locate them quickly.
After checking the Right align page numbers, we can also select the Tab leader style and see the default effects in the Preview interface.
When setting up, click OK to insert the table of figures.
Hold down the Ctrl key and click the caption in the table of figures. We can quickly jump to the corresponding image.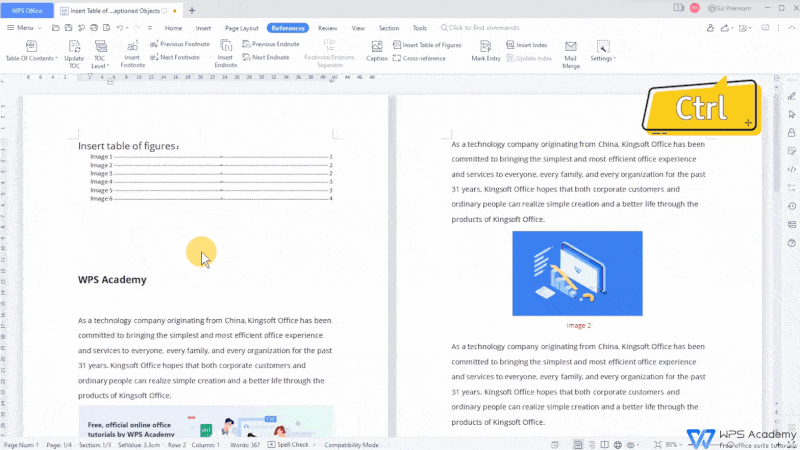 To be office word advanced, you could learn how to use WPS Office Writer online in WPS Academy.