WPS Office
Free All-in-One Office Suite with PDF Editor
Edit Word, Excel, and PPT for FREE.
Read, edit, and convert PDFs with the powerful PDF toolkit.
Microsoft-like interface, easy to use.
Windows • MacOS • Linux • iOS • Android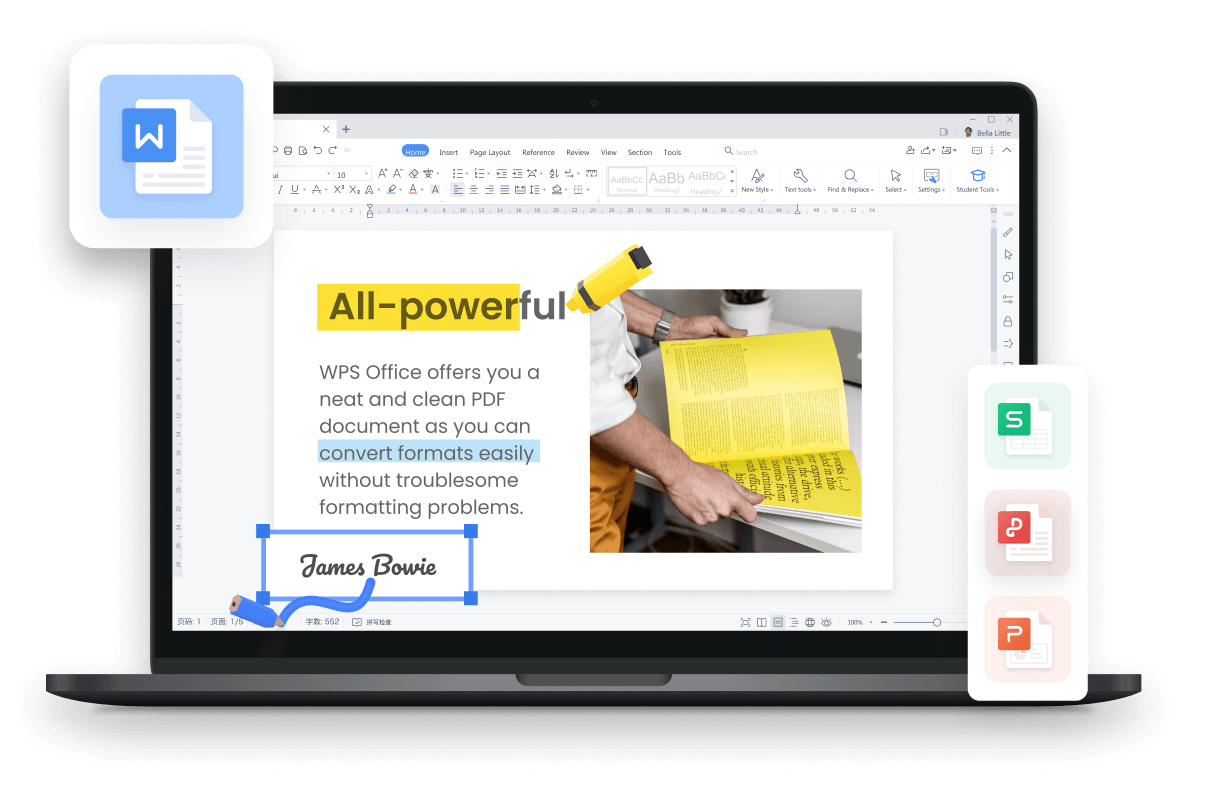 More features in Export to Picture
Uploaded time: December 27, 2021 Difficulty Beginner
More features in Export to Picture
More features in Export to Picture
When sharing a document, if we do not want others to edit the document, we can take many measures to limit the document's editing. Here, I will introduce you to one of the ways: Export to Picture.
Microsoft Word can not save the document as a picture format directly.
But, we can still save the document to picture through more tedious procedures.
First, press Ctrl+A to select the document content, and press Ctrl+C to copy the desired content. When we press Ctrl+V to paste the content into a new document, a small button Ctrl will appear at the bottom of the article.
Click this button, then a small selection interface called Paste Options will appear. We click the Picture icon. Then, we can export the document content to picture.
In Microsoft Word, we can not convert all the document content into pictures at once. We can only convert the first page's content into a picture, and the rest of the content will be omitted.
At this time, we can only convert the content of each pageseparately.
WPS Writer has a special tool to convert pictures, allowing us to achieve more functions.
We use WPS Writer to open the same document. Go to the Tools tab, and click the Export to Picture button.
Then, we can go to a dialog. In the Export Type area, we can choose By Page or Long picture.
In the Format box, we can select different output formats, including JPG, PNG, BMP, and TIF.
At the same time, we can also check Backup to WPS Cloud.
If we need to mark the document's origin, we can add an exclusive watermark to the record. In the Watermark area, click Custom and click Edit Watermark in the preview box on the right to enter the edit window.
In this window, we can set the Text,Color,Opacity, Style,Rotateand Size of the watermark. And, we can choose whether to tile the watermark or not.
In addition, WPS Writer allows you to set the conversion range, when we need to convert parts,such as 3-5 pages, of the document, we can click Page Range in the Pages area and then input the pages: 3-5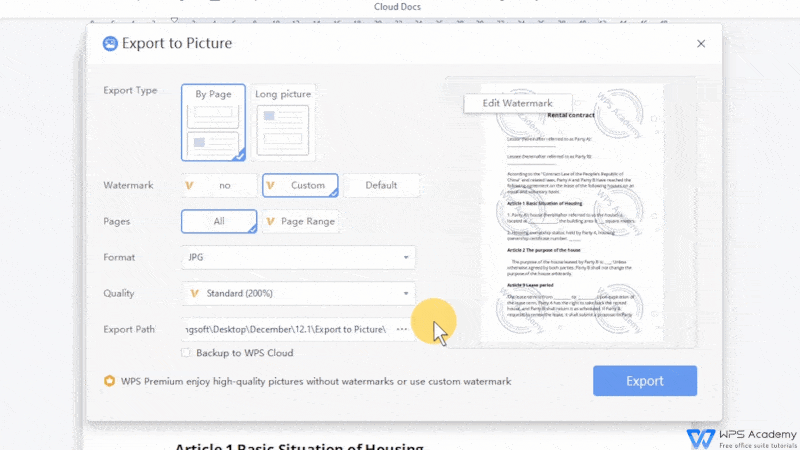 And, we can also export a higher-resolution picture. In the Quality box, select Standard (200%).
After completing settings, click Export.Then, we can export the document to a picture.
While experiencing it in WPS Writer, this function is easy to operate with fewer steps and less time . Have you learned it?