WPS Office
Free All-in-One Office Suite with PDF Editor
Edit Word, Excel, and PPT for FREE.
Read, edit, and convert PDFs with the powerful PDF toolkit.
Microsoft-like interface, easy to use.
Windows • MacOS • Linux • iOS • Android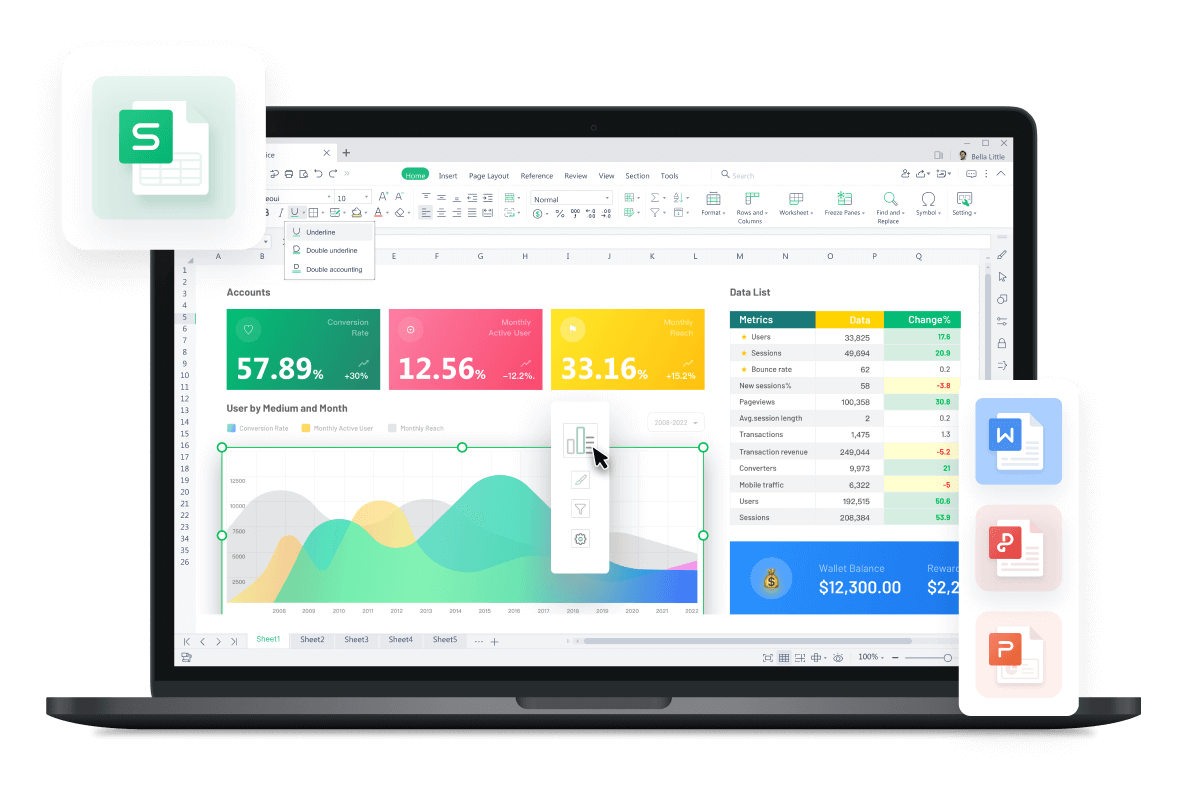 Procedure to recovery files excel
We have all had prior experience in that regard. You're working on an essential Excel spreadsheet when all of a sudden, the computer freezes up or you close the file without saving it by accident. This can be a significant source of stress, particularly if the information included in the spreadsheet is vital. However, there is no need to panic because the procedure you need to recovery files excel unsaved can be found in the following paragraphs of this article. In today's blog article, we are going to demonstrate how to carry out the task.
Once you read this article you will know the procedure to recovery files excel which you forget to save or any other condition.
Procedure to recovery files excel: Backup

WPS Excel's backup and recovery feature is a helpful feature that makes it simple to restore accidentally deleted or deleted Excel files. This can be a lifesaver if you've mistakenly closed a file without saving, or if your machine dies and you lose your work.
To use the backup and recovery function, simply navigate to MENU > Open > Backup and recovery option. From here, you may select the file you want to recover and click open. Excel will then attempt to retrieve the unsaved data from the file and open it for you. Keep in mind that this may not work 100 percent of the time, but it's definitely worth a shot if you've lost vital data in an Excel spreadsheet.
Steps involve to recovery files excel
1. Open a new WPS spreadsheet. To access the menu, look to your left, just below the WPS office, in the upper-left corner of your screen.
2. Now click on the backup and recovery option from the option bar, which will be open after clicking on the menu. And choose the auto backup option.
3. Select the local backup from the popup that appears after the auto back up. All of the documents you were working on are displayed in the local backup window which are shown with numbers, and you can restore any of them.
4.Once you recovered the document you neglected to save, now you have to save it. To save your document, simply select File > Save As from the menubar.
Procedure to recovery files excel: Practical application
1. Open a pre-existing WPS Excel spreadsheet of your choice.
2. You will notice a document recovery bar as soon as it opens, which will ask if you want to recover the data or the modification you missed saving. Just click on view more backup option.
3. when you will click on the view more backup option it will open the local backup option now you have to click on the plus sign which will be on the left side of the file of your choice. After clicking the plus sign you will get more option of your file now you can open the latest file.
4. Once you recovered the modification now you can save the new file with save as option to save the file with changes.
There you have it! Now you know the procedure to recovery file which was unsaved in less than five minutes. We hope that this blog post was helpful to you. If you have any questions or comments, please feel free to leave them below. Thanks for reading!
However, if you want to know more about WPS office, please visit the official website of WPS Academy You can also download WPS Office for free to edit Word/Excel/PPT/PDF from here.