Resize width of columns and rows in a table
A free Office suite fully compatible with Microsoft Office
Free download

This tutorial will show you hot to resize width of columns and rows in a table in the following three methods.
ption 1: AutoFit function

ption 2: Adjust columns / rows manually

ption 3: Adjust row / column widths accurately
· Option 1: Adjust rows / columns manually
Tips: drag the cell border to adjust columns
· Option 2: Adjust row/column widths accurately
Select the cell range for operation. Then, enter an accurate value in 'Width' or 'Height' input box.
· Option 3: AutoFit function
1. Select the table for operation → go to the Table Tools tab → click AutoFit.
2. Choose one of the default options from the drop-down list regarding your situation.
In WPS Writer, there are five default methods to resize the table. Here are the illustrations.
o AutoFit to Window
o AutoFit to Content
o Switch Row / Column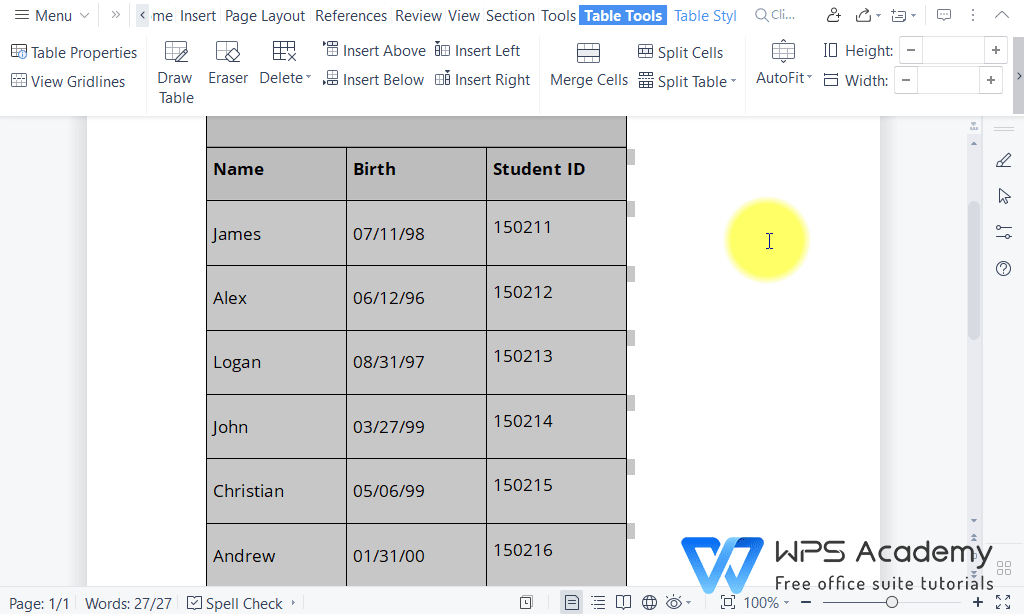 o Distribute Rows Evenly
o Distribute Columns Evenly
No matter you are a student, teacher, or business professionals can create and edit documents efficiently by WPS Writer as text editors. Easy to use as Microsoft Word.
Keywords
WPS, WPS Writer, Writer, Word, doc, docx, table, width, height, columns, rows, adjust row, adjust column