WPS Office
Free All-in-One Office Suite with PDF Editor
Edit Word, Excel, and PPT for FREE.
Read, edit, and convert PDFs with the powerful PDF toolkit.
Microsoft-like interface, easy to use.
Windows • MacOS • Linux • iOS • Android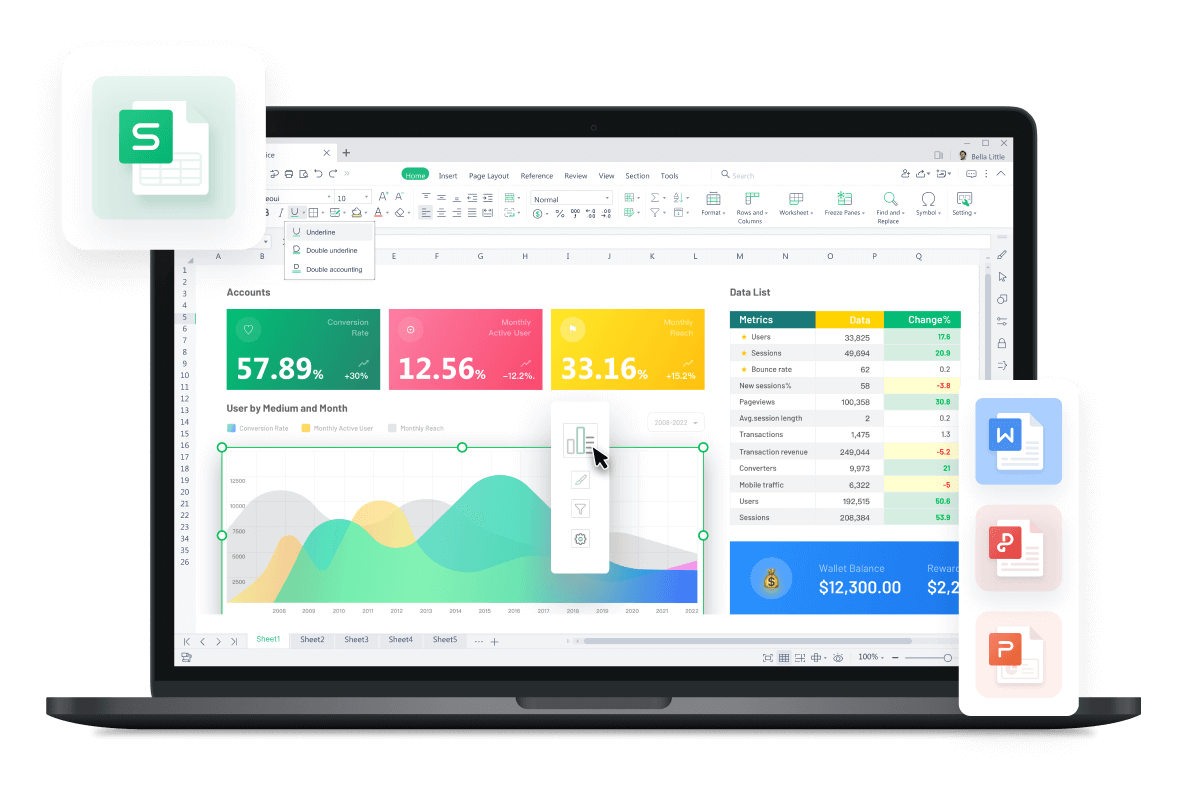 Top 10 Home Budget Template Excel
You can create a household budget to help you plan for long- and short-term goals by comparing what you earn with what you spend. Maintaining your financial health by using the home budget template excel free can keep your spending under control and your savings on the rise!
The home budget template excel free captures all sources of income and expenditures within a household. The plan also outlines what the end balance will be after all expenses are deducted from incomes, which is expected to be there.
To manage their personal finances better and have a better financial grip on life, individuals use a Household Budget Worksheet to map out their financial spending.
2.Popular Family Monthly Budget
Families or individuals can use this budget template to track income, expenses, and cash flow. You can create a family budget in Excel by following this hourly template.
3.Monthly Household Expenditure Budget
A monthly household budget template from Excel can help you track household budget expenses and income every month. Analyze actual expenditures against projected costs.
4.Investment Income Budget Statement
By using the firm's finance structure, the investment budget determines whether long-term investments are worthwhile, such as new equipment, replacements for old equipment, new plants, research and development projects, and revenue-generating properties.
An example of a simple budget template is one in which all sources of income for a period such as monthly, weekly, or yearly are entered in the budget.
Financial control over a business can be achieved by making an annual budget. Businesses can avoid potential problems by pre-allocating finances.
Budgeting will help you stay on top of your finances and keep unnecessary expenses at bay. A simple budget template can help you control your finances in the future by following the guidelines.
A bar chart lets you see how much money each category is taking from your wedding budget, while arrows show you which items are going over or under budget.
9.Simple Blue Budget Control Model
The monthly budget template allows you to compare your finances each month over the course of the year, which makes it easier to keep track of your finances. This template is ideal for event planners who are looking for ways to simplify budgeting.
10.Simple Sales Revenue Budget
In the Sales Revenue Plan/Budget Excel template, you can create monthly sales revenue plans up to three years in the future. Product groups with revenue subtotals are included, along with up to 20 seasonal sales patterns that can be applied individually to each product/revenue line.
Where to Find a household budget template
1. WPS Office
WPS is a complete Office suite that has Word, Excel, and Presentation editing and sharing programs available both for PCs and mobile devices. Moreover, it also has a vast template library from which you can choose any of the templates used in daily life, both in professional and household environments.
Household budget templates are also available on the WPS Academy and WPS Template library, so you can find and edit a template of your choice. You can also find these templates when working inside the WPS Office. Whether you are working with Docs, Spreadsheets, or Presentations, you can find templates by going to the template section of the application.
Here are some of the steps you can use WPS Office to make a budget using the household budget template:
Step 1: Go to the WPS Office on your PC and find the Spreadsheet options from the main window.
Step 2: As soon as you click on the Spreadsheets option, you will see a window with a search bar present on the upper part of the window. You can either search for "Budget" using the search bar or select an option from the recommended options that has "budget" option in it.
Step 3: After pressing the enter button, you will see multiple options for budget templates. From this screen, you can find the budget template that can suit your needs.
Step 4: After you have selected a template, you can edit the template using the WPS Spreadsheet editor. While doing this, you can also add or remove sections according to your needs.
2. Microsoft Office
Microsoft Office can be used to find a household budget template. You can do this with MS Word and also with MS Excel. All you have to do is have the Microsoft Office application on your PC, and you are good to go with the steps mentioned below:
Step 1: Go to the Excel on your PC and open a new file. In the new file, go to the "File" tab, and you will see multiple options regarding file options. From the file option, click on the "New" option to open a new file.
Step 2: As we need to make a budget file from the templates, you can either search for "budgets" or click on the option named "Budgets" to find budget templates for multiple purposes.
Step 3: The budget templates for multiple uses, including household, business, and academics are available on this screen. We will go for the personal monthly template or monthly household budget.
Step 4: After clicking on the template, you will see a window asking for confirmation to create a budget file from the selected template. Select the "Create" option, and you will be directed to the main window having budgeting essentials.
FAQs
1. How often should I review and update my budget template?
The frequency of reviewing and updating your budget template depends on your individual circumstances and financial goals. However, it is recommended to review and update your budget on a monthly basis. This allows you to track your income and expenses for the previous month and make necessary adjustments for the upcoming month.
2.Can I use multiple budgeting methods simultaneously?
Yes, you can absolutely use multiple budgeting methods simultaneously. In fact, combining different budgeting methods can be advantageous as it allows you to leverage the strengths of each method to customize your budgeting approach to fit your needs.
3.What is the 50 20 30 budget rule?
The 50/20/30 budget rule is a guideline for allocating your income to different spending categories. This means 50% of your money is for your needs. 20% for savings and debt repayment, and 30% for your wants.
4. How do I make a household budget plan?
To make your household budget plan, you will have to follow the steps mentioned below:
Calculate and analyze your net income

Track your every spending

Set realistic and attainable financial goals

Outline a plan

Spend while staying within your budget

Keep reviewing and updating your budget
Summary
As seen above, there are multiple tools and software programs used to make household budget templates. You can use Microsoft Office, Google Sheets, NerdWallet's budget worksheet, and templates provided by the WPS Office suite to create and edit your household budget plan.
However, all of these tools have some restrictions and limitations, except for WPS Office. MS Office demands a subscription or one-time fee, while other programs have limited functionalities. Therefore, the best tool to use for finding a household budget template is WPS Office.
It is a completely free software program with thousands of templates available in the online library. You can choose a template according to your specific needs and start editing it right within the WPS Office.