Unique features in Student Tools
Uploaded time: December 31, 2021 Difficulty Beginner
A free Office suite fully compatible with Microsoft Office
Free download

Unique features in Student Tools
Unique features in Student Tools
No matter you are a student, teacher, or business professionals, you can create and edit documents efficiently by WPS Writer as text editors. Student Tools is a collection of functions launched by WPS for students users. Some frequently-used functions are selected. This built-in function cannot be found in other office software at present.
In the interface of this function, WPS Office selects Reading View modefrom the View tab, frequently used features such as Highlight and Text Color are included for editing files.
WPS cares for the eyesight status of students and thus adds the Eye Protection Mode here.
In addition, according to students' usage habits, Word Count, Thesaurus, Spell Check in the Review tab
and Text Box, Picture, Shapes and Screenshot in the Insert tab are sorted into the Student Tools tab, which meets the basic editing needs of most students.
Student Tools also includes the functions of Insert Formula and Insert Symbol.
Even facing mathematical formulas or special symbols, Student Tools allows you to do all the operations in a single tab.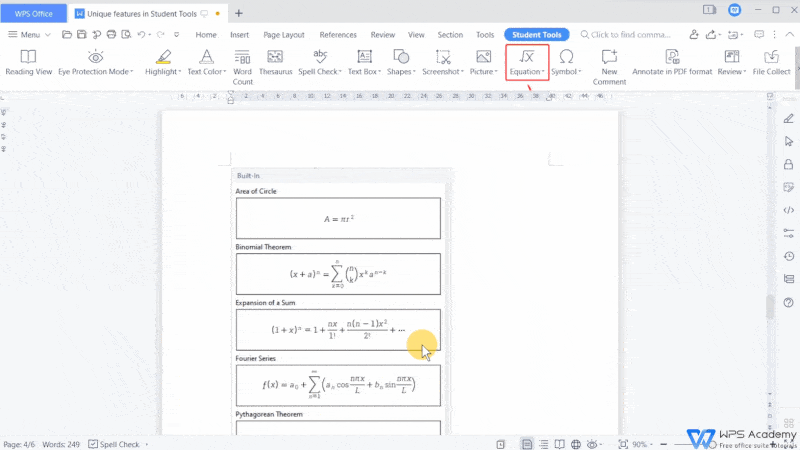 In addition, New Comment, Annotate in PDF format, and Review are included in the Student Tools tab.
Considering the real user scenarios for students, WPS collects the most commonly-used tools in the Student Tools tab, which makes it more convenient and easier for them to learn and use.