WPS Office
Free All-in-One Office Suite with PDF Editor
Edit Word, Excel, and PPT for FREE.
Read, edit, and convert PDFs with the powerful PDF toolkit.
Microsoft-like interface, easy to use.
Windows • MacOS • Linux • iOS • Android
How to Download WPS Files Converter for Free (Step-by-Step)
two screens with display
PDF is known as the globally acceptable format to maintain the quality of your document. It preserves the formatting of the document and allows you to share it will a smaller footprint.
But when you are using a WPS writer to create your document, it is complicated to convert a wps file into a PDF. To help you, this blog will provide you with a guide to using a WPS file converter download to convert your document into a PDF.
Can I Download the WPS Files Converter from Microsoft?
No, the official link for the download is no longer working as you can see below:
Microsoft download center
But to fulfill your needs, if you want to use the tool, there are some other ways that will help you to download the Microsoft Work 6-9 file converter. You can visit this link, which will take you to download the convert to your device.
download folder in chrome
How to Save a WPS File as a Word Document
Using a WPS file is like unlocking a vault full of useful tools that will help you edit your document and change the format. But often the unique format keeps the users away. To make changes to your document, here are a few step-by-step guides that will help you convert the WPS file into Word on Windows 10 PC.
Step 1: To convert your file, first, you have to go to the above link for wps file converter download:
download of Microsoft works converter
Once you download the free tool, the next thing you should consider enabling the plugin into your device.
plugin options
Step 2: Open the WPS file that you want to convert to your computer. By double-clicking the file, Microsoft Works Converter will launch and open the content into the Word docx.
document location in device
Step 3: When the file opens in Word, you can go to the file option to save as. Here you can change the file type to a Word document. Now your file will be converted to the DOCX Word format.
document main page
Step 4: Now you can work in your document and make the desired changes in the format of the file from adjusting the text to formatting the document. The conversion will allow you to keep all the original text while allowing you to use the tools to edit your file.
options to save file
Note: the WPS file converter download plugin makes the process easy and effective to convert any old WPS file into Word. It is a quick solution to convert the file with a simple method.
How to Download the Best Free WPS Files Converter - WPS Office
WPS Office is known as the most useful business suite to meet all personal and professional needs. This software is established by Kingsoft Office Software. WPS Office has more than 500 million users around the world.
When it comes to the features of this software, the main features it offers are WPS writer, spreadsheet, presentation, and PDF. These products are the alternative to the Microsoft products. However, there are some features that WPS Office provides for free such as PDF editing and a built-in free template store according to your personal and professional needs.
main page of WPS
How to get started with WPS Office
Here is your short guide to get started with WPS Office:
Step 1: Visit the wps.com.
main page of WPS
Step 2: Go to the Download option and click it to download it to your device.
main page to download WPS
You will explore multiple options here to download the software according to the operating system you are using.
download options
If you want to download it onto your mobile phone, you will also get the option there.
download for mobile
Step 3: By clicking on download, you will find the extension in your download folder.
extension in downloads
Step 4: By double-clicking the extension, WPS Office will start to download to your device. It will take a few seconds and you will explore the icon on your desktop.
Click it to open:
main page of WPS software
Step 5: Once you open it, you can click on docs to create a document in the WPS Office.
options to create document
By clicking the Docs, it will offer you multiple options: blank page and free templates to start creating your document.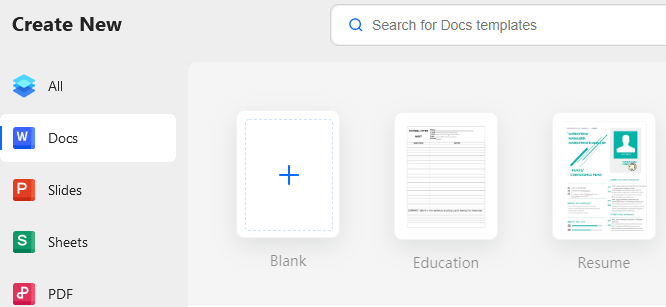 option to choose in WPS
By clicking on the blank document, you can move to creating and editing your document.
Step 6: You can write content and use the free features to edit and format your document. For advanced editing in the document, you can buy a subscription and get access to all features.
writing in WPS Writer
How to convert WPS files to Word documents in WPS Office
Here is your guide to converting WPS to a Word document in WPS Office without the WPS file converter download.
Step 1: Open your WPS file into WPS Office and save your changes.
options to save document
Step 2: Next, click on the menu and explore the options. Click on save as an option.
arrow at save as option
Step 3: Next, you can choose the format in which you want to save your document.
options to convert the format
Step 4: Save the document.
saving new format
Step 5: Once you click save, a dialog box will appear.
dialog box
There is another way you can convert your WPS file to Microsoft Word within WPS Office without a WPS file converter download.
How to Convert a WPS File to Other Formats Without Downloading a Converter
There are many WPS file converter downloads you will find to bring convenience to converting files. However, if you are in a hurry to convert your files without downloading the converter, you can use an online WPS file converter download free.
Here is your guide to using an online WPS file converter.
Step 1: You can go to cloudconvert.com on your browser.
searching online tool
You will see the main page where you can explore the tools and options to convert your WPS Office file.
main page of online tool
Step 2: By clicking on select file, you will get the option to choose and upload your file from your device regardless of the folders you have saved.
option to select the files
Step 3: In this tool, you will get the option to convert any type of WPS document. It covers multiple types of file formats.
option list
Step 4: For conversion, you will also get options to convert as. This allows you to convert your file according to your needs.
list to convert the file
FAQs
1. What is the difference between WPS files and Docx files?
A WPS file is a type of file that uses the WPS extensions. These files come from Microsoft Works Word Processor. This was an application that came before Word.
WPS files are similar to the Word documents. The real difference between a WPS file and a Docx file is limited access to formatting options.
2. Can WPS Office and Microsoft Office work together?
Yes, WPS Office is highly compatible with Microsoft Office file format. This allows the users to work with files that are created in Microsoft Word, Excel, and PowerPoint with ease.
WPS office offers a similar interface and functionality to make it easy to use. If you find the need to convert your WPS file to Word or other
format of Microsoft, you can consider the wps file converter download option.
3. Can I Edit PDF Files In the WPS Office?
Yes, you can edit your PDF file with the help of a PDF editor. It is available in WPS. You can get a paid subscription to make changes in your PDF files according to your needs within the WPS Office suite.
How WPS Office Offers Benefits to User for Conversion
You will always find the need to bring ease in the conversion of documents to the most suitable office suit. This can be possible in various ways that are discussed in this blog. You can either consider a WPS file converter download for free or use an online tool.
WPS Office is a compatible business suite that will meet all your professional needs. It is one of the trusted business suites, which has over 500 million active users around the world.Start using WPS Office to meet all your productivity needs the right way!