WPS Office
Free All-in-One Office Suite with PDF Editor
Edit Word, Excel, and PPT for FREE.
Read, edit, and convert PDFs with the powerful PDF toolkit.
Microsoft-like interface, easy to use.
Windows • MacOS • Linux • iOS • Android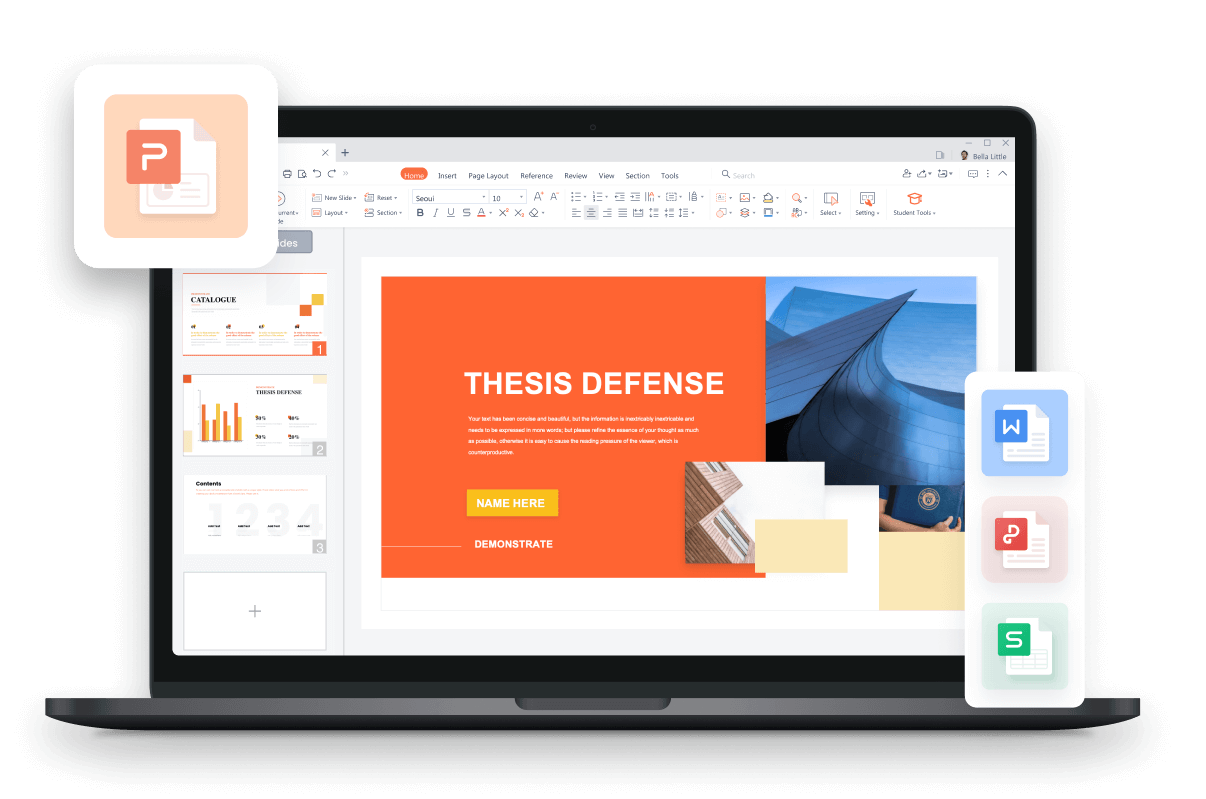 Catalog
10 Top APA Format PowerPoint Presentation Example
Creating a PowerPoint presentation is an effective way of getting your point across, which is why it's a cornerstone of the business world—an overview of 10 top APA format PowerPoint presentation examples are the most famous examples of a PowerPoint format. While many people use PowerPoint because it's easy to use, its technological advances continue to make it even more professional.
The 10 top APA format PowerPoint presentation examples are the best to look at for getting an idea of what types of visuals and topics to include in your presentation. You will find examples: oral defense, preschool teacher teaching presentation, early childhood education, Memphis Preschool, and college graduation.
1.Blue Oral Defense for Graduation Presentation
The blue oral defense for graduation presentation template is in APA style. The template is ideal for personal statements and presentations. The template has a lot of time for different types of oral defenses.
2.Early Childhood Education Thesis Defense Presentation
The early childhood education thesis defense presentation template will be editable and easy to download. The presentation will be fun to watch and easy to understand, so keep it simple by using an analogy, let your story unfold, and make your point.
3.Memphis Graduation Defense Presentation
The Memphis graduation defense presentation is easily accessible to the audience, and the presenter can use and reuse the same visual components to freshen up the presentation. Download the template that'll help you for making a presentation.
4.Early Childhood Education Thesis Defense Presentation
The presentation is culled from the research in early childhood education. The presenter uses the same format for all of these presentations; fit your content into this template, and it is effortless to edit.
5.Graduation Thesis Defense Presentation
After graduating, a presentation is a compulsory thesis. Students have to follow some significant rules for the presentation—an excellent example with the perfect layout for any defense. The template is easy to read and it's easy to follow.
6.Oral Defence for Graduation Presentation
For the oral defense, making slide share presentations is useful. Presentations make it easier to share the information and stay on the same page with what you are presenting. In addition, the audience can listen and compare your information to other sources saving time for you and them.
7.Preschool Teacher Teaching Thesis Defense Presentation
For teaching. teacher teaching thesis is essential to present. It's the presentation of your educational career. You can include items to show what you've learned in previous years.
8.Blue and White Graduation Thesis Defenses Presentation
This is a color blend presentation template for the graduation thesis defense presentation. It's an excellent idea to present different techniques or topics for everyone to understand the matter following the template.
9.Yellow Cartoon Education Thesis Defense Presentation
The yellow cartoon education thesis defense presentation example will guide you to make your effective slideshares. In addition, this example shows how to make a well-designed presentation in a professional academic presentation style.
10.Green Nature Cartoon Thesis Defense Presentation
The presentation is also a perfect example of helping students with school assignments. The concept and format of a presentation interest many students. This example also provides a guide to help students design a presentation in a similar style.
Conclusion
This is a highly-structured 10 top APA format PowerPoint presentation example. We break down the components of a project, demonstrate how to organize ideas, and list the pertinent content to create an example that you can use to create your own high-quality presentation. The WPS office offers many templates for SlideShare presentations which are easy to use.