WPS Office
Free All-in-One Office Suite with PDF Editor
Edit Word, Excel, and PPT for FREE.
Read, edit, and convert PDFs with the powerful PDF toolkit.
Microsoft-like interface, easy to use.
Windows • MacOS • Linux • iOS • Android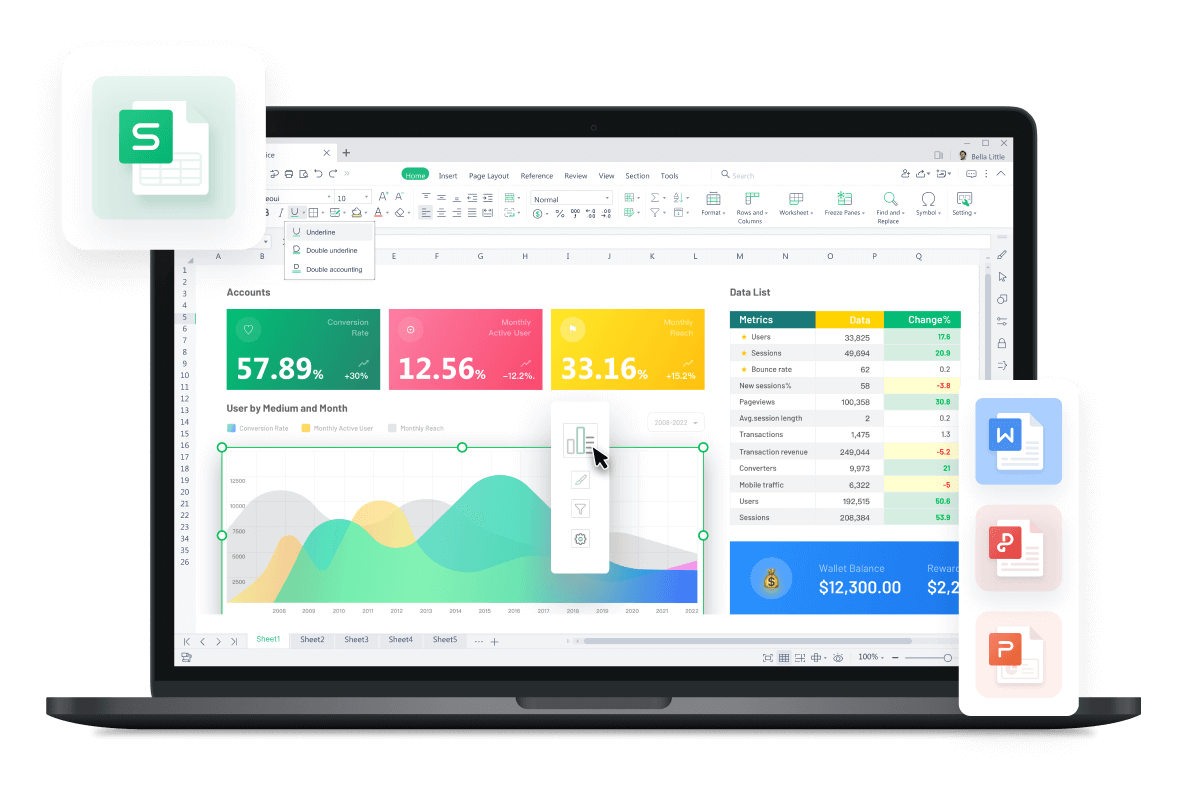 Add a watermark to excel spreadsheet 2016
With Excel, you can perform all kinds of operations with data, such as averaging, adding, drawing, graphing, generating lists, and add a watermark to Excel. For this reason, you must learn how these functions work to handle this program correctly.
In Excel, you can carry out several tasks; among the most carried out is usually add a watermark to excel mac so that you can place images or texts in your spreadsheets so that your project is as you want. Next, you will have the ease of knowing several methods that will be useful for you to manage well add a watermark to excel
How to add a watermark in Excel 2016?
It would help if you discovered how to learn to prepare your documents as you want with the help of add a watermark to Excel 2016. For this reason, you must master Excel to present your projects as you have always wanted. Do not forget to follow the following steps so that you obtain new knowledge of add a watermark to excel
1. First, you have to open an Excel window, click where the insert option is on the ribbon bar, and go to Header and Footer in the image.
2. Select the watermark you need to insert in the sheet; this will let you know how to carry out this step.
3. The watermark that you have selected will be added to your spreadsheet; you must see the image that will be shown below. You can also drag and drop the watermark on the page you want to know from add a watermark to Excel 2019.
How to insert a watermark in the sheet header?
Suppose you want to learn how to insert your prepared worksheet into your Excel document. In the image you will see below, you will know how to insert an image of water in your document's header. In this way, you can see your company logo through the header of your spreadsheet, so with several steps that you will know below, you can do it.
1. Go to the INSERT tab and choose Header & Footer where the text section is.
2. Now, you have to look at the Layout view of the page with the choice of Header Footer Layout
3. Then go to the header and in the design tool to select where the image option is.
4. Excel will arrange for you to browse for the image on your computer and then select the image online.
5. Then, to see the image, click on the cell of the sheet you want; this will allow you to know how this beneficial method of add a watermark to Excel online is done.
How to move the image down to make it a watermark?
You can move the watermark down to where the center of the document is so you can turn it into an actual watermark for your document.
1. First, you must choose the image.
2. Then keep pressing down to dial.
3. Now, choose the cell you want the most from your worksheet so you can see the changes, so you know how to add a watermark to Excel
After having studied each of the methods explained above, you feel that you already know how to add a watermark to Excel, so you should easily carry out your work in your spreadsheet. Therefore, Excel will be the ideal tool for you to search for the functions you want on
If you want to gain new knowledge about add a watermark to Excel, it's time to download WPS Academy for free. This platform is modern, and you will be able to learn several essential instructions.