WPS Office
Free All-in-One Office Suite with PDF Editor
Edit Word, Excel, and PPT for FREE.
Read, edit, and convert PDFs with the powerful PDF toolkit.
Microsoft-like interface, easy to use.
Windows • MacOS • Linux • iOS • Android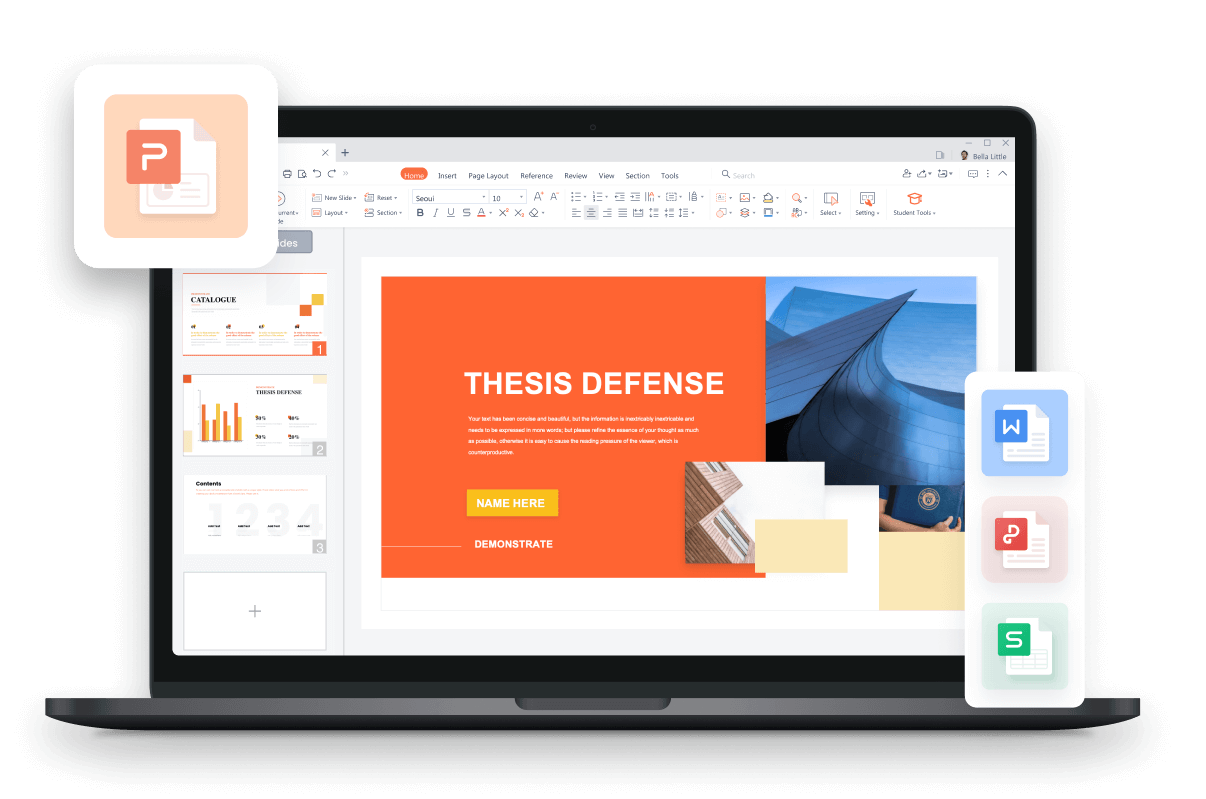 Catalog
Downloadable Aesthetic Template PPT
Adding graphic elements to PowerPoint slides can add flair and create the feeling of a more dynamic presentation. I will share a few aesthetic template PPT designs and layout you can use in your presentations to take them from dull to involved. They have templates appropriate for business presentations, marketing presentations, creative portfolios and even presentations for school.

Here are 10 downloadable aesthetic template ppts that you can use to present your work
visually appealing. Putting these templates to use can improve your reputation in the workplace and show that you have your aesthetic side handled.
1.Small Fresh Aesthetic Work Report Example
A small fresh aesthetic work report example template helps design the format of your aesthetic report. Designing a suitable aesthetic work report template is crucial to showcase your aesthetic work. You might want to download a free aesthetic work report example template to find the design that will fit your aesthetic work. Feel free to download this template!
2.Fresh Pink Sakura Aesthetic Presentation Example
Individuals seeking aesthetic work often struggle during the beginning phases of their aesthetic careers. They find it challenging to find a good clientele and struggle to find their first few clients to set up their portfolios. Aesthetic templates provide examples of different designs to aid in getting your work seen.
3.Blue Aesthetic Simple Presentation Example
Now that you have some criteria, it's time to start looking for a presentation template. You can download a presentation template at Awesome Presentations, where they provide templates suitable for a wide range of presentations.
4.Fashion Aesthetic Furniture Branding Report
If you've never made aesthetics before, this template will show you how they work and how to use them to the best effect in your aesthetic design. The design template offered today is just the start of your journey in teaching your audience about the importance of aesthetic design.

5.Business Aesthetic Report Example Template
Aesthetics has been an essential aspect of this industry for decades. This is an aesthetic report template example for business, is a tool for small aesthetic companies as well as big brands that need a large number of aesthetic reports.

6.Small Fresh Aesthetic Work Report Example Template
This template could be used to help create a professional aesthetic report. Additionally, they can be used to understand better what should be included in a new aesthetic work report. As previously stated, this template is customizable so feel free to make edits!

7.Creative Fresh Love Celebration Example Template
You will never have to rely on picking and flipping through a mountain of powerpoint templates to get your point across! Instead, these templates were designed to help you quickly find a good layout that not only looks great.

8.Romantic Love Wedding Example Template
This is one way to present an aesthetic report. This is an elegant, creative, and new example of how to present a design project. These presentations are available to download so you can copy, paste, and customize the PPT. If you want a report template that is more professional, this is a nice option.

9.Romantic Style Fresh Love Presentation Example
This is a template for a PowerPoint file that you can use for various designs for your presentations. Each template was created for you to use and customize for a specific purpose. Find the template that you need and then download it.

10.Fashion General Business Report
A completely fresh fashion general business report template, can be used for more creative and personal perfect branding, for a business, for personal branding, and individuals.
Conclusion
The template is for template purposes only; it is not the final product to be put into your presentation, nor is it meant to convey anything about what it is you should be or what your audience should be. Creative designs begin with the idea, and then it is up to you and your team to give the idea substance, meaning, and form. Since presentation design is a vast field, you can find many aesthetic templates ppt. Luckily, a lot of them are downloadable.
If you're looking for even more aesthetic examples to grab inspiration from, download or browse WPS Office or WPS templates for more designs.