Excel calendar template by week 2022
A free Office suite fully compatible with Microsoft Office
Free download

During creating a calendar for your workspace, you may run into a big problem: you do not know which template to choose. It's time for you to look at the best list of excel calendar template by week 2022 and integrate them into your job. In this way, you will show an impeccable calendar that all the workers will like.

An Excel calendar template will also save you time during document creation. You only have to confirm that the days of the month are correct and include the tasks that concern each one. In the list of the ten favorite Excel calendar templates are:
Excel Monthly Calendar Template with Notes
It is a printable document that you can edit as you like to add the notes that you consider most important for the day. The calendar is compatible with all native Microsoft programs, so it won't be an obstacle to using it.
Calendar template for employee vacation tracking.
It is a 2022 calendar excel with holiday and where you can organize the beginning of each employee's collective or individual vacations. The template's design allows you to give relevance to numbers and quickly identify holidays. On the other hand, the template will provide a small section at the top right to add notes.
Monthly Calendar Template
You don't necessarily need an excellent calendar template to admire how it works. This template features a simple layout, huge boxes, and enough space for you to leave notes.
Quarterly Calendar Template
You can not only download a monthly calendar template excel 2022 but also the one that shows you three months simultaneously. With this document, you will have more control over what must be done at work during the next 90 days.
Monthly Calendar Template by Classic Design
The classic should not go unnoticed, and this applies to the monthly calendar template with a classic design. It is a document where the days are prioritized. It shows you a minimum number giving space for you to include your notes.
Two Page Monthly Calendar Template
When you want to bring order to your work, a single Excel calendar template by week 2022 may not be enough, so you need two. This template will allow you to separate the days Monday, Tuesday, and Wednesday, where there is more work, from Thursday, Friday, Saturday, and Sunday, where the outcome decreases. In this way, you will know how better to organize the distribution of tasks with each employee.
Monthly Calendar Template with Two Pages in New Format
It is a calendar template where you can organize heavy workdays and rest days at work. It will also serve to separate the work team into groups if you want to improve the pace at which tasks are done.
Monthly Calendar Template with US Holidays
Calendar templates could also be dedicated to a specific country, such as the United States. It is a document that will show you the holidays that will apply for 2022. You can also add daily notes.
Editable Quarterly Calendar Template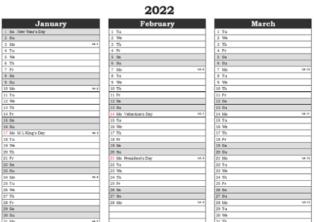 It would help if you dedicated yourself to dividing your tasks at work every quarter to see how much you advance or decrease in your functions. The editable calendar template will help you fulfill the purpose every three months. It is a template that distributes the days vertically with a small space for notes.
Monthly Excel Calendar Template with Divided Notes
You might have several pending tasks during the workday, so you need a functional calendar template. This template will allow you to put the three most important functions in the day and try to accomplish them.
An excel calendar template by week 2022 is more important than you think, so you should download the best one. Please don't ignore the fact that it's tedious to create a calendar template, and that's why it's easier to find and download. These templates stand out for their design, the way you can add notes, and other special features.
If you don't find the monthly calendar template you like in the list above, download WPS Office now, where you will find many calendar templates to download. You will most likely find a suitable monthly calendar template for free.