WPS Office
Free All-in-One Office Suite with PDF Editor
Edit Word, Excel, and PPT for FREE.
Read, edit, and convert PDFs with the powerful PDF toolkit.
Microsoft-like interface, easy to use.
Windows • MacOS • Linux • iOS • Android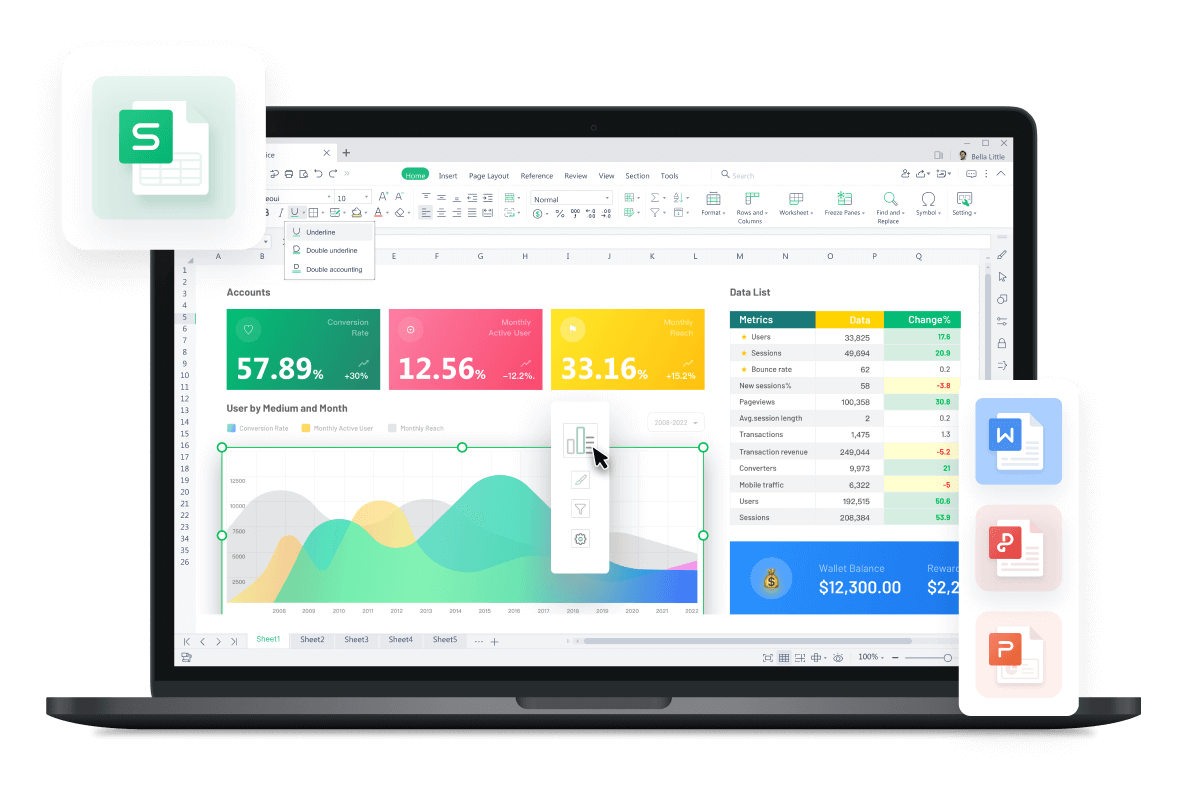 Top 10 Excel week calendar template download 2022
If you feel that your life needs to be organized for a long time, you should use the Excel week calendar template. These templates will give you the freedom to write down what you do every day, schedule your appointments and much more. Excel week calendar template will not only help you at work, but also in your studies.
Below are the best free online top 10 Excel week calendar template.
1.2022 Simple Calendar with Useful Chart
The list of Excel 2022 calendar templates is best started with a calendar specifically for women entrepreneurs. If you think that you are a woman who fights and does not rest until she achieves her goals, then you need to download this template.
2.2022 Orange Calendar with Plan
You should also intend to download Excel calendar template 2022 Malaysia with Shiba Inu to cheer up on a daily basis. These templates are very dynamic to begin with. I look forward to seeing them every morning.
3.2022 Useful Calendar with Chart and Schedule
Another great Excel calendar template 2022 to download is the one that gives you a planning sheet. With this document, you can make important notes to organize your day or week.
You should also use the free 2022 calendar Excel template that includes extensive planning sheets. This way you can write down everything you have to do during the day, week or month.
5.2022 Simple Calendar with Timetable
Excel 2022 calendar template free download with notes at both ends is useful if you want to add some reminders.
6.2022 Yellow and Blue Simple Calendar
It is good that you have seen Excel Calendar Template 2022 Monday to Sunday in bold colors and try to download it now.
Another great document to download is the Excel 2022 Calendar with Holidays template, which is also in shades of blue and purple. You can use this template to jot down your tasks in a stylish way, and it features a section for notes.
8.2022 Purple and Blue Calendar with To Do List
The Excel 2022 calendar template should also be considered for your team. This basic template provides you with a notes section that you can use on both pages.
9.2022 Green Calendar with Timetable
Some of the latest options to download in Excel 2022 calendar template give you a dark background. This template is classic and simple, but it has a lot of potential that you should not miss.
10.2022 Monthly Calendar with To Do List
The last option in the list of Excel Calendar Templates 2022 is the one offered to commemorate Labor Day. You can share these templates with your employees to help them get organized for meetings or to carry out projects with you.
The WPS Excel week calendar template in WPS is a great alternative to creating a calendar template spread sheet from scratch. The Internet is full of templates, and if none of them suits your needs.
You can also download WPS Office to edit the word documents, excel, spreadsheet, chart, sheets PowerPoint for free of cost. Download now! And get an easy and enjoyable working experience.
In the WPS Academy, you can learn how to make calendar template to promote your expertise You can do this. With WPS PDF, you can make calendar template very easily.