WPS Office
Free All-in-One Office Suite with PDF Editor
Edit Word, Excel, and PPT for FREE.
Read, edit, and convert PDFs with the powerful PDF toolkit.
Microsoft-like interface, easy to use.
Windows • MacOS • Linux • iOS • Android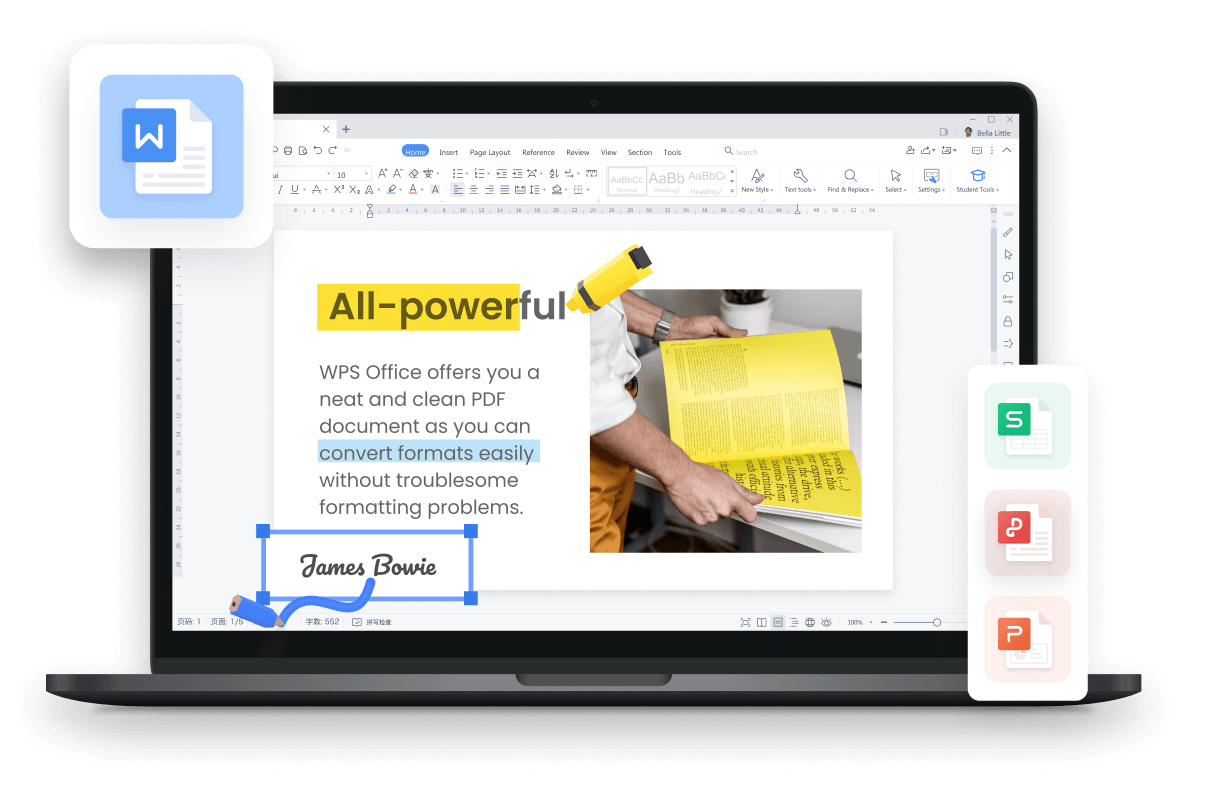 Four View Modes in WPS Writer
Uploaded time: November 25, 2021 Difficulty Beginner
Four View Modes in WPS Writer
Four View Modes in WPS Writer
No matter you are a student, teacher, or business professionals, you can create and edit documents efficiently by WPS Writer as text editors.
We can choose different view modes according to the needs of our daily file reading.
Take this document as an example. I will demonstrate four view modes of text. First, click the View tab.
1.Full Screen
l If we only want to display the editing area, click Full Screen or use the shortcut Ctrl+Alt+F.
l The document will be displayed on full screen, while the ribbon above and the bottom status bar will be hidden. In addition, we can adjust the zoom level of the view in the floating toolbar.
l If we want to exit the Full Screen mode, click Quit in the floating window or press Esc.
2.Reading View
Reading View is designed for reading and browsing documents, which is suitable for consulting documents. It can also be activated by using the Ctrl+Alt+R shortcut.
l In this mode, you can use Content Navigation which allows you to go to a page or a heading in the document without scrolling, Show Comments, and Highlight are also available.
l We can enter the content we want to quickly locate in the Find box.
l We can also adjust the Reading Division to set the number of typesetting columns.
Note: In Reading View, documents are not allowed to be edited.
If we want to exit this mode, click Exit reading view in the upper right corner, or by pressing the Esc key
3.Outline
l If we want to view a long document conveniently and adjust its structure, We can click the Outline button; alternatively, we can use the shortcut key Ctrl+Alt+O.
l In this mode, we can adjust the title level or move the text paragraph.
l After changing the order of the text, you can also update the table of contents by clicking Update TOC.
4.Web Layout
The Web layout view is to view documents in the form of web pages, and its shortcut key is Ctrl+Alt+W.
This view mode is suitable for sending e-mail and creating web pages.
Did you get it?