WPS Office
Free All-in-One Office Suite with PDF Editor
Edit Word, Excel, and PPT for FREE.
Read, edit, and convert PDFs with the powerful PDF toolkit.
Microsoft-like interface, easy to use.
Windows • MacOS • Linux • iOS • Android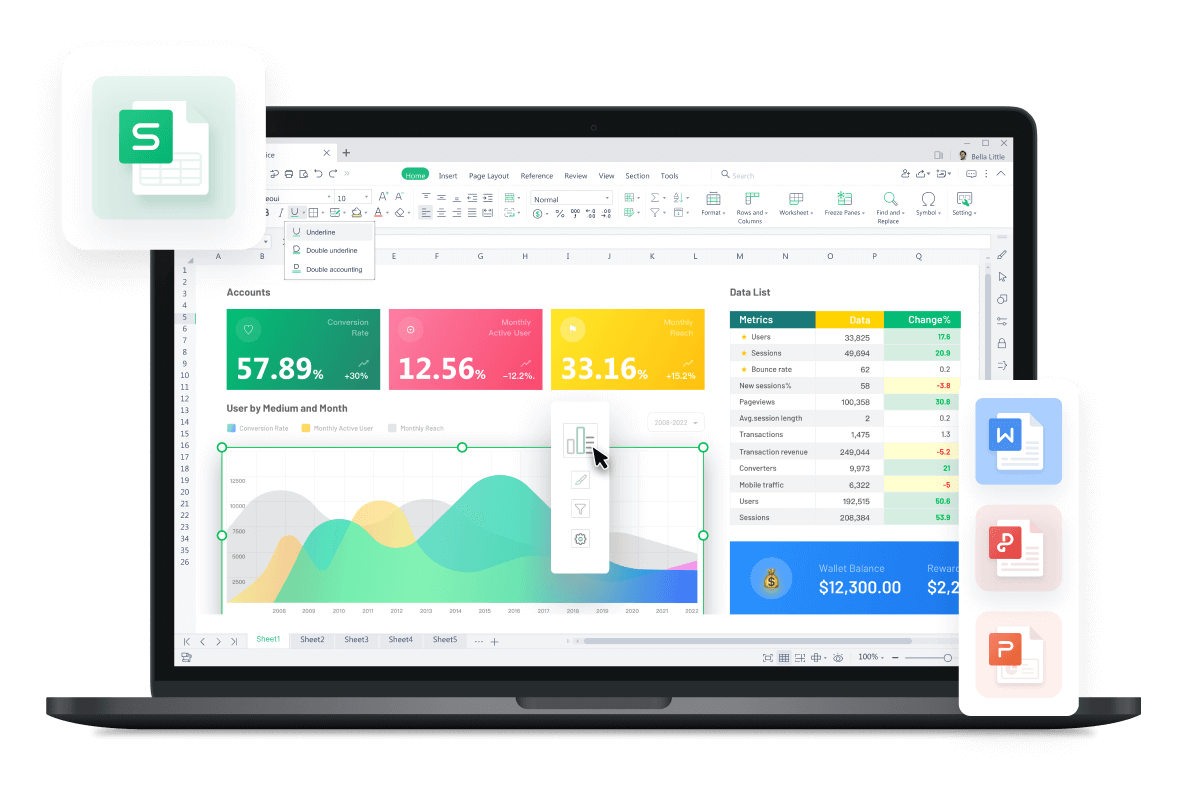 Catalog
Free Online Guest List Templates Excel Spreadsheet
When planning a party, it is important to have a guest list that is accurate and up-to-date. One way to do this is by creating guest list templates excel spreadsheet. When you create a guest list template, you can easily enter guests' names and addresses, along with the type of party. You can also add additional information about the guests such as their occupation, age, and relationship status. WPS office provides various templates including guest list templates excel sheets.
1.Simple Fresh Guest Book Template
You can show your guests that you care about their experience from the start when they receive a guest welcome book. Create an interesting guest book by using a simple fresh guest book template!
2.Spring Party Poster Template
If you want to create a party poster then WPS Office provides hundreds of free templates including a spring party poster template. Let's use this template!
Are you going to arrange a Holi party and wandering about how to create a Holi Party Poster? If yes, then you come to the right place because WPS Office offers a free Holi Party Poster Template!
Arranging a Disco Party? What do you need to welcome your guest to the Disco? An attractive party poster? Download the WPS Office and use its party poster templates that can help you to create a disco poster template!
5.Graduation Party Invitation Template
Graduated! There is nothing like the excitement and accomplishment of graduation! It's definitely a party moment! Create an hourly party and make cards by using WPS's graduation party invitation template!
6.Beach Cocktails Party Poster Template
With WPS easy-to-use interface, it just takes a few clicks to customize the Beach Party Poster Template according to your needs. Add new rows or columns, add extra tabs to store additional information, or change the color of the labels for a personalized touch!
It can assist you in keeping track of everyone you will invite to your wedding. You can also use it to keep track of monthly invitations and thank you notes so you don't forget anything.
8.Celebrate Party Spring Poster Template
No matter whether you are looking for Spring Event Flyer Templates to promote a party or any other spring-themed event, we have something that will suit your needs on our website.
9.Guest Reservation Form Template
Bookings are tracked and reservations are managed through an online hotel reservation form. With our free Guest Reservation Form template, you can streamline your booking process for hotels, motels, and hostels.
10.Party Test Materials Catalog Template
Printing a beautifully designed product catalog helps you attract customers, no matter what you sell. Customers can make informed purchasing decisions by reading a catalog about your products.


Conclusion
To create a guest list, you can use guest list templates excel sheets to create a list of all the guests you want to invite to your event. You can also add basic info that is important for your guests to know. After you have created your list, you can export it to Word or save it as a PDF file. Find these useful templates in the WPS office. The WPS office is so easy to download and install. To download it from the Google Play Store, go to Search then search WPS office and scroll down to WPS Office. From there you can search for it in the store.